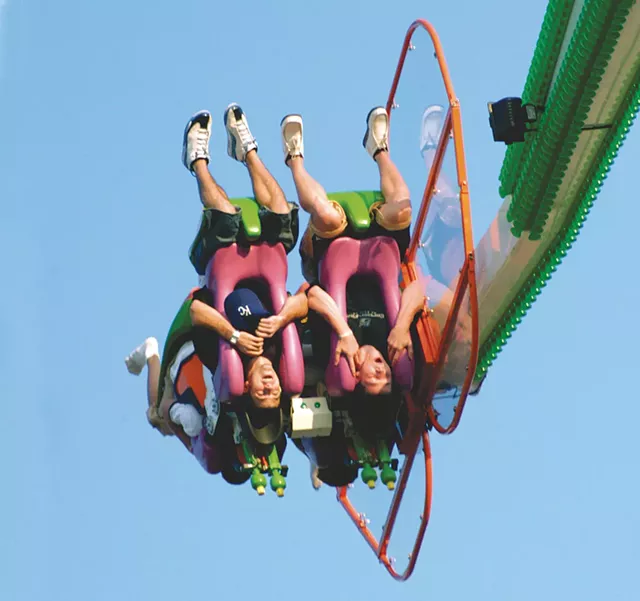 A Ferris wheel towers over the Champlain Valley Exposition, its steel spokes illuminated by gyrating patterns of multicolored neon lights. Aromas of fried dough, cotton candy, beer and straw bales intermingle in the languid summer air. Sunburned teens in tank tops and jean cutoffs snap selfies along the midway while one of their friends in a baseball cap hurls sidearm pitches at a dunk tank, trying to douse a heckling clown.
It's late August at the Champlain Valley Fair in Essex Junction, just a few minutes' drive from Burlington International Airport. Billed as "the 10 best days of summer," the annual fair has been entertaining Vermonters since 1922. Today, with more than 120 exhibitors and 85 food vendors, the Champlain Valley Fair is the state's largest special event, drawing more than 120,000 people every year.
Like most county fairs and field days, this one is a people-watching slice of Americana that attracts visitors from all backgrounds. In the parking lot, shiny new BMWs and ultra-fuel-efficient hybrids park alongside Harley-Davidson choppers, tourists' RVs and mud-splattered pickups.
Inside the gates, crowds enjoy 21st-century entertainment, from pop concerts and Tilt-A-Whirl rides to monster truck and daredevil motocross competitions. Yet farm-oriented events such as the pig races, miniature horse parade, petting zoo and 4-H livestock exhibits hark back to the fair's 19th-century agrarian roots.
Late-summer and early-fall festivals are nearly as old as human civilization itself. The first commercial fairs arose in medieval Europe as venues for encouraging trade, according to the International Association of Fairs and Expositions.
On this side of the Atlantic, New England farmer and businessman Elkanah Watson — aka the father of the American county fair — founded the Berkshire Agricultural Society in Pittsfield, Mass., which sponsored its first cattle show in September 1811. More than a mere livestock exhibit, the show was a competition with cash prizes for the most impressive oxen, cattle, pigs and sheep.
Similar farm-themed events soon spread throughout New England. Gene Sessions, a late historian with the Vermont Historical Society, wrote that by the 1850s, county agricultural societies were forming throughout the Green Mountain State with the express purpose of hosting such annual fairs.
"Farm families brought their best livestock, produce, baked goods and needlework for competition and blue ribbons," Sessions wrote. "They exchanged information about improving the quality of their crops, and they enjoyed the opportunities for social exchange and good fun."
Vermont's first county fair was held in Caledonia in 1834 and soon evolved into an annual ritual. The Rutland County Agricultural Society held its first fair in Castleton in 1846, and the first Vermont State Fair was held in Montpelier in September 1853.
In recent years, Vermont's county fairs have been touted as wholesome, family-friendly fun, though that wasn't always the case. The Tunbridge World's Fair, first held in 1867, once had the unofficial moniker of the "drunkards' reunion." There, soft-porn shows and plentiful booze provided hardscrabble Vermont farmers with a rare opportunity to cut loose. The fair has long since burnished its rowdy image and now boasts G-rated entertainment.
Vermont's fairs are generally happy events — with some notable exceptions. In September 1913, George Schmitt, one of Vermont's earliest aviators, was flying a passenger over the Rutland fairgrounds when his plane experienced a mechanical failure and plummeted to the ground. Schmitt was killed in the crash, making him Vermont's first official aviation fatality.
In 1918, fairs throughout the state had to be canceled due to the Spanish influenza pandemic, which eventually claimed the lives of 2,146 Vermonters. The Great Depression spelled the demise of many county fairs, including those in Springfield, White River Junction and Brattleboro.
Then, in 1938, a rare hurricane sent tents, produce and livestock hurtling across fields at the Tunbridge World's Fair. A freak storm in July 1941 leveled the cattle barn at the Champlain Valley Fair, resulting in canceled festivities. And, in 1965, a devastating fire, caused either by faulty wiring or kids playing with matches, destroyed the grandstand at the Essex Junction fairgrounds.
Despite such setbacks, as well as a continuing decline in the number of farms in Vermont, county fairs have thrived in recent years, becoming annual rites of summer for Vermonters of all ages. Big-name musical acts now serve as major draws to the Champlain Valley Fair, among them Bob Dylan (1991), Justin Bieber (2010), Neil Young (2015) and John Mellencamp (2017).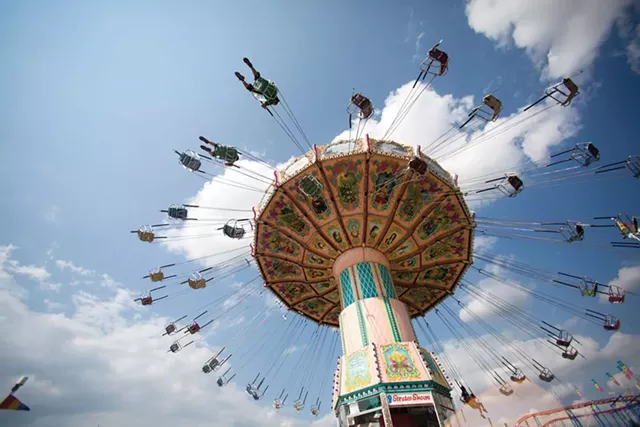 This year's concert lineup features country band Old Dominion (Friday, August 24), comedian Gabriel "Fluffy" Iglesias (Saturday, August 25), and singer-songwriter Billy Currington with special guest Locash (Sunday, September 2).
"We always try to find that balance between something new and something that's always been at the fair that keeps people coming back," says executive director Tim Shea.
To that end, Shea reports that hypnotist/showman Steve Bayner, a perennial favorite, will return for the 2018 fair. New this year is a wild bird exhibit as well as a human cannonball show, which will set up on the midway. All three events are free to fairgoers. If you're attending the fair with children, however, it pays to purchase a $30 unlimited ride bracelet and stay for the day.
Whatever you do, grab a bite to eat. How many times a year do you get to eat deep-fried Oreos, maple creemees or chocolate-covered, locally cured bacon on a stick?
Champlain Valley Fair
August 24 to September 2 at the Champlain Valley Exposition in Essex Junction. $5-12. Info, champlainvalleyfair.org.
Further Afield
Connecticut Valley Fair
Bradford: July 12-15
Lamoille County Field Days
Johnson: July 27-29
Franklin County Field Days
Highgate: August 2-5
Addison County Fair & Field Days
New Haven: August 7-11
Deerfield Valley Farmers' Day Fair
Wilmington: August 9-12
Vermont State Fair
Rutland: August 14-18
Orleans County Fair
Barton: August 15-19
Caledonia County Fair
Lyndonville: August 22-26
Tunbridge World's Fair
Tunbridge: September 13-16
Guilford Fair
Guilford: September 21-23
---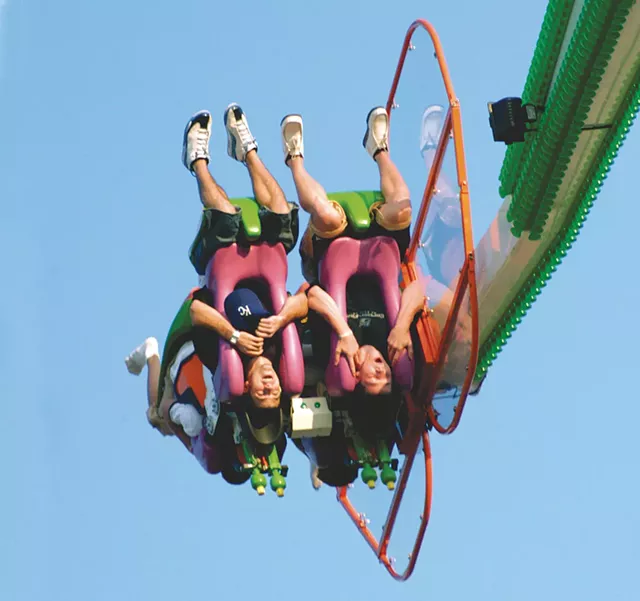 Une grande roue surplombe la Champlain Valley Exposition, ses rayons d'acier illuminés par des néons multicolores. Des effluves de pâte frite, de barbe à papa, de bière et de balles de foin s'entremêlent dans la moiteur de l'été. Des ados bronzés, en camisole et jeans troués, se prennent en selfie dans l'allée centrale pendant qu'un de leurs amis, casquette de baseball vissée sur la tête, décoche des lancers assurés au stand de plouf pour faire tomber le pauvre clown dans le bassin.
C'est la fin août à la Champlain Valley Fair, à Essex Junction, à quelques minutes de route seulement de l'Aéroport international de Burlington. Cette foire annuelle, qu'on qualifie des « 10 meilleurs jours de l'été », fait le bonheur des Vermontois depuis 1922. Aujourd'hui, avec ses quelque 120 exposants et 85 kiosques de restauration, la Champlain Valley Fair attire plus de 120 000 personnes chaque année, ce qui en fait l'événement spécial le plus important de l'État.
Comme la plupart des foires rurales et des fêtes champêtres, la Champlain Valley Fair est un véritable condensé de l'Amérique, et des visiteurs de tous les horizons y convergent. Dans le stationnement, BMW rutilantes et véhicules hybrides ultra économes en carburant côtoient motos Harley-Davidson, autocaravanes de touristes et camionnettes boueuses.
Sur le site même, les foules peuvent profiter de divertissements bien de notre époque, comme des concerts de musique pop, des manèges Tilt-A-Whirl et des compétitions de camions monstres et de moto-cross de haute voltige. Cela dit, les classiques du 19e siècle – course de cochons, parade de chevaux miniatures, mini-ferme et bétail d'exposition des 4-H – ont toujours leur place.
Les festivals de fin d'été et de début d'automne sont vieux comme le monde. Les premières foires commerciales sont nées en Europe à l'époque médiévale afin d'encourager le commerce, selon l'International Association of Fairs and Expositions.
De notre côté de l'Atlantique, en Nouvelle-Angleterre, l'agriculteur et homme d'affaires Elkanah Watson — le « père de la foire rurale aux États-Unis » — fonda la Berkshire Agricultural Society, à Pittsfield, dans le Massachusetts, qui organisa sa première exposition de bétail en septembre 1811. Plus qu'une simple foire-galerie, c'était un véritable concours avec remise de prix en argent pour les bovins, cochons et moutons les plus impressionnants.
D'autres événements agricoles semblables se répandirent en Nouvelle-Angleterre. Gene Sessions, qui était historien à la Vermont Historical Society, écrit que dans les années 1850, des sociétés agricoles furent constituées un peu partout dans l'État des Montagnes vertes dans le but exprès d'organiser de telles foires annuelles.
« Les familles agricoles venaient présenter ce qu'elles avaient de mieux en termes de bétail, fruits et légumes, produits de boulangerie et travaux d'aiguille dans l'espoir de remporter le ruban bleu, écrit M. Sessions. Elles échangeaient également de l'information afin d'améliorer la qualité de leurs récoltes et en profitaient pour fraterniser et s'amuser. »
La première foire rurale du Vermont se tint dans le comté de Caledonia en 1834 et devint rapidement un rituel annuel. C'est en 1846 que la Rutland County Agricultural Society organisa sa première foire à Castleton, tandis que la première édition de la Vermont State Fair eut lieu à Montpelier en septembre 1853.
Depuis plusieurs années, les foires rurales du Vermont sont des événements destinés à toute la famille, mais ça n'a pas toujours été le cas. La Tunbridge World's Fair, lancée en 1867, fut même été qualifiée (à titre non officiel) de « réunion de soûlons ». L'alcool coulait à flots entre deux spectacles érotiques, une rare occasion pour les laborieux agriculteurs du Vermont de se changer les idées. La foire a depuis longtemps corrigé son image sulfureuse et propose maintenant des divertissements « tous publics ».
Les foires du Vermont se déroulent habituellement dans la bonne humeur — à quelques exceptions près. En septembre 1913, George Schmitt, l'un des premiers aviateurs du Vermont, faisait voler un passager au-dessus de la foire de Rutland quand son appareil eut un pépin mécanique et s'écrasa au sol. Schmitt ne survécut pas, ce qui fait de lui la première victime officielle d'un écrasement d'avion au Vermont.
En 1918, les foires prévues un peu partout dans l'État durent être annulées en raison de la pandémie de grippe espagnole, qui fit 2 146 morts au Vermont. La Grande dépression précipita également la fin de nombreuses foires, dont celles de Springfield, de White River Junction et de Brattleboro.
Puis, en 1938, un rare ouragan envoya les chapiteaux, les étals de fruits et légumes et les enclos à bétail de la Tunbridge World's Fair rouler à travers champs. En juillet 1941, une violente tempête souffla littéralement l'étable de la Champlain Valley Fair, causant l'annulation des festivités. Enfin, en 1965, un incendie dévastateur, causé par une installation électrique défectueuse ou des enfants qui jouaient avec des allumettes, détruisit complètement la tribune de la foire d'Essex Junction.
Malgré ces revers et le déclin de nombreuses exploitations agricoles, les foires rurales ont connu un regain au cours des dernières années, devenant un véritable rendez-vous annuel pour les Vermontois de tous âges. Et les vedettes de la musique qui y participent, comme Bob Dylan (1991), Justin Bieber (2010), Neil Young (2015) et John Mellencamp (2017), font courir les foules.
Cette année, le groupe de musique country Old Dominion (vendredi 24 août), l'humoriste Gabriel « Fluffy » Iglesias (samedi 25 août) ainsi que l'auteur-compositeur-interprète Billy Currington et l'invité spécial Locash (dimanche 2 septembre) seront de la partie.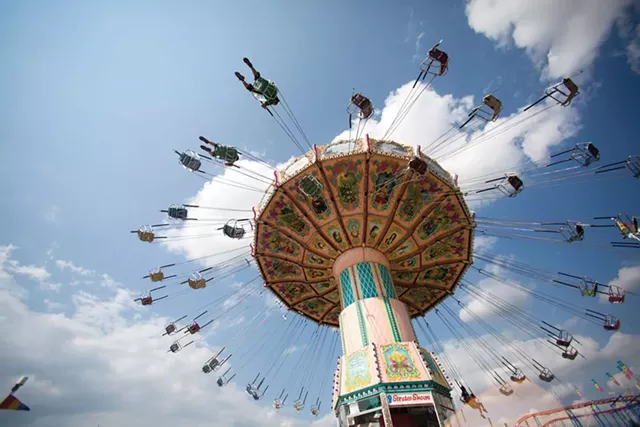 « Nous essayons toujours d'avoir un équilibre entre les nouveautés et les incontournables de la foire qui font que les gens reviennent », affirme le directeur général, Tim Shea.
À cette fin, M. Shea souligne que l'hypnotiseur et homme de spectacle toujours très aimé du public, Steve Bayner, sera de retour à la foire de 2018. Parmi les nouveautés cette année, il y aura une exposition d'oiseaux sauvages ainsi qu'un spectacle d'homme-canon dans l'allée centrale. Ces trois événements sont gratuits pour les festivaliers. Toutefois, si vous venez avec des enfants et comptez rester sur le site toute la journée, le bracelet à 30 $ pour un accès illimité aux manèges en vaut largement la chandelle.
Quoi que vous fassiez, ne manquez pas de prendre une bouchée. Combien de fois par année avez-vous l'occasion de manger un biscuit Oreo frit, un cornet de « creemee » à l'érable ou encore un bâtonnet de bacon local enrobé de chocolat?
Champlain Valley Fair
Du 24 août au 2 septembre à la Champlain Valley Exposition d'Essex Junction. De 5 à 12 $. Info : champlainvalleyfair.org.
Further Afield
Connecticut Valley Fair
Bradford: Du 12 au 15 juillet
Lamoille County Field Days
Johnson: Du 27 au 29 juillet
Franklin County Field Days
Highgate: Du 2 au 5 août
Addison County Fair & Field Days
New Haven: Du 7 au 11 août
Deerfield Valley Farmers' Day Fair
Wilmington: Du 9 au 12 août
Vermont State Fair
Rutland: Du 14 au 18 août
Orleans County Fair
Barton: Du 15 au 19 août
Caledonia County Fair
Lyndonville: Du 22 au 26 août
Tunbridge World's Fair
Tunbridge: Du 13 au 16 septembre
Guilford Fair
Guilford: Du 21 au 23 septembre