For 10 years, the Festival of Fools has reigned as the premier street festival in the Northeast, if not the entire country. An eclectic mix of circus arts, music, comedy and burlesque, the largely free fest draws dozens of performers and, reportedly, some 10,000 visitors per day to downtown Burlington. Running this Friday through Sunday, August 4 through 6, in locations around the city, it's an extravaganza of epic proportions.
Charlotte's Woody Keppel is the mastermind behind the FoF, though he's quick to refer credit for its longevity and success to a number of others — Burlington City Arts, for one. He praises the support of Mayor Miro Weinberger, too.
"He certainly plays a great fool," says Keppel. "And I mean that in the most loving way possible. We've got a juggling mayor, and that's pretty cool."
The FoF was derived from the medieval Feast of Fools, a street fair that served as an outlet for common folk under monarchical rule in the Middle Ages to "let off steam," as Keppel puts it.
"It gave people the opportunity to let down their hair," he notes. "And that's what we do. We attract all walks of life, rich and poor, young and old. It's a great representation of the city."
This year's schedule features musicians, comedians and street performers from around the globe, including Boston street dancer Snap Boogie, Québec City comedians the Kif-Kif Sisters and British heavy-metal magician Nigel Blackstorm.
Among the special events is Friday's Block of Fools Street Party on Main Street. The block between Church Street and North Winooski Avenue will be closed to traffic and host performances from locals Mal Maiz and DJ Disco Phantom, Maine songwriter Dan Blakeslee, New York City-based street funk act Drumadics, Brooklyn married duo Coyote & Crow and others. California standup comedian Brody Stevens performs at the Vermont Comedy Club on Thursday through Saturday.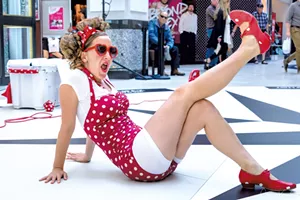 Bindlestiff Family Cirkus
Late-night fare includes a pair of after-parties at Nectar's with Connecticut's Funky Dawgz Brass Band and locals Barika on Friday and Saturday, respectively. The FoF concludes with the Last Laugh Variety Show in City Hall Park on Sunday.
Headlining this year's fest is the Bindlestiff Family Cirkus, a risqué vaudevillian cabaret act hailing from New York's Hudson Valley. You can catch them performing on the Church Street Marketplace throughout the weekend or at two special ticketed late-night shows at Club Metronome on Friday. Backing the troupe at the latter performances is Keppel's own vaudeville-inspired band, the Hokum Bros. In addition to the Metronome appearances, the band will play an afternoon set at Leunig's Bistro & Café on Saturday and an early-evening gig at City Hall Park on Sunday.
Like the FoF, the Hokum Bros. are celebrating their 10th anniversary. The group began as a collaboration of Keppel (aka Stick Hokum) and upright bassist Billy Bratcher (Slapping Billy Hokum), of Starline Rhythm Boys renown. It has since grown to include core members Allan Nicholls (Uncle Al Hokum) on drums, multi-instrumentalist Gus Zeising (Gus Hokum) and accordionist Terri Conti (Cousin T). The band has been known to invite a number of extended "family members" into the mix. Burlington guitarist Paul Asbell, for one, is considered an honorary member, and bassist John Figueroa sometimes fills in for Bratcher.
The Hokum Bros. repertoire largely consists of original material, most of it penned by Keppel. Bratcher also has contributed some tunes over the years. Though inspired by the Kinks' Ray Davies, the band fuses a variety of vintage styles — from vaudeville to ragtime to folk to Dixieland — to create its own lively, offbeat sound that Nicholls has dubbed "dysfunctional Americana."
"That's probably about right," says Keppel, chuckling.
Keppel writes with a cheeky and often satirical bent. That's clear from song titles such as "Made in China," "Tastes Like Chicken" and his latest, "Too Many Craft Beers." Though he's rarely explicitly political, Keppel's commentaries on societal follies have aligned, historically, with the general ethos of street festivals, which tend to employ humor as a means of tweaking the establishment.
"They're designed to be a way of talking about what's going on in the world," says Keppel of such festivals. "The role of the jester, the role of the fool, is to find a way of getting back at our misguided leaders."
As suggested by their nicknames, the Hokums also perform with a theatrical flair. Keppel has a background in theater. And Bratcher is one of the most engaging musical performers you'll find anywhere.
"The music is fun to play, but it's also fun to play it as a character," says Keppel. "It might be clever, but it's also check-your-brain-at-the-door kind of stuff."
"It's a way to purge the heart and lift the spirit," says Bratcher.
That quality makes the Hokum Bros. an ideal proxy for the FoF at large.
"It's the collective fool consciousness," says Keppel. "People are laughing together. There's not too many things more powerful than that."