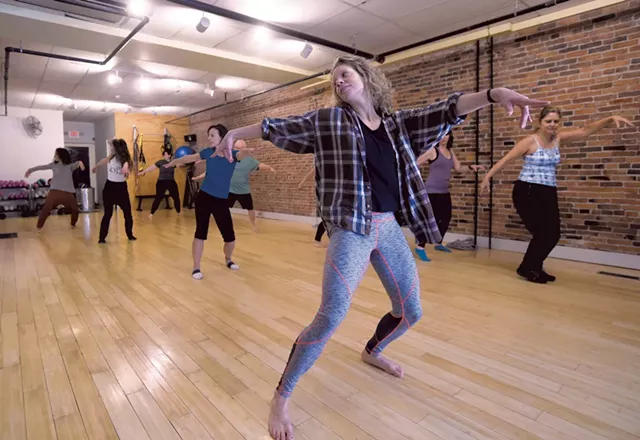 Jeb Wallace-brodeur
Emma Manion leading a rehearsal at Zenith Fitness and Movement
A bloody, desiccated hand reaches for you from an open door. A wiry-haired, toothless face stares at you from behind a parked car. Staggering, drooling and groaning, zombies appear from everywhere and surround you on a dark, deserted street. You begin to shake and sweat, your mouth dries, and then — the zombies begin to, um, dance.
Sound fun? That's pretty much what to expect on Montpelier's Langdon Street on Halloween. Community members dressed as the undead will perform Michael Jackson's "Thriller" dance every 15 to 30 minutes between 4:30 and 6 p.m., flash-mob-style. Staff at Zenith Fitness and Movement, on Main Street, are teaching 20 locals, ages 28 to 68, the six-minute-plus choreography from the iconic music video. Two Langdon Street businesses will provide support: Buch Spieler Records will do sound, and Down Home Kitchen will provide a place for zombies to regroup between flash mobs.
Released in 1983, "Thriller" is a nearly 14-minute music video featuring choreography by Michael Peters and Jackson and the song "Thriller" by Rod Templeton. According to a 2013 story in the Guardian, its instant popularity was instrumental in turning music videos into a full-fledged industry.
"Thriller" has also inspired more than 35 years of zombie dances worldwide. Organized by Thrill the World in 2007, 1,722 dancers in 52 cities on five continents set a Guinness World Record for the largest worldwide simultaneous "Thriller" dance, according to a 2008 account in the Los Angeles Times. And a 2010 Vanity Fair story reported that Mexico City was home to the largest zombie dance ever recorded in one place: 12,937 people stomped, jiggled and gyrated their way through it.
The tradition continues this year in Montpelier, but not all locals are down with the decay-riddled dance. Zenith owner and capital city resident Roxy Garland wrote by email that one person commented on social media: "'Wow, I guess no one told you that MJ is not someone anyone wants to hear at this point.'" The critic may have seen the 2019 documentary Leaving Neverland, which chronicled Jackson's alleged sexual abuse of underage boys.
"We are approaching this event with compassion toward individuals who are triggered by MJ and the allegations against him," Garland wrote to Seven Days.
Most "Thriller" events feature someone front and center who is dressed and dancing as Jackson. Zenith instructors Emma Manion of Calais and Shannon Kelly of Brookfield eliminated the Jackson part from their choreography for the Montpelier dance while remaining as true to the original choreography as possible. "NOT having an MJ look-alike will hopefully help," Garland noted. "I think many people still really love this song, and we usually expect to hear it during Halloween!"
Worldwide interest in "Thriller" doesn't seem to have abated: Another Thrill the World event is scheduled for Saturday, October 26. And the Montpelier crew is having a great time in rehearsals.
"The first class was so much fun, I went ahead and committed to doing the entire six-week series," Magen Farley, 28, said. The local resident, who regularly attends Zumba classes at Zenith, said learning the choreography is "all just a blast."
Edward Norstrand, 68, also a Zenith patron and Montpelier resident, particularly enjoys the "zombie walk" at the beginning of the dance, when everyone clomps about with arms dangling and eyes glazed. "[It] sets the tone for the piece," he said.
Manion emphasized that the group has a good mix of people familiar with learning choreography and those new to it. "Dancing as though you're dead is super satisfyingly different," she noted, because it reduces the pressure dancers might feel to create clean lines. "We're enjoying uncovering our inner zombies."
Marisa Hall, the third Zenith instructor helping dancers learn the moves, said that it's magical to see people "nervous at first about the complexity of the choreography," then practicing and practicing it until they feel "how their bodies are in unison with the rhythm of the music."
Last Friday, the dancers gave a teaser flash-mob performance at Moonlight Madness, Montpelier's all-day shopping and events festival. They also offered a free "Thriller" dance class at Zenith, hoping to inspire more dancers to join them.
How could anyone pass up the chance to dance as a zombie? "The costume inspiration tagline is 'the funk of 40,000 years,'" Manion said. "Extra-gnarly face makeup will help [us] get into character."
In costume or not, everyone is welcome to do the classic zombie walk during the flash mobs on Halloween. Zenith staff even hope that kids dressed as werewolves will run around, howling along with the wolves in the "Thriller" song.
Go ahead. Let your zombie hair down.
Correction, October 23, 2019: An earlier version of this story misstated the name of Zenith Fitness and Movement.