Matthew Thorsen
Barge Canal Market
Vermonters recycle pretty much everything — bottles, altweekly newspapers, significant others, etc. Clothing, décor and furniture are no exception. There are plenty of thrift and consignment stores around town to flex your creative muscles and scoop up fabulous finds on the cheap. Here's our guide to tracking down treasures that'll save a pretty penny while reducing your environmental impact. They'll also keep you looking fresh — ethically.
Uptown Funk
In and around the Queen City, there are a few clutch places to score designer names for cheap. Shalom Shuk Marketplace of Peace at the Ohavi Zedek Synagogue is the place to start — it tends to have big-name items in good-to-great condition. Commes des Garçons cape for $5, anyone? Plus, sales are donated to local nonprofits.
If you're looking for a funkier twist on designer resale, check out locally owned Dirt Chic on Main Street. You'll find a range of styles without having to do too much digging.
Rackk & Ruin, in a small, second-story shop on Pine Street, carries a gorgeous selection of handmade jewelry plus a curated assortment of used natural-fiber clothing. Think silk and cotton blouses, deftly distressed denim, and too-cool-for-school leather jackets. The selection is small, but quality is high.
And if you're tragically hip, don't miss Project Object Vintage. Owner Sam duPont sells everything from silver Mexican jewelry to vintage Levis to tooled leather belts in her downtown studio and on Etsy. Pony-hair purse? Got it. Fringed leather jacket? Check. POV also occasionally organizes pop-up events around town.
Costume Party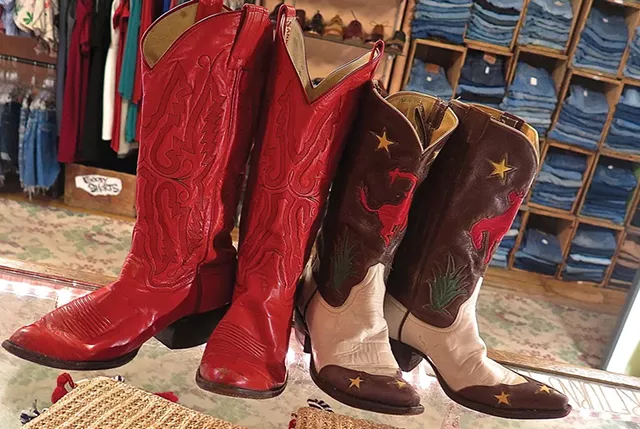 It's Halloween. You're not crafty. What do you do? Give up the (sheet) ghost and head to Old Gold or Battery Street Jeans.
The former carries an array of costumes that will make your mouth water. Prices are a bit steeper at the Main Street boutique, but who can say no to cowboy boots that you'll wear well into your eighties?
Battery Street Jeans, on the other hand, is best for those with explosive style and pinched wallets. You're sure to find glory in the racks of faux furs, primo men's jackets and women's dresses from the 1960s on up. VHS dorks won't be disappointed by the selection here, either. (Note that BSJ recently moved from Pine Street to College Street, neither of which are Battery Street. We know. It's weird.) While you're there, don't miss Wild Cat Sister's Heartsick Boutique, the store-within-a-store offering adorable folk kitsch for way below market value.
If you insist on getting crafty, hit the Possibility Shop at the First Congregational Church for dirt-cheap garb that you'll have minimal guilt about chopping up or dyeing. Keep a lookout for the bag sales, too — whatever you can fit into a bag costs just a buck.
Mixed Media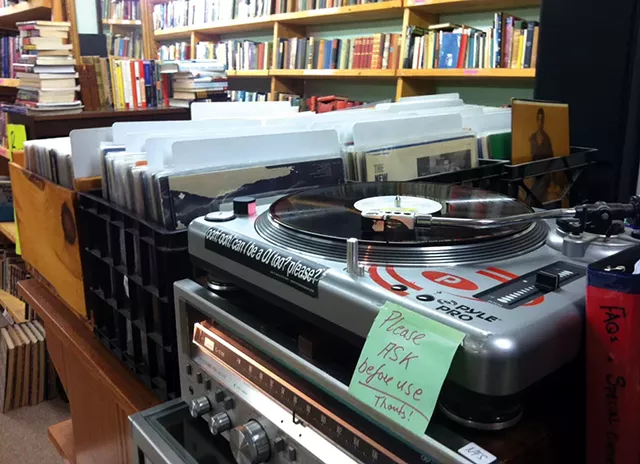 Dressing your body is important. But what about dressing your brain? Here are some tips for enriching your noggin.
For books, the first stop is Crow Bookshop. The cozy Church Street shop carries an assortment of new and used tomes. Also check out Speaking Volumes on Pine Street for thousands of titles on virtually any topic imaginable.
Then head to Speaking Volumes' second location, just across the way, for music media. Dig through the stacks for hipster records and jazzy vinyl, as well as record players and speakers.
Over on South Winooski, Pure Pop Records is a basement record store dishing out quality secondhand tapes, records and CDs. Get in to get down.
Home Economics
Your house is your temple — or something like that. So dress it accordingly. ReSOURCE is ground zero for filling out that new pad, whether your taste is Ikea or Marie Antoinette. Vintage trunks at fair prices are not uncommon here, and the place is usually overflowing with fun fixer-uppers. If you're looking for the odd door, knob or sconce, visit the ReSOURCE Building Material Store just down Pine Street.
Midcentury-modern geeks and those in search of upscale furniture should check out Barge Canal Market for well-loved (and well-cared-for) furniture and housewares from the 1950s onward. It's perfect for folks who feel they belong in a Wes Anderson film.
Kitschy Kitschy Ya Ya Da Da (Kitsch and Weird Shit)

Do your eyes light up at the mere suggestion of a flea market? Do the words "tchotchke," "knickknack" and "bibelot" make your heart soar? If so, get thee to one of two South End locations of Vintage Inspired Lifestyle Marketplace. This multi-seller indoor bazaar has everything from Frozen Charlotte dolls to vintage lace. Whether you're looking to make your dorm room cozier or find a gift for that kooky friend, VILM has got you covered. Don't miss its summertime BTV Flea markets.
Survival Tip: Make off with college students' unwanted household goods — think furniture, rugs, electronics and more — at the Chittenden Solid Waste District's Spring Move Out Project, held on Buell and Loomis streets every May. Get the details at cswd.net. Thanks, college students!

When the weather turns, you may get cold feet about living in Vermont, so warm socks are essential winter survival gear. Stock up at the annual Darn Tough sock sale, held in November at DT's factory in Northfield (aka "the Sock Capital of the World"). You'll score guaranteed-for-life, custom-blend merino wool footsies at deep discounts — like, half off or more.