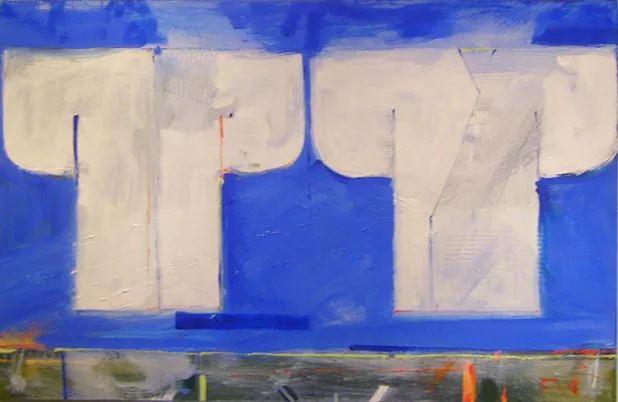 "Kimono Dead of Winter" by Frank Woods
Some recent creations by three central Vermont artists are appearing in a modest show at The Lazy Pear Gallery in Montpelier this spring. Sculptor Jeane Wolfe and painters Mary Admasian and Frank Woods are featured in the exhibit, titled simply "New Artists/New Work." Yet not all the work is really so new. One of Admasian's two collections of painterly drawings was created early in the last decade.
All her pieces are works on paper, including a newer group of five framed, 5-by-7-inch, mixed-media paintings and some older oil-stick abstractions. Admasian's most impressive pieces in the show are the pair of "12 Year Old Martyr" images on tall paper banners. Both are boisterous drawings in black, orange and gray oil paint, covered with varied weights of line and energetic strokes that generate dancing rhythms. "12 Year Old Martyr #1" is 83 by 24 inches with V-shaped areas of negative space at the top and bottom edges. "12 Year Old Martyr #2" is an 86-by-26-inch piece with negative space arranged in plateaus at the top and in an S shape, like a snuffed-out cigarette, at the bottom.
Woods' paintings hold strong reminders of contemporary art history, specifically the paintings of Jim Dine and Richard Diebenkorn. It's practically impossible to look at the image of a flattened garment nowadays without mentally referencing Dine's work. His iconography has itself become iconic — so much so that one wonders why any artist still tries to make something new from that well-worn idea. But Woods isn't specifically referencing Dine in his "Kimono" series. An exhibition by Japanese master kimono maker Itchiku Kubota opened his eyes to the possibilities of geometry and color the theme offers.
"Kimono Two Step" is a diptych of 8-by-8-inch oils on panel presenting orange kimonos on golden-yellow backgrounds. Woods works with rectangles that imply objects — kimonos — rather than with pure abstract shapes, and his two- or three-hued harmonies are perfect studies in color theory.
The larger "Kimono Dead of Winter" is a painting of a white kimono presented as a double image of the garment on one canvas. It has some of the painterly brushwork Woods does so well in other series. A different collection of his "Kimono" paintings appeared at the Vermont Arts Council Spotlight Gallery in March and included his explorations of the form in both drawing and painting media. The smaller scale of the paintings in this selection makes them seem more concerned with color than with visual textures.
Woods' 18-by-24-inch "XX" has the high horizon line of many of Diebenkorn's abstract landscapes and a range of beautifully modulated greens punctuated by small rectangles of red and orange. The examination of color and line in Woods' paintings seems genuinely fresh, but he could be more concerned about whether his images appear derivative. What's "new and personal" about any lesser-known artist's work is easily overlooked when he or she carries the baggage of someone more famous.
Wolfe's sculptures don't have that problem. Her three pieces in the show are somewhat idiosyncratic, and that's a good thing. "Mercy" is a 40-inch-tall piece of granite circles on circles. The topmost is a polished disc about 30 inches wide. The lower two rounds are unpolished, and hence show a dramatically different texture and color.
Varied surfaces are also highlighted in "Dawn," a granite sun symbol 28 inches in diameter with a wheel of bronze set in its center. Around the solar disc are arrayed six petal forms, each with three uniform points reminiscent of simplified flames from a Hindu yantra.
"New Artists/New Work" appears through the end of May. That month's flowers brought by April showers aren't likely to be as prodigious as Wolfe's in "Dawn," but at least mud season will be a distant memory.