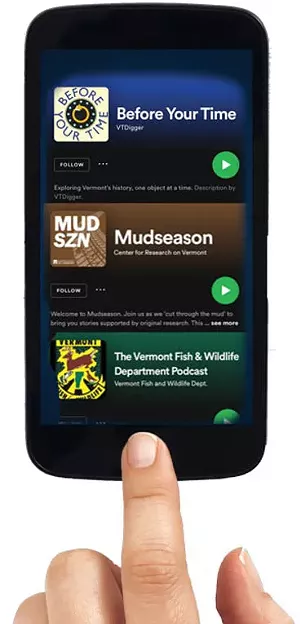 Like cattle and sugar maples, the rolling mountains of Vermont are rich in podcasts. The offerings span a wide variety of topics. A listener could fall down the rabbit hole of Rumble Strip, a unique collection of stories from independent producer Erica Heilman. Vermont Public Radio offers "Brave Little State"and the kid-oriented "But Why?," and the station just launched a new daily podcast called "The Frequency," which airs 15-minute briefings on the news stories of the day. The "Vermont Dog Trainer" podcast could be useful if you're thinking of teaching Spot some manners in your housebound spare time, and the Vermont Folklife Center collects interviews from its archive into a monthly podcast called "VT Untapped."
Maybe you're already a podcast fanatic, or maybe you've never dived into the medium. Either way, podcasts can be a way to experience Vermont in a time when we have little opportunity to get out and explore it. We picked three podcasts you might not know of that delve deeply into the state's past, present and future and that interview intriguing characters. Ranging from quick work-break-length snacks to full-on audio feasts, they might help tide you over until we're all free to interact again.
'Before Your Time'
The Vermont Historical Society and Vermont Humanities have produced 20 episodes of "Before Your Time," each based on an object from the Historical Society's permanent collection. The episodes are blessedly well edited, with runtimes clocking in under 30 minutes, and the producers use interviews with direct sources whenever possible.
In the most recent episode, "The Long Enough Trail," host Lovejoy Dole takes listeners on a brief history of Vermont's Long Trail. The episode explores the trail's creation — which was really more of an economic than an environmental endeavor — and then pivots to interviews with women who'd been pioneers for their gender on the trail.
In an interview recorded in 1987, Catherine Robbins Clifford, then 86, recalled her time as one of the first three women to hike the entire length of the Long Trail in 1927. One of those women, Robbins said, set out on the trail because she "was being bothered by a man who wanted to marry her."
That episode also contains some interesting facts about porcupines, but we won't give away too many spoilers here.
'Vermont Fish & Wildlife Department Podcast'
You may be wanting to bug out and head for the hills right about now, but officials are advising that Vermonters stay home, or at least within 10 miles of their homes. The Long Trail and side trails on state lands are closed, and to discourage crowding, the Vermont Fish & Wildlife Department isn't installing docks at any of its fishing access sites. Even so, hunting and fishing seasons are expected to proceed as planned.
If you're curious about hunting but don't know where to start, the department's podcast is a great entry point. The first few episodes offer an accessible, friendly information source for newbies and experienced outdoorspeople alike. In one episode, called "Start With Squirrels and Ask for Help," Vermont student Matt Lacey spoke about his experience getting into hunting as a newbie a few seasons ago and growing to love the sport. He also reminded listeners that hunting licenses and taxes on guns and ammunition are a huge source of funding for conservation and habitat management.
The episode breaks down the basic "roadblocks" that stop adults from hunting, and even host Tom Lacy admitted that he had always assumed "there's people out there who know how to hunt, and then there's people who don't, and that's that." The two men went for a walk in the woods and talked about squirrel hunting — successes, failures and lessons learned along the way.
'Mudseason'
This podcast, funded by the University of Vermont's Center for Research on Vermont, is produced by Eliza Giles, who also teaches UVM students the ins and outs of podcasting. They typically interview UVM- or other Vermont-based experts on topics relevant to the state. Episodes include everything from historical looks at statewide debates, such as the struggle for civil unions for same-sex couples and the fight against Walmart entering Vermont, to an interview with a man who's making furniture out of mushrooms.
Some longer "Mudseason" episodes have been reedited and offered as bite-size versions of themselves, if you're interested in a five-minute take on a topic.
Most recently, the "Mudseason" team is covering the same topic that every other media outlet is exploring, in a series of short interviews with UVM students called "Coping With COVID." You might feel burnt out on coronavirus-related content, but these episodes offer short — fewer than six minutes — and touching insights into how students are thinking about and adapting to the current situation. In the inaugural episode of the new series, student producer Leah Kelleher called these stories "little packages of joy wrapped in stories of student perseverance."
"With all that's going on in the world right now, it can be hard to find and hold onto joy," Kelleher said. "But that doesn't mean it isn't there for us to seek out."