Matthew Thorsen
Leyla Bringas of Lunaroma
The olfactory assault of pungent perfume has happened to everyone. A woman enters an elevator doused in an invisible cloud of some trendy fragrance; high school boys amble by trailing whiffs of Axe body spray. An insistent salesperson sprays your wrist with a cloying mist that no amount of scrubbing will remove.
Wearing perfume doesn't have to be that way. "Commercial perfumes contain chemical fixatives," notes Beckie Sheloske of Rebel Intuitive Perfumerie, the artisan company she co-owns with partner Katy Knuth. Those synthetic fixatives prevent a perfume's oils from evaporating too quickly, prolonging the product's longevity and ensuring uniformity in each mass-produced bottle.
But perfumes can also be subtle — and natural. With the launch of Rebel Intuitive in Montpelier last month, Sheloske and Knuth join two other local enterprises — Lunaroma Aromatic Apothecary in Burlington and Vert Mont Perfumery in Warren — in offering handmade alternatives to commercial perfumes. All three companies eschew synthetics and use botanical essential oils in their scents' compositions.
The similarities stop there, however. Each company aims to infuse its creations with a sense of individuality, artistry and purpose.
"Botanical perfume is a piece of art," says Leyla Bringas, owner of Lunaroma, which opened on the corner of St. Paul and Howard streets in Burlington 15 years ago. Now in new quarters on Pine Street, Lunaroma offers an extensive bath and body line; essential-oil singles and blends, developed for medicinal and therapeutic purposes; and complex "art perfumes" that Bringas calls her "little masterpieces." These include customer favorite De La Noche, a lush blend of white flowers and sandalwood; Dulce, rich and sweet; and Vesper, a lively chypre — a family of perfumes that contrasts citrus and woodsy notes.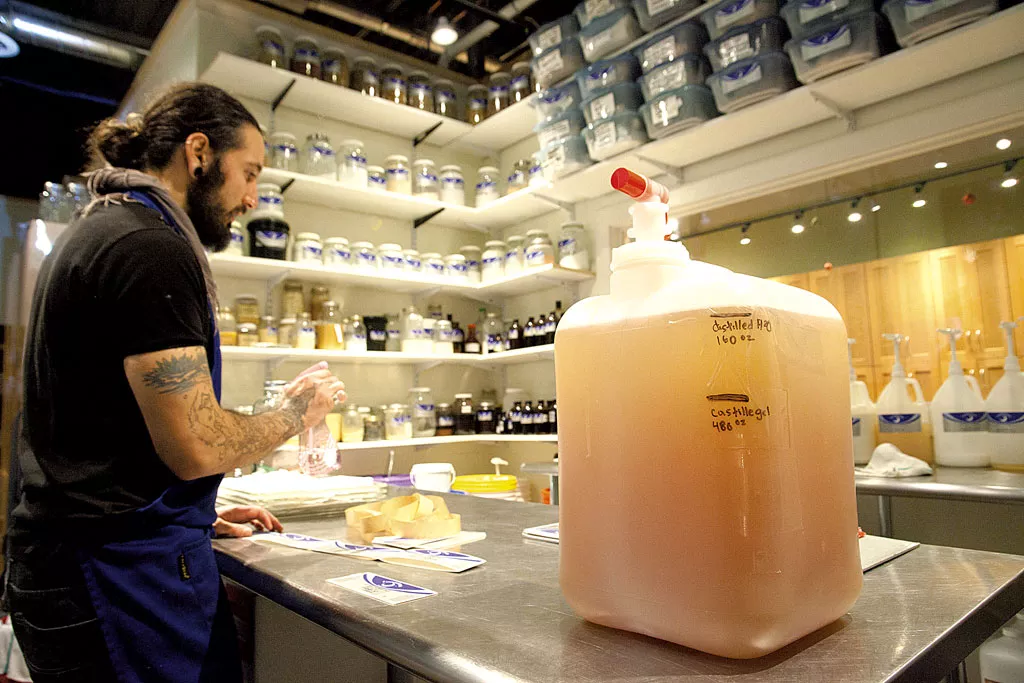 Matthew Thorsen
Working on a scent at Lunaroma
A perfume is "a symphony of different plants singing a song together," Bringas rhapsodizes. "But it's also a craft, because we make everything here by hand."
That is also the case at Vert Mont and Rebel Intuitive. The latter's primary scents are Ninon, a powdery floral; Grace at 67th, a grassy, unisex scent; and WinterLewd, a resinous, woody scent. The recipes contain dozens of ingredients. The company's alternatives to synthetic chemical fixatives include perfumer's-grade alcohol infused with orris root, vanilla pods and chunks of amber. The homemade tinctures have natural fixative properties and add a base note to the perfumes.
In short, the perfumes offered by Lunaroma, Rebel Intuitive and Vert Mont bear little resemblance to the mainstream scents found in department stores, and natural perfumers will tell you that's a good thing. Commercial perfumes are formulated to appeal to a wide demographic; they use synthetic compounds to keep the scent from changing, or to create inexpensive, artificial impressions of ingredients such as vanilla and rose. And many perfume oils marketed as "natural" contain ingredients that are far from pure plant extracts, points out Bringas.
"The average person doesn't know that 'lily of the valley' is not an essential oil, or that vanilla is very expensive, or that it's brown, or that you can't get rose for $8," she says. "It's, like, just say it's artificial rose!"
Pure essential oils are created from steam distillation or solvent extraction, Bringas explains. Massive quantities of plants are required to make the oil: 50,000 roses, for example, go into a single ounce of rose oil.*
Courtesy of Ver Mont Perfumery
Donna and Tess Cristen of Ver Mont Perfumery
Natural botanical oils are also highly volatile: They evaporate rapidly unless anchored by a base. (Popular options include alcohol or "base oils" such as sweet almond and solid wax.) And, like any perfume, the scents smell different on each wearer, affected by the individual's skin chemistry.
"The thing about working with naturals is that they're really an interactive experience," says Donna Cristen, founder of Vert Mont. "You really need to take the time to get to know them, and to let them work with your body chemistry."
Like Bringas and Sheloske, Cristen has a background in aromatherapy. Formerly an actor and makeup artist, she moved to Vermont from New York City five years ago with her daughter, Tess, who is now 24 and the company's marketing director. Cristen says the time and place were right for her to pursue her longtime dream of launching a botanical perfume company. Many of the qualities she identified with a Vermont lifestyle, such as an appreciation for the natural world, were applicable to the kinds of perfume she wanted to create.
The line launched with five roll-on, oil-based perfumes with aromatherapeutic benefits. For example, Cor, a blend of sweet orange, rosewood, cypress and rose attar, "tunes into core emotions."
Vert Mont now retails in 13 stores around the state, and Cristen also sell at farmers markets and trade shows. The line has expanded to include solid perfumes and seasonal scents, such as a perfumed bug spray for summer and, for winter, a blend that is said to mitigate seasonal affective disorder.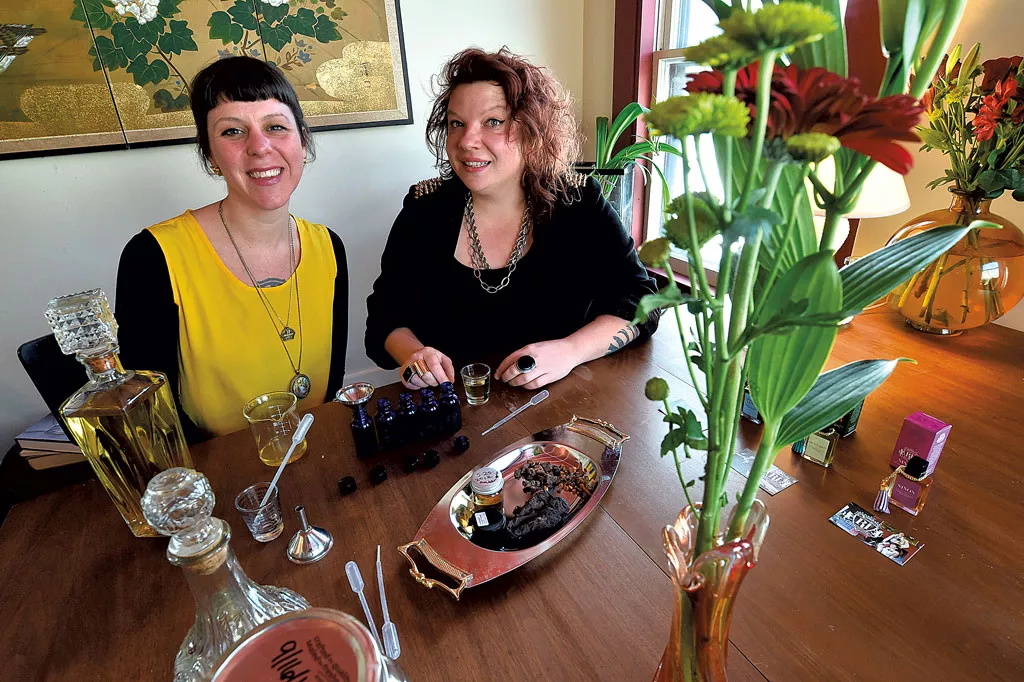 Jeb Wallace-brodeur
Katy Knuthand Beckie Scheloske
You might think that Vermonters would be unlikely to fork over cash for a luxury product like perfume. You would be wrong. In recent years, according to local makers, the artisan-perfume movement has gained traction nationwide. The customer base includes clients who are chemically sensitive, environmentally conscious or simply more interested in a unique scent than the latest celebrity fragrance. This "niche movement," as Sheloske describes it, has manifested in an explosion of perfume blogs and thriving perfume boutiques in urban areas, where the products can range from $80 to $450 a bottle.
The strength of the natural perfume market helped impel Rebel Intuitive's launch this year. Sheloske and Knuth say they hope to appeal to Vermonters, but also to reach a broader client base online. Their outreach strategy includes sending samples to perfume bloggers, entering industry contests and attending trade shows.
Currently, Rebel Intuitive perfumes are only available online. Sheloske and Knuth plan to steer clear of farmers markets to distinguish their products as luxury items. (A 15-milliliter bottle sells for $129, though prices start at $30.) Their ideal customer, they say, is down-to-earth and socially responsible but prone to a bit of self-indulgence.
In addition to practicing their olfactive artistry, Rebel's founders have created unique narratives for each scent, accompanied by provocative images by Vermont photographer Heather Gray. A 17th-century female libertine inspired Ninon; Grace at 67th, according to the perfumers, suggests the "bohemian glamour" of a rock-and-roll muse. The bottles come with decorative tassels, while the boxes feature distinctive artwork.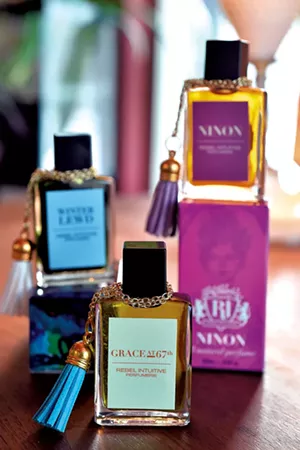 Jeb Wallace-brodeur
Perfumes from Rebel Intuitive Perfumerie
By contrast, Vert Mont perfumes are bottled in apothecary-style brown glass with minimalist labels, and online photos display the products on birch logs. That choice, says Tess Cristen, is meant to convey the brand's commitment to "back-to-basics" products and high quality with no frills.
At Lunaroma, Bringas has likewise avoided fancy containers. "Research shows that 80 percent of the cost of a [fragrance] product is the packaging and 20 percent is the ingredients," she says. "I want a hip and classy and simple bottle, but I want 20 or even 10 percent of the cost of my product to be packaging and 80 percent to be the ingredients."
Though she rarely advertises, Bringas says she noted an influx of curiosity about her line after she installed Lunaroma hand-soap dispensers in Burlington-area restaurants earlier this year. Though she admits that the company initially lost revenue by supplying organic soap at low prices, Bringas considers the investment worthwhile.
"The soap was like the gateway drug," she jokes. "Seriously, it brings people in. It's the oils talking to people who aren't used to smelling something so vibrant."
Seven Dayzers Sniff and Tell
Smelling perfume is a visceral, subjective experience that can conjure memories, induce pleasure or cause a gag reflex. While it's hard to convey a scent in words, we tried. Here's a random sample of our staffers' reactions to some Vermont-made perfumes.
Lunaroma Aromatic Apothecary
Mystique
"This scent starts with bright, zany florals; then darker, earthier notes reveal themselves. A soft, woody patchouli forms a lasting base note, while subtle, spicy aromas and airy florals linger near the skin. The scent conjures a refined lady in dark robes and candlelight." — Hannah Palmer Egan
Deep Calm
"A calming, clean fragrance that evokes a feeling of being in nature, with a cool, crisp bite ... I'm off to have a gin and tonic with this fragrance — next to the Christmas tree, of course." — Kaitlin Montgomery
Rebel Intuitive Perfumerie
Winter Lewd
"It's just damn hard to be sexy in the bleak midwinter. While the L.L.Bean catalog fantasyland is nice, the reality is that frumpy layers of flannel, wool and Gore-Tex leave far too much to the imagination for, like, six months of the year. A scent that stimulates and seduces with subtle notes of citrus and wood is welcome indeed." — Dan Bolles
Grace at 67th
"Floral, but not cloyingly sweet, and it transported me back to my high school years in Tacoma, Wash., in the best possible way. Here was the Victorian-style, 1908 botanical conservatory to which I would escape after school with friends: a wooden bench, still air, the smell of things green and growing." — Kathryn Flagg
Vert Mont Permumery
Cor
"Reminiscent of lemony pine, only not in that I'm-scrubbing-the-toilet way." — Ken Picard
Psyche
"If cozy had a smell, this might be it. On the sweet side, but pleasant and kind of sexy." — Pamela Polston
Correction 12/10/14: An earlier version of this article misstated the quantity of rose petals used in the fragrant oil. It's 50,000 roses, not 60,000 pounds, that go into one ounce.
The original print version of this article was headlined "Scents Sensibility"