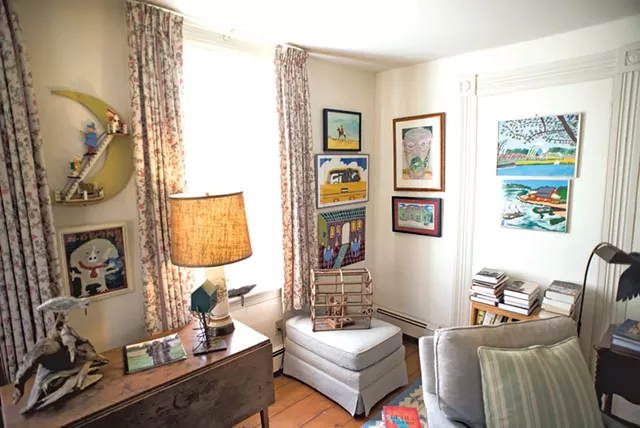 Caleb Kenna
Bill Brooks' New Haven farmhouse is filled with folk art.
Whether you rent a shoebox apartment, homestead in a log cabin or own a mansion, your home is not just your castle; it's also your gallery. In a sense, everyone is a curator of his or her living quarters. So we wanted to know: What does home look like for professional curators?
For this issue of Nest, three of Vermont's foremost curators graciously opened their doors to share their private collections and the stories behind them: Bill Brooks, director and curator of the Henry Sheldon Museum of Vermont History in Middlebury; Janie Cohen, director and former curator of the University of Vermont's Fleming Museum of Art; and Kory Rogers, head curator at Shelburne Museum.
Without institutional directives or a particular exhibition framework, what do these art-minded individuals collect, and how do they display it? What artworks and artifacts are closest to them? Take a look.
Folk Rebellion
Caleb Kenna
Bill Brooks' New Haven farmhouse
The interior of Bill Brooks' New Haven farmhouse is a celebration of folk art in the broadest terms, from the massive banners of Sheldon Museum exhibitions in his garage right down to diminutive wooden Alice in Wonderland figures. His home explodes with color, finding unique harmony between "traditional" Americana and the often vibrant, uninhibited works of contemporary self-taught artists.
Brooks, 74, began collecting in his thirties. He started somewhat modestly with an interest in shorebirds and decoys, which was imparted to him by the mother of a girlfriend. After 25 years as a banker, first in Washington, D.C., and then in Salisbury, Md., Brooks retired early and launched his second career, in 1993, by enrolling in New York University's graduate program in American Folk Art Studies. Then he took to collecting with a vengeance.
While studying in New York, Brooks was a frequent visitor to both the American Primitive and Cavin-Morris galleries, which specialize in works made outside of the narrow art-world canon. He recalls bringing home some ungainly larger purchases by subway, including the driftwood assemblage "Steppe Fetish" by Montana artist Keith Goodhart and the metal "Green Man" sculpture by Clyde Angel.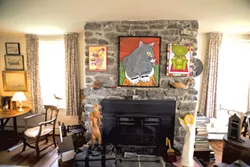 Caleb Kenna
Bill Brooks' New Haven farmhouse
Brooks has strong ties to Vermont's folk art community. Prior to his current posting, he served on the board of Grass Roots Art and Community Effort in Hardwick and was executive director of Frog Hollow Vermont State Craft Centers from 1997 to 2002. Accordingly, a strong cache of GRACE artists is represented on his walls, including a small dog portrait by Merrill Densmore, a drawing by Gayleen Aiken, and several of James Nace's large and colorful animal paintings.
Commenting on his attraction to so-called "outsider art," Brooks noted, "It's representative, yet it's a little off-kilter."
Humor and fantasy are in ample supply here. In Brooks' den is a satirical rendition of "Arrangement in Grey and Black No. 1" (also known as "Whistler's Mother") by James Whistler. In this version, she smokes Winstons. Next to this drawing hangs a remarkable handcrafted fox costume by South Burlington artist Wendy Copp, titled "call of the wild, grandma?" Brooks exhibited Copp's fantastical, life-size costumes at the Sheldon in 2013, in the show "Fashion & Fantasy at the Edge of the Forest."
Brooks is an avid reader, and stacks of art books can be found throughout his house. He recently started the newly released book The Apparently Marginal Activities of Marcel Duchamp by Elena Filipovic and confesses to a fascination with the Dadaist. In a hallway is a photographic re-creation of "Five-Way Portrait of Marcel Duchamp" — but in it Brooks has replaced that artist with pictures of himself. He hopes to someday mount an exhibition of what Duchamp dubbed "readymades" — objects already in existence, labeled as art.
Though his interest in Duchamp may surprise some, Brooks' home indicates that he perhaps shares strains of the icon's conceptual rebelliousness. His ebullient collection defies neat categorization and continues in the folk art tradition of blurring boundaries between art and artifact.
An Eye for History
Oliver Parini
A love for fabric and whimsy is evident throughout Janie Cohen's Burlington home.
If you entered Janie Cohen's Burlington house through the front door — which "nobody does in Vermont," she noted — you'd see a painting by Axel Stohlberg, the artist who founded Axel's Gallery & Frame Shop in Waterbury. "One night the house just fell apart," the painting reads. Despite this nod toward chaos, Cohen's aesthetic is moderately sparse, underscored by subtle whimsy and an appreciation for texture and simple geometries.
Oliver Parini
Janie Cohen's Burlington home
The house in which Cohen has lived for nearly 13 years was built in 1885 at the behest of Urban Woodbury, according to Cohen. Woodbury served as Burlington's mayor from 1885 to 1887 and was the state's 45th governor, from 1894 to 1896. Echoes of the past abound in the architecture, from the "half" bedroom built as maid's quarters to the deep walk-in pantry (complete with serving window to the dining room) to the outline of the original, massive woodstove on the kitchen floor. "It has a parlor," Cohen said. "What do you do with a parlor in 2016?"
What she did with it was turn it into her "cloth studio." A wooden farm table serves as a workspace for the hand-sewn fabric collage that Cohen has been making for decades. On one wall hang some of her artwork, recently returned from the "Directors' Digressions" show (with Sara Katz of Burlington City Arts) at the Amy E. Tarrant Gallery. It was Cohen's first time exhibiting. In the adjacent dining room there's a large untitled work, made with 19th-century Japanese fabric dotted with a swan family crest.
Oliver Parini
Janie Cohen's Burlington home
Cohen's love for the patina of history extends beyond her own artwork. A barn door newly purchased from ReSOURCE leans against the studio wall, its peeling white paint and variegated wooden panels mirroring her interest in textile collage and assemblage. On one tabletop, a selection of Dutch pipe bowls is clustered in a little family. She purchased these for "nothing" at an antique store in Amsterdam, where she lived from 1979 to 1980 while working at the Rijksmuseum. Twin brass gryphon-shaped candleholders on her dining room table came from a flea market in the city.
Last year Cohen, a Picasso scholar, mounted "Staring Back: The Creation and Legacy of Picasso's Demoiselles d'Avignon" at the Fleming. Her original exploration arose from her synthesis of how Picasso merged an array of influences, including colonial photographers' images of African women, to create his groundbreaking painting.
Oliver Parini
Janie Cohen's Burlington home
A 1963 original Picasso drawing in her home stands in for this particular academic interest of Cohen's. So does a remarkable colonial-era carving of a human male figure; it's of African origin but rendered with Anglo facial features and hair reminiscent of Bob's Big Boy. Several African masks are on display, too, reflecting Picasso's infamous use of ethnographic objects as source material. One with bunny-like ears hangs opposite a speckled bunny doll by Burlington artist Catherine Hall.
Plenty of other Vermont artists are represented here, as well. These include a multitude of small-scale works by Winooski artist Leslie Fry, abstract paintings by former Burlington resident Gerrit Gollner and photographs by the late Vermont artist Wes Disney — who bequeathed his works to Cohen upon his death in 2000.
The majority of these are small to midsize works, meaning there's plenty of empty wall space left over, particularly in the living room. It is uncrowded, and a subdued palette helps each piece stand out.
Though the breadth and diversity of Cohen's personal collection might sound intimidating, her home is warm and welcoming. Cohen gracefully balances local and global, historic and contemporary. Asked to describe her decorating style, she said, without missing a beat, "definitely eclectic."
Class and Curiosities
Caleb Kenna
Kory Rogers and Jonathan Mikulak strike a suitably elegant tone in their apartment at Shelburne Farms.
Kory Rogers lives in one of Vermont's most coveted locations. That is, it would be coveted if more people knew it existed. Three years ago, he moved into an apartment built onto Electra Havemeyer Webb and James Watson Webb's 40-room Brick House, located on the property of Shelburne Farms. It's hard not to gasp when passing through the tree-lined driveway or rounding the bend behind the house to see the broad vista of Lake Champlain and the Adirondacks.
Caleb Kenna
Kory Rogers and Jonathan Mikulak's apartment at Shelburne Farms
Rogers' partner, Jonathan Mikulak, a graphic designer, moved into the apartment in June. The décor, Rogers joked, "is the culmination of our relationship … I like the details, [and] he does the broad strokes." Between the two of them, they certainly appear to know what they're doing with regard to interior design.
Rogers describes their collective style as "a fusion of classical and Asian-inspired" influences. Much of the Stickley Chippendale furniture throughout the house, he said, "Jonathan has had since he was 18." A calculated palette of taupe, gray-blue and silver defines the living room, complemented by dark metalwork accent pieces, blue-and-white Chinese ceramics and an antique Japanese screen.
"I sneak things into this room," Rogers said with a chuckle, indicating a silver tarantula broach atop the coffee table. It does not seem out of place. Other pieces from Rogers' personal collection are kept in what he calls his "cabinet of curiosities," the display portion of a secretary desk and shelf. Included among these treasures is a 19th-century album of dried seaweed, bound between two polished shells. In the bathroom are spectacular 1960s-era, 3D anatomical models of human skin, a torso and an eyeball, the last of which is bigger than a grapefruit.
Caleb Kenna
Kory Rogers and Jonathan Mikulak's apartment at Shelburne Farms
"You have to live with the idiosyncrasies of the house," Rogers said. These include the living room's open niches. The pair opted to paint these black to set off a pair of hand-carved marble Greek architectural models, found at Burlington's Barge Canal Market.
Caleb Kenna
Kory Rogers and Jonathan Mikulak's apartment at Shelburne Farms
The dining room was part of the original Brick House, built with wood sourced by the Webbs' hired carpenters from other early New England houses. Small carved starbursts and wallpapered corner shelves are just some of the special traces of the homes' histories. Through this room is the master bedroom, located just on the other side of the Brick House's Mulberry Hall, named for its warm, plummy color.
Rogers modestly refrains from giving himself credit as a decorator: "Jonathan came in and brought a touch of class — he brought all the class," he said. But their tag-team approach in this historic home appears to be a fruitful collaboration.