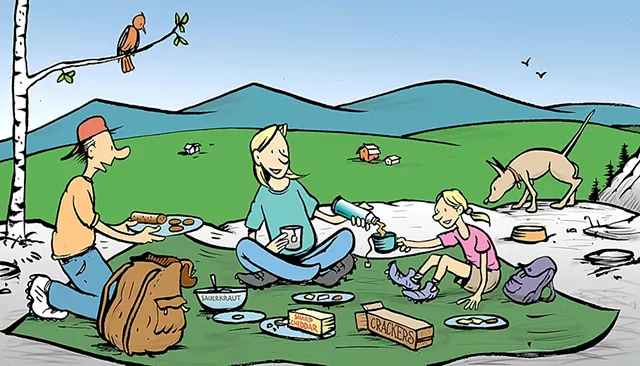 You're driving a wooded byway abutting a state forest, keeping one eye on the road while the other looks out for wildflowers, waterfalls trickling down craggy rocks or cardinals darting from tree to tree. The scenic route takes you farther and farther from civilization, and then you feel them ... the first pangs of "hanger."
Scenario 1: You didn't plan ahead for this. The spotty cell service may or may not put you on the trail of a food source, and the winding, scenic routes will make it a trek. You might just resort to the stale energy bar in your bag.
Scenario 2: You've brought a picnic! You pull over a half mile past the point of your hanger's onset and find a shady nook by a burbling stream. You spread out a blanket, pop open your cooler and bite into a hunk of fresh bread slathered with butter and topped with slices of colorful spring radishes. The air is sweet and clean. Soon you're satiated, happy and back on the road.
Whether your summer wanderlust takes you up mountains, to small towns in pursuit of your Vermont 251 Club goals, or to outdoor sculpture gardens and other arty wonders, packing a meal is always a good idea. If you discover a sweet eatery on the way, you can bring your prepacked food back home with you. If not, you're set with something delicious.
But not all outings (or hunger pangs) are created equal, so your picnic should be tailored to the occasion. On a hike, for instance, food that is light to carry but heavy in calories is the name of the game. On an art gallery visit, you might get a little more elaborate. Here are three ideas for themed picnics, designed with Vermont's attractions in mind, each with suggestions for the perfect location.
Mountaintop Munchies
To be eaten: on a peak such as Mount Hunger (trailheads in Worcester and Waterbury), Snake Mountain (trailhead in Addison) or Mount Tom (trailhead in Woodstock)
Thoughtful packing is rarely more important than when you are on a hike. Make your backpack too weighty, and you'll be moaning and groaning long before you reach the top. Fail to bring enough calories, and you'll be listless on the way down.
This picnic doesn't include the freeze-dried and dehydrated products you'd need to thru-hike the Long Trail. It's meant for shorter jaunts that don't entail carrying tons of gear.
Summer sausage and barbecue beef sticks from Maple Wind Farm.
A block of cheddar. This is a great hiking companion because it's safe to carry around without refrigeration, and the saltiness makes it taste great after vigorous exercise.
Dense breads that pack a lot of calories, such as the three-seed loaf from Running Stone Bread in Huntington. For extra deliciousness, bring a container of roasted and mashed garlic, a stick of butter in a Ziploc baggie, or a travel bottle filled with olive oil.
Homemade or store-bought kimchi or sauerkraut, packed without its juice (reserve the juice for other uses at home). You want something made with vegetables, right?
Iced tea, herbal or caffeinated. Or, if brewing and chilling the tea is too much work, simply add crushed mint and cucumber slices to your water bottle for extra flavor.
Dried fruits, nuts and other snacky things from the bulk section of the nearest market. Keep 'em separate, or mix favorites to make a personalized trail mix.
Pro tips: Take condiments out of their glass jars and tote them in food-safe travel bottles (the ones you use to get your favorite shampoo through airport security); freeze cubes of your favorite beverage and use them to keep food cold (you can drink them after they've melted); split picnics into portions so everybody can carry their own.
Food Is Art Is Food
To be eaten: at Shelburne Museum, a pull-off on Route 100 South after a visit to BigTown Gallery in Rochester, or at Fred Mold Park in St. Johnsbury after a visit to the Fairbanks Museum & Planetarium and the St. Johnsbury Athenaeum
While some people like to "paint 'n' sip," others prefer to look and sip. Happily, Vermont's artisan food producers make fare that pairs well with art of all kinds, from contemporary installations to Albert Bierstadt's monumental "The Domes of the Yosemite." (Catch that 1867 painting this summer at the Athenaeum before it gets shipped off for restoration in the fall.)
To exercise your own creative muscles, you could make the food and libations match the occasion. If you're going to Shelburne Museum to see "Wild Spaces, Open Seasons: Hunting and Fishing in American Art" (June 3 to August 27), pack your basket with smoked salmon and venison jerky. If you have tickets to a performance of Vermont Shakespeare Festival's Richard III, bring on the shellfish, game birds and wine.
Salami from Vermont Salumi, pâtés and rillettes from Beau Butchery + Bar in Montpelier, and smoked salmon from Starbird Fish. Combine them on a platter pretty enough to paint as a still life.
A trio of artisan cheeses. Mix up wedges and rounds made from sheep, cow and goat milk in styles ranging from young and gooey to aged and firm.
A seeded baguette from your favorite bakery.
Mustard mixed with minced dill or tarragon, and homemade or store-bought pickles.
Wine from La Garagista Winery in Bethel, cider from Eden Specialty Ciders, or craft beer from one of Vermont's countless breweries. Wanna get fancy? Shake up a few portions of a cocktail, sans ice, and bring them along. When you're ready to imbibe, simply grab some "rocks" from the cooler.
Fruit salad. Chop up pears, apples, grapes, cherries, etc. before you leave the house. For extra flavor, pour on a little simple syrup made by simmering equal parts sugar and water with a few sprinkles of cinnamon and allspice and a pinch of salt.
Pro tips: Keep a "picnic kit," including plates, flatware, cups and a wine opener, in your car so you'll be prepared to snack on the go. For bonus awesomeness points, make an occasion-appropriate playlist on your smartphone.
Protest Picnic
To be eaten: on the Vermont Statehouse lawn in Montpelier, wherever an objectionable pipeline is being built or while occupying a bench on Burlington's City Hall Park
When you're rallying to protect the environment or the rights of migrant workers on dairy farms, you don't want to be packing any old genetically engineered items. Here are some foods that will keep you marching, chanting and waving signs for the long haul.
Roasted pasture-raised chicken salad with homemade mayo and chives.
Any cheese from Lazy Lady Farm, where provender and politics go hand in hand. Owner Laini Fondiller has made cheeses called Bernie — which was a bit holey — and Barick Obama. And we doubt she intends to replace the latter with a bitter, older, orange-tinted variety anytime soon.
Elmore Mountain Bread made from locally grown wheat milled by the bakers themselves.
Wild pesto made of dandelion greens, nettles and wild leek tops, ground up with sunflower oil, pepper and salt.
Kombucha, duh. And fair-trade cold-brew coffee to keep you moving.
Brownies.
Pro tips: Just as you'd set a place for Elijah at a seder dinner, leave a spot on your picnic blanket in case Sen. Bernie Sanders shows up. Or maybe just bring extra food for fellow marchers, 'cause sharing is caring.