Vince Illuzzi and Amy Davis
The Green Mountain State's 14 county prosecutors are the most powerful politicians voters have never heard of, according to James Lyall, executive director of the American Civil Liberties Union of Vermont. "These are elected officials who have flown under the radar for far too long," he said.
Many of them will go unchallenged this election year, but three face competitive opponents in the August 14 primary.
Defense attorneys are trying to unseat incumbents Vince Illuzzi in Essex County and Erica Marthage in Bennington County. In Lamoille County, a former prosecutor is challenging incumbent Paul Finnerty.
State's attorney races aren't generally high-profile affairs; several candidates said the first question they typically get while campaigning is, "What's a state's attorney?" Yet the stakes can be high.
As the chief law enforcement officer in each county, state's attorneys decide which cases to prosecute and how aggressively to pursue them. As a result, the consequences for criminal behavior can vary widely across Vermont.
Elected to four-year terms, state's attorneys don't have to live in the county they serve.
In fact, they don't even have to be attorneys. That's making it possible for Garrett Cornelius, who is not a lawyer, to challenge Jennifer Barrett, the Orleans County state's attorney, as an independent in the November general election. In 2014, Cornelius and his older brother were involved in a fight in which another man died, but then-Orleans County state's attorney Alan Franklin didn't press charges, concluding the brothers acted in self-defense.
Assistant attorney general Betsy Anderson is running as a Republican in Lamoille County, and independent attorney Peter Bevere is challenging incumbent Dennis Wygmans in Addison County, bringing the total number of contested races, including primaries and the general election, to six. Competition has been similarly weak in past years: There were eight contested races in 2014 and five in 2010.
Lyall hopes those numbers will rise in future elections. Earlier this year, the ACLU of Vermont launched a campaign to bring more attention to state's attorney races. But it's had limited success, so far.
Four candidates refused outright to fill out an ACLU survey meant to elucidate differences among those running, while eight incumbents signed on to a joint response coordinated by the Department of State's Attorneys and Sheriffs. The ACLU is hosting a candidate forum on Thursday, August 2, at Vermont Law School's Chase Center, though not all candidates have agreed to attend.
"The fact that many candidates run unopposed ... frankly is part of the problem," Lyall said. "It's what allows state's attorneys to operate without a great deal of openness and transparency."
In-Vince-able?
Republican Vince Illuzzi is a Northeast Kingdom fixture. He has argued cases for Essex County since 1998, and he's been in the public eye for even longer, having served as a state senator from 1981 to 2013. Illuzzi, 64, lives in Derby, in neighboring Orleans County.
Illuzzi has weathered plenty of controversy over the years and remains widely respected for his courtroom savvy — but his seat isn't safe.
Sen. Joe Benning (R-Caledonia), a defense attorney who works in the Northeast Kingdom, observed that incumbency can be a liability for a state's attorney who's been prosecuting his own constituents for two decades. In 2014, Illuzzi barely prevailed in the general election over Julianne Woolard, an independent attorney.
This year, Amy Davis, who graduated from Vermont Law School in 2015, more than three decades after Illuzzi, is hoping to defeat him in the GOP primary.
Davis, 31, lives in St. Johnsbury, in Caledonia County, and is a partner at a small law firm, Bucknam Black Davis, where she handles divorce, custody and other family cases. She represents criminal defendants through a contract with the defender general.
Although she has less experience than her opponent, Davis said she's already logged plenty of time in the courtroom.
She also has experience on the campaign trail. In 2016, she volunteered during law partner Deborah Bucknam's unsuccessful bid for attorney general.
Davis said she entered the race because "I didn't feel like Essex County was getting the attention it deserved."
The state's attorney position is part time in the sparsely populated county. Illuzzi juggles that job with work in his private practice and as a lobbyist for the Vermont State Employees' Association in Montpelier.
"I don't think he has the passion or the energy anymore to devote to this office," Davis continued. "If I'm being completely honest, I think he's doing it just for the paycheck." She recalled a June 27 court hearing for a case they were both involved with. Illuzzi made his appearance by telephone but had to hang up to testify about Act 46 in front of the State Board of Education in Fairlee.
Illuzzi flatly denied that he's neglected his duties. "I work seven days a week at this job," he said. "There's no question I'm a busy guy, but I don't think you'll hear from anyone that I don't devote the time necessary to do a full and fair job."
Essex County Sheriff Trevor Colby defended Illuzzi, who, he said, doggedly pursues cases and keeps him up-to-date throughout. "It's not uncommon for Vince to be on the phone reviewing the case, emailing [at] 11 o'clock at night," Colby said.
Benning said he has "heard that Vince has too many irons in the fire," but he personally hasn't seen evidence of it hurting Illuzzi's work.
Davis has also criticized Illuzzi's prosecution of Christina Deslandes, an Island Pond woman sentenced in February to six months in prison after crashing her car in a collision that killed her 3-year-old son, who was riding, unbuckled, in the front seat. Illuzzi, Davis suggested, should have pushed for more jail time.
"Judges impose sentences, not state's attorneys," Illuzzi responded, contending that Davis' criticism "shows a lack of understanding of how the system works." He also noted that he had asked the judge to give Deslandes 18 months to 15 years behind bars.
Shove Comes to Push
Paul Finnerty and Todd Shove
Paul Finnerty was elected Lamoille County state's attorney in 2014, replacing Joel Page, who retired after 32 years.
Now, one of Page's former deputies is seeking a return to the office. "I would be a little more aggressive in prosecution," said Todd Shove, a 50-year-old prosecutor who lives in Elmore and is challenging Finnerty in a Democratic primary.
For his part, Finnerty, 65, is proud that his office has embraced diversion programs and restorative justice — which involves holding mediated sessions between offenders and victims — as an alternative to jail time. He thinks such programs could be expanded and is interested in developing one specifically for domestic and sexual assault cases.
Finnerty is a career prosecutor who for many years was a deputy state's attorney in Chittenden and Washington counties. He said he's come to understand that the criminal justice system doesn't need to be combative. "My ideas of justice and fairness have evolved over the last 35 years," he said. "There was a time when I thought it was us against them, and it's not."
Restorative justice can be appropriate, Shove said, but he suggested that Finnerty has taken it too far. Shove didn't criticize the handling of any particular case but noted that he'd pursue significant jail sentences for "people who have a history of engaging in violence or who are committing crimes like sexual assault ... or violence against children."
Shove, who focused on prosecuting domestic assault cases when he worked as a deputy in Lamoille, made a brief bid for the state's attorney seat in 2014. His position at the time relied on federal dollars, and after questions were raised about whether Shove was violating the Hatch Act, which bars federal government employees from political activities, he bowed out of the race.
Shove left the Lamoille office in late 2014 and spent a year in private practice before taking a job as deputy state's attorney in Orleans County. He recently quit, he said, to spend more time with his family and to run his campaign.
If elected, Shove said, he'd like to improve relations with law enforcement, noting that "The sense I've been getting from them is they don't necessarily feel like their work is being valued."
Indeed, Lamoille County Sheriff Roger Marcoux backed Finnerty during the 2014 campaign but has since withdrawn his support.
"I don't see eye to eye at all with him," said Marcoux, declining to elaborate.
The sheriff, an influential force in the county who's held the post for 18 years, isn't endorsing Shove, either. He's supporting the Republican candidate, Betsy Anderson.
Anderson, 33, works as an assistant attorney general in the criminal division and lives in Stowe. She is the daughter of Public Safety Commissioner Tom Anderson.
Until two years ago, she was an assistant district attorney on Long Island, where, she said, she worked on drug trafficking and gang-related cases, including prosecution of members of MS-13.
"I would like to focus on making sure that the victims of crime in Lamoille County are feeling as though they are part of the process rather than being revictimized by the process," Anderson said, adding that improving communication with law enforcement is another priority.
She also noted that, unlike Finnerty, who resides in Burlington, she lives in the county she's seeking to serve.
'Diametrically Opposed'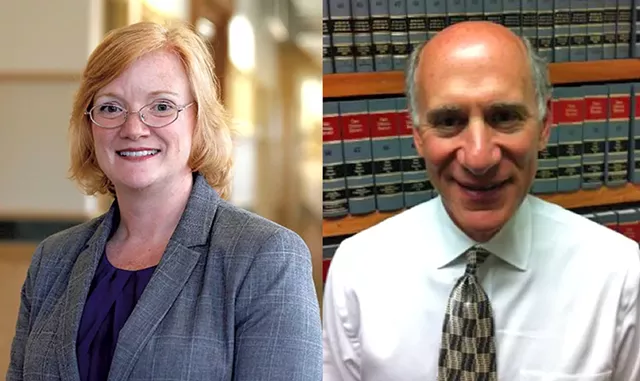 Erica Marthage and Arnie Gottlieb
Bennington County State's Attorney Erica Marthage has developed a reputation as a hard line prosecutor during her decade-long tenure in Bennington.
Her opponent in the Democratic primary, Arnie Gottlieb, criticizes what he calls an "overzealous prosecutorial culture" in Marthage's office and has been preaching the need to end "mass incarceration."
In a 2016 story, Seven Days' Mark Davis reported that the incarceration rate in Bennington County was nearly double the state average in 2014.
Gottlieb, 66, has been a criminal defense lawyer for 35 years, working on cases ranging from minor misdemeanors to capital murder. When he moved to Dorset from Ohio in 2014 and began representing clients in Bennington County, Gottlieb said, he was taken aback by a logjam of cases awaiting trial. He's pledging to address the backlog in part by offering more plea bargains earlier in the process.
"I think there has never been a more clear choice" between candidates, Gottlieb said, describing his philosophy as "diametrically opposed" to Marthage's.
Marthage didn't respond to multiple interview requests. But speaking in June to the Bennington Banner, she said the 2014 figures didn't provide an accurate picture. Marthage also dismissed the suggestion that she's been overly punitive or resistant to criminal justice reforms.
The Vermont Depart-ment of Corrections no longer compiles per-capita incarceration rate data for each county, making it difficult to determine whether those numbers have shifted. "I really don't know a good source to say, 'Yes, she's improved, or no, she hasn't," said Sen. Dick Sears (D-Bennington), who chairs the Senate Judiciary Committee. But based on his interactions with Marthage, Sears concluded that "she's actually evolved." He recently endorsed her.
Attorney General T.J. Donovan used the same language when he endorsed Marthage in a letter published in the Banner. Citing her support for alternative justice programs and her efforts to help juveniles avoid criminal records, Donovan wrote that "throughout her career, Erica has evolved, and now seeks to balance the underlying causes of criminality while maintaining the public safety."
Marthage, who grew up in Manchester and returned there after law school, has touted her deep roots in Bennington County and suggested that Gottlieb, a relative newcomer, doesn't understand what the community wants.
Calling that "a bit condescending," Gottlieb said, "I don't think it makes a darn bit of difference how long you've been here."
Correction August 1, 2018: An earlier version of this story misstated when Amy Davis graduated from Vermont Law School.