Suzanne Podhaizer
Beef and Winter Veggie Soup
We're teetering on the brink of deep winter, which means that green things are becoming sparse, and storage crops are piled high on grocery store shelves. This can be a tough time of year for seasonal cooking, because the limited produce selection challenges our culinary creativity.
But the good news is that these humble roots, heads and bulbs are bursting with color and flavor, and many can be used raw, cooked quickly when you're in a hurry or stewed into a tender mess. Here are some recipes that will help you use up your storage crops and make you happy to eat your veggies.
Note: All recipes are made using kosher salt. If you use table salt or fine sea salt, you will need to reduce the amount. I use sunflower oil because it tastes wonderful, and several local versions are available.
Beef and Winter Veggie Soup
I love this soup — modeled on borscht — because it's infinitely flexible. Don't have cabbage? Throw in some carrots. They're nothing alike, but no big deal. Or make it with all beets and nothing else. Hate rutabaga? Leave it out. Make the soup with pork instead of beef. Use apple cider for a portion of the liquid, or try red wine or beer. I like to use red wine or cider vinegar for acidity, but if you don't have those, use another tangy ingredient: another type of vinegar, lemon juice or the ferment-y liquid from a bottle of sauerkraut.
Want extras? You can double the recipe or quadruple it. In this variation, the meat is used as a garnish. Like it meatier? Use more meat! And, if you need it done quickly, choose ground beef instead of stew beef, and dinner will be on the table before you know it.
Ingredients:
For the beef:
1 pound stew beef, patted dry
1 ½ teaspoons salt
15 grinds black pepper
2 tablespoons oil
1 large yellow onion, grated or chopped
5 tablespoons tomato paste
7 cups chicken, beef or veggie stock (or water)
¼ cup vinegar
3 bay leaves
5 large garlic cloves, sliced
3 teaspoons caraway seeds
For the veggies:
3 medium-large beets, peeled
1 rutabaga, peeled
1 small head cabbage
For the final seasoning:
2 teaspoons salt, or more to taste
15 grinds pepper
Vinegar
Whatever else you need to make it taste awesome
For the topping:
Dollops of sour cream
½ bunch dill of minced dill
Directions:
Sprinkle the meat with salt and pepper.
In a heavy saucepan — cast iron is good — heat the oil over medium-high heat. When it thins and shimmers, add the beef in a single layer.
Let the beef turn deep brown on the first side, then flip it. If it doesn't brown, that means it wasn't dry or the pan was overcrowded, but, in the grand scheme of things, it's not a big deal.
Reduce the heat to medium, add the onion and cook, stirring, until it's translucent, 3 or 4 minutes.
Add the tomato paste and cook, stirring, until it darkens slightly, about 2 minutes.
Add the stock, water or other delicious liquids, plus the vinegar, bay leaves, garlic and caraway. If you're feeling ambitious, toast the caraway seeds in a dry pan until they become fragrant.
Simmer, covered, until the beef is almost tender. Check it after an hour and a half.
Use a food processor or a box grater to shred the beets and rutabaga.
Slice the cabbage into half-inch strips with a chef's knife.
Put the veggies in the pot and stir. The liquid should barely cover them. That's OK, because they'll exude liquid of their own. If you like it soupier, make it so.
Cook over medium-low heat for 40 minutes, stirring regularly. Everything should kind of melt into everything else.
Some people say "season to taste." I say, "Make it freakin' delicious." Add salt and pepper. Add vinegar to taste. If it's not rich enough, throw in some butter or bacon grease.
Serve the soup and top it with sour cream and as much dill as you please.
Cheesy Potato Dumplings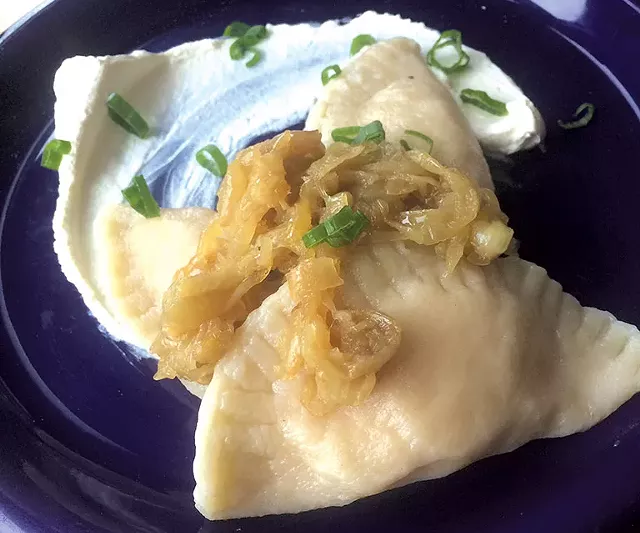 Suzanne Podhaizer
Cheesy potato dumplings
Don't want to deal with dough? Skip that part, and you'll be left with some deliciously smoky and cheesy mashed potatoes.
Ingredients
For the dough:
3 cups all-purpose flour
1 teaspoon salt
1 egg
¼ cup sour cream
⅔ cup water
For the mashed potato filling:
5 medium russet potatoes, peeled and cut into 1-inch cubes
8 ounces sharp cheddar cheese
1 stick unsalted butter
1 ½ teaspoons smoked paprika
1 tablespoon smooth Dijon mustard
15 grinds black pepper
Salt to taste
To put it all together:
Flour
Small bowl of water at room temperature
Toppings:
Sour cream
Chives or caramelized onions
Directions
Combine the flour and salt in a large mixing bowl. In another bowl, whisk the egg, sour cream and water.
Pour the wet ingredients into the dry ingredients, and stir with a fork or wooden spoon until the dough comes together in a ball. Too dry? Add a smidge more water.
Knead the dough on a floured surface until it's super smooth and elastic. If it's kind of wet to begin with, keep working in more flour until the dough stops clinging to your hands.
Roll the dough ball in plastic wrap and refrigerate for at least 30 minutes.
Place the potatoes in a large saucepan and add water until they are 4 inches under the surface. Salt until the water tastes like the ocean. Bring to a boil.
Meanwhile, grate the cheese.
When the potatoes are super soft, drain. Return the cubes to the hot saucepan with the cheese and butter. Mash with a potato masher or, if you don't have one, use a whisk. Add the paprika, mustard and pepper. Salt to taste and make it delicious!
Flour a cutting board, divide the dough into thirds and roll out the first ball to approximately 1/8 inch thick. Using a cookie cutter about 4 inches in diameter (or the top of a cocktail shaker), cut as many circles as you can. Detach the rounds from the rest of the dough, squish the extra bits back together and put the latter in plastic wrap so they don't dry out.
Place a couple tablespoons or so of mashed potato filling in the center of one of the rounds. Dip your finger in the bowl of water and run it around the edge of the dough. Fold the dough in half over the filling to create a half-moon. Press down the edges of the dough and crimp with a fork to seal.
Could you use more filling? Try it out. If the filling squishes out the edges, use less. Continue with all of the rounds. Then roll out the next ball of dough, and so forth. Finally, reroll the squished-up extra bits of dough.
You can cook the dumplings now or freeze them in a single layer on a floured cookie sheet and then transfer them to a Ziploc bag for storage.
Bring a large pot of water to a boil. Salt it until it tastes like the ocean. Drop in up to 12 dumplings. Cook until they float, 3 or 4 minutes, or slightly longer if frozen.
Scoop the dumplings out of the water with a sieve and let drain. You can eat them as they are or brown them in a pan with butter or bacon fat.
Top with sour cream and either chives or caramelized onions.
Celeriac and Apple Slaw with Blue Cheese and Bacon
Another flexible recipe. You can use this dressing on any combination of shredded veggies.
Ingredients
For the garnish:
For the dressing:
1 cup mayonnaise
8 ounces blue cheese
10 grinds black pepper
1 teaspoon salt
Juice of 1 lemon
For the slaw:
2 small celeriac
1 medium carrot
2 cooking apples, such as Cortland or Braeburn
Directions
Preheat the oven to 350 degrees. Place the bacon on a baking sheet. Cook until crisp, then drain on paper towels.
Crumble the blue cheese into the mayo and add the pepper, salt and lemon juice.
Peel and grate the slaw ingredients.
Stir the dressing into the slaw. Taste it and adjust the seasonings until it has the perfect balance of salt, acidity and blue cheesiness. Top with crumbled bacon.