James Buck
Chris Kesler of Black Flannel Brewing
It might take an apocalypse to stop new breweries from opening in Vermont. Even then, a few would likely make it through.
As the COVID-19 pandemic emptied out tasting rooms and halted growler fills, the state's breweries pivoted to curbside pickup and local delivery. Some even offered drive-through can and bottle sales — including the Vermont Brewers Association, which recently hosted a "drive-through exbeerience" at which hopheads could fill their trunks with local brews.
For the state's breweries-to-be, the pandemic shutdown has altered timelines and business plans. Their owners have been watching what works for existing breweries, selling their visions to investors online or proving they're up to code in virtual health inspections. As the hospitality industry begins to reopen and the taps start flowing again this summer, these new stops on Vermont's ever-growing brew trail hope beer lovers will swing by for a taste.
Cut From a Different Cloth
James Buck
From left: Justin Rito, Chris Kesler and Dan Sartwell of Black Flannel Brewing
New breweries in Vermont often repurpose warehouses or barns. But when Black Flannel Brewing opens on the July 4 weekend, it'll be in a former outlet mall.
The brewpub — along with its sister distillery, also called Black Flannel — will occupy more than 18,000 square feet of indoor and outdoor space in the rapidly redeveloping Essex Experience. The renovated quarters, just down the plaza from the Mad Taco, include production for the brewery and distillery, a barrel and sour room, a full restaurant, a distillery tasting room, a front patio, and a beer garden.
The ambitious concept has an equally ambitious team: founders Chris Kesler and Essex Experience owner Peter Edelmann; and four of Vermont's 17 certified cicerones — head of brewing operations Dan Sartwell, assistant brewer Justin Rito, head of barrel and sour program Aaron Ritchie, and Kesler himself.
Spirit master Dave Mosher and head distiller Travis Johnson will lead the distillery. Karen Bisbee is director of operations. Executive chef Trenton Endres will lead the restaurant's kitchen, cooking high-end pub food.
"At first, I was a little hesitant," Kesler said, when Edelmann approached him about opening a brewery in the Essex Experience. "I thought, Really? An old shopping mall?"
Kesler is an entrepreneur, a certified beer judge and a graduate of the University of Vermont Business of Craft Beer program. He had been considering opening a brewery closer to Five Corners in Essex Junction when he teamed up with Edelmann instead.
"We hit it off and had pretty similar visions about developing a unique experience," Kesler said.
They added the distillery to the mix about a year and a half ago. There's considerable overlap in equipment between breweries and distilleries, but finding both under one roof is rare. (For licensing purposes, they're different businesses with different ownership structures.)
"If you're distilling, you need a brewhouse so you can do mashes and then distill the product from there," Kesler explained. "There are a lot of economies of scale that we built into this."
That collaboration will extend to products such as a true eisbock — a freeze-distilled product that's illegal for breweries to make in the U.S. The restaurant will serve craft-distilled spirits and beer cocktails, too, as well as up to 16 of its beers on tap at any given time.
In the brewery, the team will concoct a wide variety of traditional ales and lagers — from Czech pale lagers and IPAs to imperial stouts and kettle sours, as well as a take on the historic Kentucky common style they're calling a "Vermont Common." Black Flannel's first official brew was a fresh Kellerbier, a German style.
The COVID-19 pandemic has slowed things down at Black Flannel, which was originally scheduled to open in May. The amount of space — including the front patio, which Kesler called "a COVID expansion" — will give patrons plenty of room to roam, though.
"We have a good plan to open slowly and safely," he said.
Black Flannel's logo is a raven perched atop an anvil; like the tradesperson's cloth in the brewery's name, the anvil is a nod to the craft of brewing. In Norse mythology, Odin has two ravens that gather knowledge — one through thought, the other through intuition. That duality sums up the brewing ethos at Black Flannel. "We have a mixture of talent on our team: Some are intuitive; some are really about the science and data," Kesler said. "Combining those forces makes everybody that much better."
Finding a Soulmate
James Buck
Jonathan and Carol Mogor of Soulmate Brewing
Sitting at a high-top table in the window of his future brewery on Morrisville's main drag, Jonathan Mogor looks like he's ready to open. He's decked out in a branded hat and T-shirt that reads "Soulmate Brewing" on the front and "Find Yours" on the back. The company logo matches the art on the walls, which depicts scenes set for soulmates: two lakeside Adirondack chairs in front of a saturated sunset, a truck full of dogs ready to be man's best friend. The scenes were created by artist Patrick Reid O'Brien, whose previous design clients include Jimmy Buffet's Margaritaville and PepsiCo.
Soulmate is a fully realized, trademarked brand. All that's missing is the beer.
Mogor and a business partner purchased the Portland Street building in 2014. Since then, it's housed an art gallery, a woodshop and furniture store, and a series of short-lived restaurants. After a bad experience with a tenant, Mogor brought in a few beer-industry friends to evaluate the space, and his brewery idea took shape.
The Navy veteran is still in the process of securing funding for the brewery, even as he's building the last few tables for the tasting room. Mogor and his wife, Carol, took on their first major investors last fall and have decided to offer shares via equity crowdfunding starting at just $250.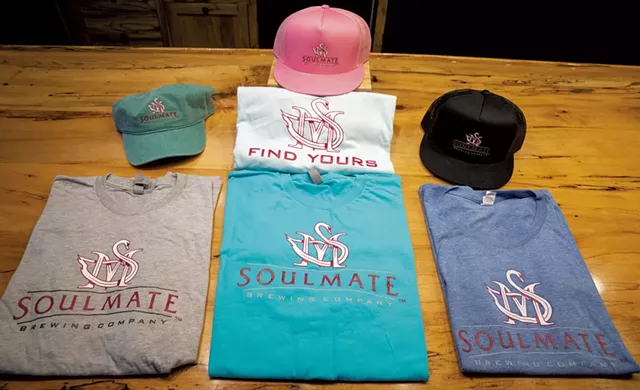 James Buck
Soulmate Brewing merchandise
That affordable price is partly due to the risk involved: There's nothing for potential investors to taste because Mogor hasn't yet ordered brewing equipment or hired his brewing team. He's decided to focus on fundraising rather than taking on debt simply to open.
"Now it's just trying to find people," he said.
Not a brewer himself, Mogor is approaching this from a marketing and business standpoint. But he hopes that others will see the potential of a brewery in the heart of Vermont's "IPA highway" and in an evolving downtown. Making his sales pitch during a global pandemic has been a challenge, though, so Soulmate's timeline is up in the air.
"Are we in 2006 or in 2047? COVID's got me off," Mogor joked. "The original target was a lot earlier, and COVID messed with everything. If we can raise the rest of the money in the next three to five weeks, though, we could open by fall."
Current investors, including Stone Hill Inn owners Todd and Kristie Roling of Stowe, have been important cheerleaders for Soulmate during the pandemic, Mogor said. The increase in alcohol sales while Vermonters were staying home is a good sign, too.
"Nothing's necessarily recession-proof," he said, "but this shows that you're probably not in a bad position if you were to own a portion of the brewery."
As a community-funded brewery, Soulmate will have special VIP seating, early releases and events for shareholders. Mogor envisions hosting private tastings in a planned cask room in the basement, highlighting the 1875 building's beginnings as a hardware store.
Tasting room staff will be "matchmakers," Mogor explained, helping customers find beers they like from a wide range of styles. "Kind of like soulmates, our portfolio of beers will be as diversified as the people on the planet," he said.
Window to the Future
James Buck
Jack and Emily Droppa of Weird Window Brewing
Weird Window Brewing, 82 Ethan Allen Dr., Suite A, South Burlington
New business owners usually aren't thankful that they didn't open on time. For Jack and Emily Droppa, though, missing construction targets was a blessing. If all had gone according to plan, the couple would have been gearing up to open Weird Window Brewing in the former Farnham Ale & Lager space in South Burlington on March 21.
"We lucked out," Emily said. "We would have had all this beer and nothing to do with it."
The monthslong delay due to COVID-19 has left them with a sparkling clean, fully renovated taproom and brewery. But it's also left them without an income.
"Opening a brewery is always a risk to begin with, and a huge investment," Jack said, "but this wasn't in the business plan."
Jack, who previously brewed for Otter Creek Brewing and Frost Beer Works, has spent the shutdown period making sure the beers are dialed in using the brewery's smaller three-barrel system. Weird Window also has a larger 15-barrel system and a unique combined brewhouse, where both systems share a platform to save space and streamline workflow.
In the future, Jack said, he'll use the 15-barrel system to brew popular styles and beers destined for distribution, while the three-barrel will hold smaller runs of taproom-only releases.
Rather than invest in a canning line right off the bat, the couple had planned to bring in Iron Heart Canning's mobile line. Without the taproom open, canning small batches of beer from the three-barrel system hasn't yet made financial sense. And they didn't anticipate any demand for to-go growler sales at a brand-new brewery. So while Weird Window's online store is up and running with merch, the Droppas have yet to release any beer.
"We asked ourselves, 'If we heard of a new brewery right now, would we go try it out?'" Emily explained. "The answer was no."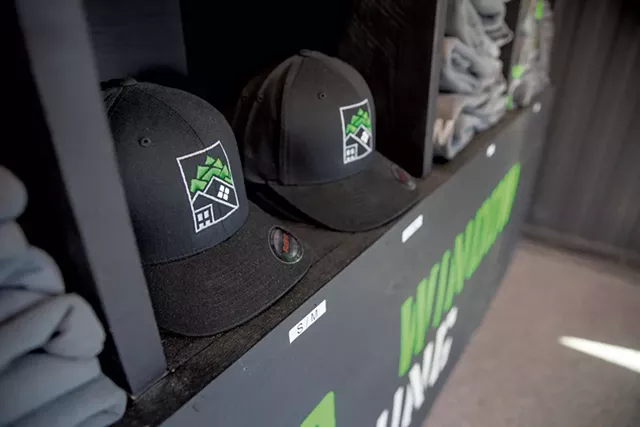 James Buck
Weird Window Brewing merchandise
The taproom is now ready to go, after passing a virtual health inspection, and Weird Window plans to open sometime in July. Emily will manage the taproom, which will have space for 49 people when regulations allow full capacity, 10 taps, and a small, easy menu of meat, cheese and popcorn. Eventually, the brewery aims to have outdoor seating and to host food trucks.
Weird Window — named in honor of the diagonal "witch" windows found on houses throughout Vermont — will feature a variety of beer styles, including ales and lagers. Jack, who will handle the brewing solo to start, acknowledged the popularity of IPAs but said that people are starting to look beyond the state's ubiquitous hoppy juice-bombs.
"I drink a lot of different styles of beer, and I want to brew what I like to drink," he said. "That freedom is why you open a brewery — the freedom to brew what you want."