Courtesy Of Haymaker Bun
Assorted cinnamon buns by Haymaker Bun
It was, at first, all about the buns. Haymaker Bun of Middlebury was reliably making me drool all over my phone every time I checked my Instagram feed. There was the maple-bacon Sugarshack version of the traditional coiled cinnamon bun; the Far East filled with dates, cardamom and coconut and topped with toasted almonds; even a Boozy German drenched with dark chocolate, coconut, pecans and Stonecutter Spirits whiskey.
Although her website informed me I could find pastry chef Caroline Corrente's buns at a few stores in Chittenden County, I'd been meaning to get down to Middlebury for an eating tour. Her buns seemed like a good place to start.
I made the trip a couple of weekends ago with my 82-year-old mother in tow. Between meals, we enjoyed a lovely stroll through downtown Middlebury. We stopped to appreciate many pieces of outdoor art, wound down by Otter Creek and up on the bridge to marvel at the falls and read the history of the former mill town, bought fun new kitchen tools at Kiss the Cook, checked out the garden at the Henry Sheldon Museum, and popped into the local library.
While that was the extent of our nonculinary tourism for the day, those making a Middlebury day trip might want to check out the richly varied calendar of public activities at Middlebury College, including art exhibits, performing arts and sporting events. The Henry Sheldon Museum offers lectures: On Tuesday, October 2, at noon, for example, Jay Parini, Middlebury College literature professor, historian and novelist, will discuss and read poetry inspired by World War I. If you're in town on a weekday, go see the new exhibit at the Vermont Folklife Center, "Growing Food, Growing Farmers," with photographs by Macaulay Lerman.
But leave time to eat, because this college town offers strong choices for all three meals.
Middlebury Farmers Market
I love driving around the state to different farmers markets, and Middlebury has always been a favorite. Unfortunately, its current spot in the parking lot of the VFW on Exchange Street is both less central and less picturesque than the previous Marble Works District location.
That said, there was still plenty to appreciate as we meandered past vendor stalls on our way to Haymaker Bun. There, samples helped us narrow down our choices to the OG (classic cinnamon sticky bun) and the Bananas Foster filled with roasted bananas and crowned with walnuts and rum-caramel. We also sampled the Sugarshack, a triple whammy of maple sugar, syrup and maple-smoked bacon. (Bun prices range from $3 to $4.25.)
Haymaker baker-owner Caroline Corrente and her husband, chef Matt Corrente, will open a brick-and-mortar location in Middlebury later this fall. But for now, the Le Cordon Bleu-trained pastry chef bakes in her home kitchen. She started Haymaker in July 2017 with the goal of perfecting one offering and channeling her creativity into different flavors, which include seasonal variations such as apricot, Earl Grey and almond.
"Cinnamon buns were always my favorite pastry," Caroline said, "but they so often disappointed me. They were either too dry, too dense or too cloyingly sweet." Her rich, brioche-based buns are none of those things, partly thanks to a special Japanese method of hydrating that, she said, "gives a light and airy dough."
While I was still nibbling on my Haymaker bun, my eyes lit on a plate of golden-crusted, neatly edged potato, caramelized onion and cheddar hand pies at the Local Source stand. I picked one up and found it a hearty and satisfying savory breakfast option.
Local Source owner Regina Benko has been selling prepared meals and sweet and savory pies and catering out of her Salisbury home for about two years. She and her team vend at the Brandon, Rutland and Middlebury farmers markets and try to source as much as they can from fellow vendors or other nearby farms. The hand pies come in both sweet (apple) and savory (pulled pork and cheddar) varieties and cost $6, or two for $10.
Sabai Sabai Thai Cuisine
22 Merchants Row Road, Middlebury, 989-7376, sabaisabaithai.com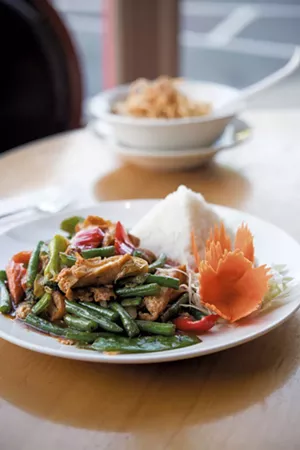 Caleb Kenna
Spicy Green Bean dish with tofu and Khao Soi with chicken at Sabai Sabai Thai Cuisine
My mother and I were debating whether to go the sandwich or sit-down route for lunch when an enthusiastic endorsement from our salesperson at Kiss the Cook tilted the balance in Sabai Sabai's favor. (If you prefer sandwiches, Costello's Market in the Marble Works is noteworthy for its subs and porchetta, and Otter Creek Bakery is another consistent favorite.)
Mum loved her tom kha soup with chicken ($4), which she ordered with the zero spicy stars that sometimes results in zero flavor. It was redolent of lime leaf and lemongrass and lightly sweet from palm sugar. My green bean stir-fry with tofu ($12) was piled high with a rainbow of crisp vegetables and delivered a level of heat that made my tongue tingle in just the right way.
I spied khao soi ($15 with squid) on the menu, something my husband had fallen for on our recent trip to Thailand, and ordered it to go for him. Although I wasn't able to deliver it for several hours, he gave it thumbs-up for the perfect blend of coconut milk richness with the funk of fish sauce, a muffled firecracker of chile and briny pickled mustard greens.
The Correntes, it turns out, are also Sabai Sabai fans. Her favorite dish is Drunken Noodles (pad kee mao on the menu), and his the Massaman curry. Matt noted that the restaurant proudly displays the trophy it recently won at Middlebury's Vermont Chili Festival.
22 Merchants Row
Middlebury Area
Middlebury, VT
802-989-7376
Thai and Japanese
I chatted later with owner Naphatsnun Sinpaksawat, who told me to call her Tip, as many do. She laughed when I mentioned the chili win. Her husband, head chef Thammalong Uttamang ("but everyone calls him Noi"), deserves all the credit, she said, for blending his mom's recipe with Mexican influences: coconut milk, chile pepper and tomato plus chicken, pork and beef ground together.
The couple met in Montpelier in 2008 and moved to Middlebury to open Sabai Sabai in 2012. The restaurant's name loosely translates to "everything's fine, relaxed, feels like home," she explained.
Although Middlebury is strikingly different from their native Thailand, Sinpaksawat said, she feels at home there, too. The chili win helped. "It was unexpected, a real honor," she said, adding that the recognition felt like "a thank you from the community."
Notte
86 Main Street, Middlebury, 989-7351, nottevt.com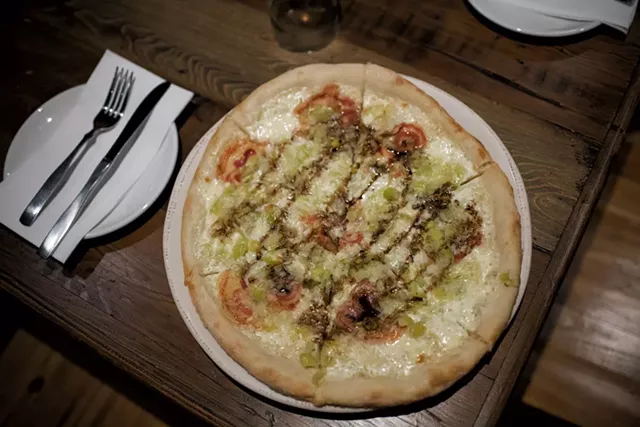 Caleb Kenna
Pancetta Bianca pizza at Notte
It was 4:58 p.m. when we descended the stairs to Notte, a basement venue that caters more to a late-night crowd than to early-bird diners. Our server was just opening the restaurant door and welcomed us warmly into the cozy space.
We split a generous house salad ($5) with the nice touch of toasted sunflower seeds and an indulgently delicious Pancetta Bianca pizza with Italian bacon, mascarpone, melted leeks, Parmesan and balsamic glaze ($15).
Location Details
Notte
86 Main St.
Middlebury Area
Middlebury, VT
802-989-7351
Pizzeria and American (New)
The creative cocktail list was intriguing, but one of us had to drive us home and the other one is 82, so we split one of those, too. The server recommended the previous night's batch cocktail ($10) that bartender Andon Whitehorn had dreamed up. We took turns sipping from a glass filled with the colors of the sunset: cantaloupe juice, sauvignon blanc, tequila and rum with an orange twist.
Notte, which opened in the spring of 2017, involves the same siblings that own Two Brothers Tavern upstairs. Beal and Holmes Jacobs share ownership with Holmes' wife, Megan Brady. (I guess Two Brothers and One Wife wasn't as catchy a name.)
Caleb Kenna
Bartender Jory Brush making a Scenic Pastures cocktail at Notte
Until the end of August, Matt Corrente, who attended Middlebury College before going to culinary school, was the executive chef at Two Brothers. Also the opening chef at Notte, he explained that the new restaurant developed out of the renovation of the tavern's kitchen. The basement space had been just a lounge and stage, but the owners put in a pizza oven to provide food while the upstairs kitchen was out of commission. It was a hit, and Notte was born.
The pizza Corrente developed there is "our best stab at authentic Neapolitan-style pizza," he said, "hand-stretched with a thin, chewy crust and simple toppings." The basement could not accommodate a wood-fired oven, but the electric brick oven yields a very good crust in addition to producing dishes such as eggplant Parmesan and baked penne with sausage, marinara and ricotta.
Before Corrente moved on to his own project, he trained a new executive chef for both restaurants, but Holmes Jacobs doesn't expect many changes. "The formula we have right now is pretty strong," he said.
Jacobs noted that adding a pizzeria to the family restaurant lineup has not been good for his waistline. But, he conceded, "It's all about the joys of life, and food is one of the joys."
My mother and I heartily agree with that philosophy. We headed home, full of food and joy, toting leftovers and takeout in the back seat.