Courtesy Of Basin Harbor Club & Resort
Dining on North Dock at Basin Harbor in Vergennes
Vermonters find many ways to eat outdoors in the summertime: a picnic on a favorite hike, hot dogs and creemees at a snack shack, a backyard barbecue, or a front porch sandwich. But perhaps no culinary experience can surpass a summer meal by a lake or river. The sunshine, water, sky and a gentle breeze can enhance each bite.
Seven Days highlights three al fresco dining spots next to bodies of water, including a brewpub in Brattleboro we visited in early May. The other two destinations open for the season next month.
Basin Harbor Club & Resort
4800 Basin Harbor Road, Vergennes, 475-2311, basinharbor.com
Ardelia Beach, born in Ferrisburgh in 1847, grew up on a farm about two miles from what is now called the Basin Harbor Club & Resort. Her fiancé, a man from Panton, died in the Civil War, and Beach moved to Iowa to work as a school administrator.
Some years later, in 1882, Beach made a new plan for her life: She purchased a 200-acre farm in her hometown on the shores of Lake Champlain. There she eventually took in summer boarders, who arrived from the city by steamship and train, and housed them in a lodge overlooking the lake.
Today, still owned and operated by the Beach family, Basin Harbor has grown to 700 acres and accommodates up to 400 people. And you don't have to be a guest to enjoy a meal there, prepared in the kitchen of chef Philippe Ducrot. The Frenchman from Provence has cooked in restaurants in Paris, Vancouver and Boston; recently, he taught culinary arts at the University of Arkansas.
North Dock, where a steamship delivered 19th-century summer boarders, is the site of wonderful spreads three nights a week. Diners serve themselves from an abundant buffet set up on the lawn by the lake; they can eat at tables on the grass or on the dock, with water lapping at its edge. The all-you-can-eat affairs, which start June 17 and run through Labor Day weekend, are themed meals with adult and kid menus and pricing.
On Tuesdays, at an event called Harbor Fair, the menu includes salads such as grilled watermelon and tomato-green-bean-shallot, plus roast chicken legs and barbecue ribs. Activities for kids include face painting, hay rides, a bouncy castle and lawn games.
Thursday dinners center on boiled lobster with butter and lemon, accompanied by clam chowder, biscuits, mussels, summer vegetable paella and grilled corn on the cob. The Vermont Picnic on Sundays features a variety of salads — BLT, quinoa, Brussels sprouts and carrots — as well as fish and chips and grilled vegetables.
Guests who don't drive can arrive by boat and tie up at Basin Harbor's new 60-slip dock — or fly in and land at the resort's airstrip. By whatever means they come, they're treated to gorgeous views of the Adirondacks one mile to the west.
"What I like about eating at the water is, it's just the most incredibly peaceful place," said Pennie Beach, 73. The great-grand-niece of Ardelia Beach, she grew up at Basin Harbor and owns it with her brother, Bob. "You sit there and think about the continuum of history and the thousands of people who have passed by there," she said. "Yet it's still the same. And I always love that."
Reservations are recommended for the summer buffets, served from 6 to 8 p.m.
Steamship Pier Bar & Grill
Courtesy Of Walter Blasberg
Lobster roll at Steamship Pier Bar & Grill in North Hero
Chef John Stannard may have reached the "twilight" of his career, as he put it, but he's still cooking seasonally at an outdoor kitchen in North Hero, the Steamship Pier Bar & Grill. For diners, twilight is the ideal time to pull up an Adirondack chair at the end of the grassy pier to drink a local beer or a frozen strawberry daiquiri.
Steamship Pier stands across the road from the North Hero House, with which it shares ownership. The name of the establishment describes the manner by which early guests arrived at the inn, which opened in 1891. Today, the casual and fun dining option features live music, views of Mount Mansfield and a killer lobster roll, drizzled with sun-dried tomato aioli and served with two sides.
The eastern sky is particularly beautiful at dusk, said Walter Blasberg, owner of the inn and pier bar. "The sun lights up the entire chain of islands, all the sails and all the mountains," he said, adding that red and green buoys bobbing in the lake take on a neon glow.
Steamship Pier, which opens for its ninth season on June 1, will serve roughly 300 people a day in fine weather, according to Stannard. "It can be quite fun," he said. "Fun is busy."
His menu includes burgers, fish tacos, a pulled-pork sandwich, salads, hot dogs and grilled cheese for the kids, and a chef-recommended ahi tuna sandwich. Stannard prefers the tuna seared on each side and raw in the middle. Served on a Kaiser roll, it's dressed with Napa slaw and miso vinaigrette and topped with lettuce, tomato and onion.
The bar serves seasonal cocktails, including piña colada, blue Hawaiian, and a pier punch made with Jack Daniel's Tennessee whiskey and grenadine. "It's much better than it sounds," said assistant innkeeper Désirée Maltais. "We sell a lot of them."
For 64-year-old Stannard, a onetime private chef and former executive chef of North Hero House, the summer job is a way to "relax in the twilight of my career."
"Come fall," said the Burlington native, "before the snow starts flying, I go back down and stay in Florida."
Whetstone Station Restaurant and Brewery
36 Bridge Street, Brattleboro, 490-2354, whetstonestation.com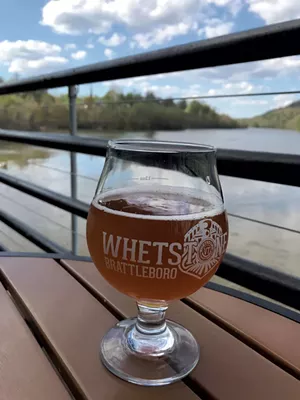 Sally Pollak
Beer on the patio overlooking the Connecticut River at Whetstone Station in Brattleboro
Driving north from Massachusetts, we stopped at Whetstone Station Restaurant and Brewery, a brewpub in Brattleboro, to celebrate the start of summer. School was out for my college-age daughter. It was a perfect day for late lunch by the water — the big, slow-moving Connecticut River, flowing directly below our table on the edge of the patio.
We had expansive views of the shapes and shadows of downtown Brattleboro on our side, and of the woods and hills of New Hampshire across the water. The pale-green bridge that connects the two states, hard by the restaurant, felt like part of the premises.
The pub, which opened six years ago, brewed about 370 barrels of beer last year, brewer James Branagan said. It has four tap lines dedicated to house brews and 20 guest lines. We were lucky to arrive on a day when one tap was pouring Whetstone's own Bière de Meow. Released on the same day as the movie Super Troopers 2, it was a refreshing amber beer brewed with maple syrup and packing a 7.8 percent alcohol content.
The menu is ideal for someone who favors tapas-style offerings but is not in the mood to share. A section called "Selfies and Sharezies" presents such fare in two sizes — solo and shareable.
So I was able to get pierogi for one: a trio of puffy potato-and-cheese dumplings served with maple-bacon-chive sour cream. I paired this with a small order of onion rings. My daughter filled up on a hefty fried chicken sandwich and fries. We shared spinach-and-artichoke dip with pita chips.
Our meal was delightful and fun, including chitchat with our server and singing aloud to classic rock on the sound system. I couldn't resist playing a riff on the game of Poohsticks: With the river about 25 feet below our feet and a deep-fried disc in front of me, I tossed an onion ring into the water. We watched it float out of sight.
Branagan, who grew up in Brattleboro, said locals love having a spot to hang out and enjoy the water. "And it brings a lot of tourism and traffic in," he said, "people who stop and continue north on their Vermont adventures."
Before we continued north, I walked to New Hampshire, then turned around and headed home to Vermont.