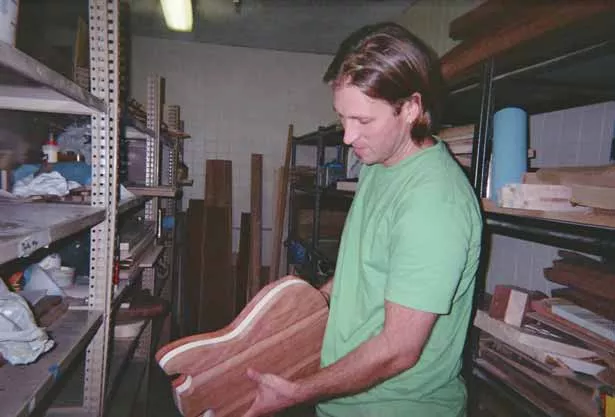 As her father approached death, Carina Driscoll grew determined to develop the woodworking skills he had taught her "in a limited way." David Driscoll, who died last year at age 59, had learned the trade from his own father, a finish carpenter in New York City.
Carina became an apprentice to Vermont master craftsman Robert Fletcher with the aim of carrying on this family legacy. She says she viewed woodworking as "the thing my father would leave with me that I could have all my life."
Under Fletcher's tutelage, Driscoll, 33, built a set of kitchen cabinets for the Burlington home she shares with her partner, Blake Ewoldsen, 35, and their 3-year-old son, Cole. But that proved to be just the start of Driscoll's commitment to the craft.
Along with Ewoldsen and Fletcher, she has become a co-owner of a woodworking shop and school near Costco in Colchester. The trio plans to make this 3000-square-foot facility, previously occupied by the Dynastar ski company, "the No. 1 resource for woodworking in Vermont," Ewoldsen says.
The airy, well-lighted space is already equipped with every machine and tool a woodworker might need. When prospective furniture makers "come here and see what we have, they kind of freak out," Ewoldsen says while showing off lathes, several types of saws, a 20-foot-long sander and separate rooms where finishes are applied and works-in-progress are stored.
The Vermont Woodworking School now has 15 dues-paying members who take classes with Fletcher or use the equipment to complete their own projects, which aren't limited to tables, chairs and bookcases. An Essex insurance man, for example, is crafting cradles for his grandchildren. And musically inclined members have used the shop to shape guitars and didgeridoos.
Everyone who takes the $295, eight-week introductory course learns to build a maple nightstand, Ewoldsen notes. The school also offers advanced classes to those "interested in devoting a significant part of their lives to woodworking," he adds.
Not surprisingly, there's a political dimension to this endeavor for Driscoll, a stepdaughter of Bernie Sanders and a former Burlington city councilor and state representative.
She sees an insecure future for woodworking in Vermont, even though hundreds, if not thousands, of state residents currently make money from the trade, with many more practicing it as a hobby. "It would be easy for wood-making businesses to continue to move to China," Driscoll says - especially since the governor is encouraging Vermont entrepreneurs to seek opportunities there.
But the state actually plays "a dual and kind of contradictory role," Driscoll adds. She notes that some state agencies are collaborating with the Vermont Woodworking School to preserve and propagate the craft.
The three owners are undertaking their own initiatives as well. Last weekend, Fletcher and Driscoll attended the annual Vermont Woodworking Festival in - where else? - Woodstock, where, she reports, "there was a lot of interest and support for what we're doing here. People really do want this to succeed."