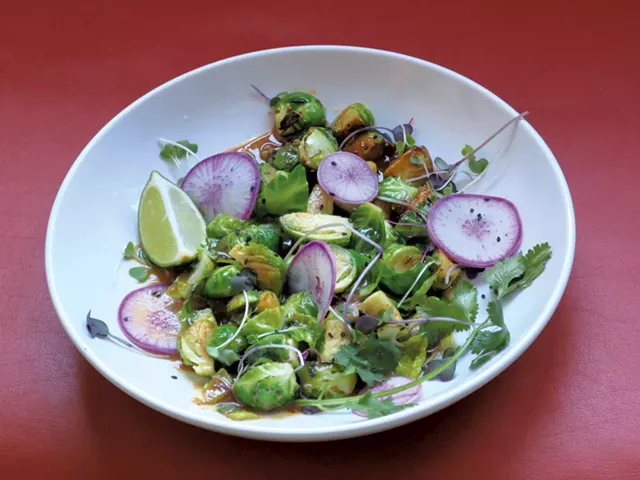 Matthew Thorsen
Miso-maple-sake Brussels sprouts
It's hard to argue with a turkey sandwich the day after Thanksgiving. You replace the stuffing with rye bread; then salt, pepper and mayonnaise revive the turkey, skin and all. Throw on lettuce and add a smear of cranberry sauce to brighten the sandwich. If you've got creamed onions, slice a few very thinly and add those, too.
However, this year we decided to ask a few local restaurateurs for more creative variations on traditional Thanksgiving leftovers. Here are recipes from an obliging trio.
Debra Maisel
Chef and co-owner of Revolution Kitchen in Burlington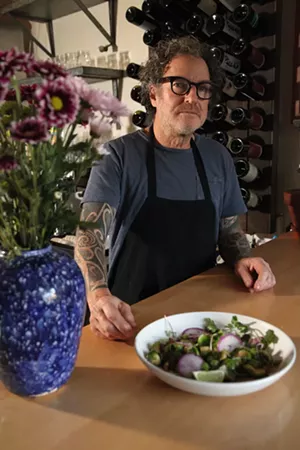 Matthew Thorsen
Peter Maisel
After 37 years of marriage, pillow talk can come down to Brussels sprouts. And so it is that Debra and Peter Maisel, owners of Revolution Kitchen, talk veggies in their off-hours.
"You get to our age, that's what we do," Debra Maisel said. "We come up with recipes."
The Maisels opened Revolution Kitchen about four and a half years ago after moving to Burlington from Tivoli, N.Y., where they were longtime owners of a vegetarian restaurant. Their Brussels sprouts recipe grew from the couple's desire to find a "better take" on a traditional Thanksgiving dish.
"You go to every Thanksgiving, people put them in the oven with garlic and oil," Maisel said, "and they come out brown."
The Maisels wanted a "greener and cleaner" version. Their recipe calls for sautéing the vegetable with shallots in a maple-miso-sake sauce. Although the dish starts from scratch with raw Brussels sprouts, Maisel said it can be adapted for leftovers with a quick sauté of the vegetable in her sauce.
As a vegetarian, Maisel said that Thanksgiving has never been a favorite holiday of hers. But she's looking forward to the meal this year because it will be made by Bluebird Barbecue. The family will gather at the Maisels' daughter's house in Burlington.
She and her husband will eat the sides, and he'll probably make a seitan brisket with baby carrots and potatoes, Maisel said.
Miso-Maple-Sake Brussels Sprouts
Ingredients:
17 ounces mellow white miso
1 ¼ cups maple syrup
2 cups sake
2 teaspoons sunflower oil
4 tablespoons shallots, finely chopped
10 cups Brussels sprouts, halved (discard ends)
Directions:
Blend miso, maple syrup and sake on high.
Heat sunflower oil in a pan on medium heat, and sauté shallots for a few minutes.
Add Brussels sprouts, then sauce, and caramelize until tender. The dish serves six to eight people.
Steve Atkins
Chef and co-owner of the Kitchen Table Bistro in Richmond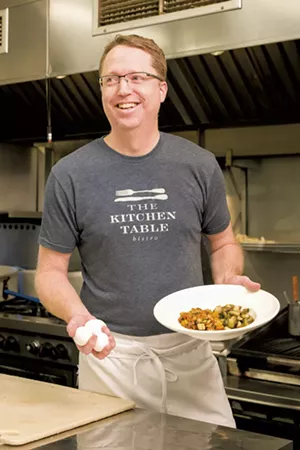 Oliver Parini
Steve Atkins
At some point after Thanksgiving — the next morning, if not at midnight— people need to eat again. Steve Atkins offers a recipe for that meal, noting that it's more of a guide than a directive. His Thanksgiving hash with eggs can be made with any vegetables that remain after the dinner. The dish can be prepared for a houseful of guests or the two people left washing dishes and simmering a turkey carcass for soup.
Atkins and his wife, Lara, have co-owned the Kitchen Table Bistro for about 15 years. For their own Thanksgiving, they'll host about 10 people at their Hinesburg home.
"Any day that is dedicated to cooking and eating is our kind of day," Atkins said. His menu will feature the "classic standards."
Atkins will cook his stuffing — made with turkey stock — outside the bird for several reasons, including "cooking the bird to bird-doneness" (as opposed to interior-of-stuffing doneness). This way, the stuffing will also achieve a crispy top, which Atkins called "magical."
Lara Atkins will take charge of the desserts but will help cook the main meal. "We have our various tasks, our dedicated tasks," Steve Atkins said. "But we definitely take our professional kitchen approach in that regard: If there's stuff to do, then we do it."
Thanksgiving Leftover Hash and Eggs
Ingredients:
4 tablespoons butter
2 cups roasted Brussels sprouts
2 cups diced, roasted fall squash
2 cups dressing/stuffing, either crumbled or diced into cubes about the size of the vegetables
2 to 4 cups mashed potatoes, formed into four patties
4 eggs
Directions:
Melt two tablespoons of the butter in a large, heavy-bottomed sauté pan. Once it begins to sizzle, add the Brussels sprouts, squash and dressing and warm over medium heat, stirring occasionally.
Separately, in a large, nonstick skillet, melt one tablespoon butter over medium heat. When it begins to sizzle, carefully lay the four potato cakes in and allow them to sit undisturbed for about 15 minutes. The goal is a thick, deeply browned crust on the pan side, and warm, creamy mash on the top.
When the potato cakes are brown, crispy and warm, carefully flip onto four plates, browned side up. Wipe out the pan with paper towel and return to heat, adding the remaining tablespoon of butter. Once it begins to sizzle, carefully crack four eggs into pan, then turn down heat to medium-low. Cook to desired level of doneness, flipping for an overeasy egg if preferred.
While eggs are finishing cooking, divide the vegetable hash among the four plates, then carefully lay the finished eggs over the hash. Serve and enjoy!
Jules Guillemette
Head butcher and co-owner of Beau Butchery + Bar in Montpelier
Jeb Wallace-Brodeur
Jules Guillemette
When Jules Guillemette was growing up on a dairy farm in Cambridge, their extended family gathered for Thanksgiving at Guillemette's house in Pleasant Valley. About two dozen family members attended the holiday feast, including both their grandmothers.
As the hosts, Guillemette's family made the turkey, mashed potatoes and bread stuffing. Guillemette's maternal grandmother, Lee Blair, brought her meat stuffing — a mixture of pork and beef with sage and poultry seasoning.
"That was unique to her, and everyone had to have [it]," recalled Guillemette, who uses the pronoun "they."
Blair, whose maiden name was Lavallee, was one of 12 siblings. She left home at 13 to work in a textile mill in Winooski. Blair cooked tourtières and fricassée — meals that families prepared to "stretch" meat and feed many people, said Guillemette.
Courtesy of Jules Guillemette
Lee Blair working in a textile mill in Winooski
"In a tourtière, the amount of meat versus potato depends on how rich or poor the family is," they said.
Guillemette is sharing their grandmother's recipe for turkey fricassée — a dish Blair made decades ago for family and friends. Sometimes, Blair would spoon it into gallon containers and bring it to bingo halls and senior centers in Burlington and Winooski to feed a crowd. Often, she brought along her old Martin guitar and played music while people ate her fricassée.
One batch of the dish can be eaten for days in different ways.
This year, Guillemette is hosting a meal at their home in Middlesex. In place of turkey, they plan to make a pork roast.
"I'm throwing it together at the last minute," Guillemette said. "Since the grandmothers are long passed, the extended family doesn't get together the way it used to."
Lee Blair's Old-Fashioned Fricassée
Ingredients:
For the broth:
6 quarts chicken broth
2 stalks celery, roughly chopped
2 tablespoons celery salt
1 teaspoon salt
1 teaspoon black pepper
The turkey:
For the slurry:
1 quart whole milk
3 cups flour
Directions:
For the broth:
Combine all ingredients in a 10-quart stock pot. Simmer for two to three hours and strain.
For the turkey:
Pull the leftover turkey meat off the carcass, light and/or dark meat. Tear it into strands that are about 1-by-2 inches in size.
For the slurry:
Combine the milk and flour and mix together until completely smooth.
Making the fricassée:
Whisk the slurry into the hot broth quickly and carefully to avoid creating lumps.
Bring the broth back up to a boil. You want the broth to thicken to a medium-thick sauce onsistency, like gravy.
Add the turkey meat to the gravy and season to taste with more salt, pepper and celery salt.
Serve all week over toast, dumplings, biscuits, or mashed or boiled potatoes.