"Untitled" by Yimailis, age 11
Some artists — young and old alike — just don't like realistic drawing. The task of portraying something exactly as it appears in real life can be daunting, and many find the process frustrating. For these artists, and even for those who do enjoy realistic drawing, abstract art can be fun and freeing.
Abstract artwork features nonrepresentational or nonfigurative shapes, lines and markings, which means that abstract pictures don't represent things or figures that we can recognize. Instead of portraying a person, a landscape, a dragon or a bowl of fruit, an abstract drawing might include, for example, lots of overlapping shapes, wavy splotches of color, or line markings repeated over and over.
When I teach my students about abstract art, I first teach them about types of lines (thick, thin, wavy, straight) and types of shapes — namely geometric and organic shapes.
Geometric shapes are made up of straight lines or neat, consistent curves — think circles, ovals, squares, rectangles and triangles. Organic shapes, on the other hand, are free-form and natural. Teardrops, clouds, and flower and leaf shapes are all examples of representational organic shapes. Abstract organic shapes might look like curvy or wavy blobs.
Some successful abstract artworks use both geometric and organic shapes. However, abstract artworks often appear more cohesive and have stronger unity if they stick with only geometric shapes or only organic shapes.
There are limitless ways to go about creating abstract art, and the final products can look infinitely different as a result! One popular exercise for creating abstract art is to draw or paint abstract designs while listening to music and painting what you hear. For example, a sharp staccato violin might "look" like quick, repeated brushstrokes of paint on your paper. A slow, peaceful piano melody might translate to wavy overlapping lines of color. What you draw or paint for your abstract composition depends entirely on how your brain experiences the music, and how your body transposes it onto paper. Famous historic abstract artist Wassily Kandinsky often followed this technique, creating his world-renowned abstract paintings as visual interpretations of musical compositions.
"Untitled" by Cole, age 8
Project 1: Geometric vs. Organic
Materials: crayons, markers and/or colored pencils; paper
Practice drawing organic shapes and geometric shapes.
Create one abstract drawing using only geometric shapes.
Create one abstract drawing using only organic shapes.
Reflection Questions
Some artists prefer geometric shapes, while others like organic shapes best. Identify which kind of shapes you prefer.
Which of your two abstract drawings do you like best? Which feels the most like your style?
Bonus Project
Try creating a third abstract drawing that uses an equal amount of both organic shapes and geometric shapes.
Project 2: Continuous Line
Materials: oil pastel or crayon; paper; watercolor paint
Using your crayon or oil pastel, draw one continuous wavy line on your paper, allowing it to swirl and crisscross back over itself, creating connecting and overlapping organic shapes.
Once you have created many overlapping shapes, connect your line back to the point where it began.
If any parts of your line are too light or not quite "solid" (meaning you can see some specks of white paper in the line), then retrace the line to make sure it is solid.
Use watercolor paint to fill in the many organic shapes with different colors.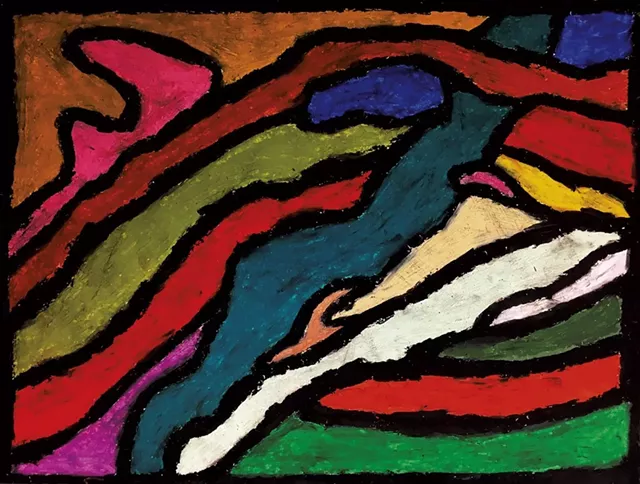 "Ocean of Thoughts" by Jose, age 13
Project 3: A Symphony of Shape & Color
Materials: paper; any drawing or painting material you want (oil pastel, crayon, watercolor paint, marker, pencil or charcoal, colored pencil, etc.)
Play a song (instrumental pieces work especially well for this) and listen closely to the different, layered sounds you hear.
Draw or paint shapes, lines and markings on your paper to represent the different sounds in the song. Don't be afraid to layer and overlap.
Repeat this process with a new paper and a different song.
Reflection Questions
How do the two different abstract artworks differ from each other?
When you look at each work of art, can you "see" the different sounds or instruments in the markings that you made?
Additional Resources