In this space last week, I made the case that the Precipice was the single best showcase for local music Burlington has and urged you, dear readers, to attend. Much to my delight — and likely that of Radio Bean's Lee Anderson and Joe Adler — it was, and many of you did.
As also noted last week, this year's incarnation of the newly rebranded "charming Vermont music festival" was smaller than in previous years. But it's safe to say Anderson and co. traded a little quantity for increased quality. I'd estimate I saw about 65 to 70 percent of the festival and didn't see a bad, or even mediocre, set in the bunch. Even given that near universal excellence, there were some highlights, which I'll run through now.
I'm not sure if it's possible for Japhy Ryder to be underrated or overlooked. They've been around for more than 10 years, have long had a strong following and inspired one of my all-time-favorite genre descriptors: "porn prog." The tag isn't as fitting as it once was, but I can't seem to stop using it. Yet for some reason, when I think about the best bands in Burlington, JR are rarely one of the first to jump to mind. They should be. Their Friday set was a master clinic on sinewy, sensuous grooves and intricate, cerebral compositions.
Despite that heady and often scholarly approach, JR somehow manage never to fly above their listeners' heads. Their stuff is still accessible and emotionally evocative — in large part thanks to the sensitivity and skill with which bandleader and trumpeter Will Andrews plays. I could listen to that guy play all night.
Another Friday highlight was the full-band debut of Plato Ears, the new project from Mark Daly, formerly of Chamberlin. When last I saw them, the band was essentially just Daly, a drummer and whole lot of looping and effects. Long story short, I came away underwhelmed then. But what a difference a band makes.
Daly's new material is a departure from the Band of Horses-esque indie rock for which Chamberlin was best known. As Plato Ears, Daly fuses his indie roots with an R&B sound that bears some similarity to the likes of the Weeknd and Miguel — go ahead and call it PBR&B, if you must. While it worked well on studio demos, Daly hadn't quite figured out how best to translate that sound live. I'd say he's done so. Flanked by Jer Coons, Eric Maier and Josh Weinstein, Daly's set was transcendent.
I was watching with a certain well-known local guitarist, and we exchanged numerous excited glances throughout the PE set. "I can't stop smiling," he told me at one point. "And I really wanna join this band." Agreed — at least on the smiling part.
Courtesy Of Dan Bolles
Maryse Smith (right) and Michael Chorney
Saturday was equally impressive, if somewhat less well attended due to the near constant threat of rain — which never came. Maryse Smith and Michael Chorney were simply wonderful, and a soothing respite from the louder fare that dominated the day. If you've yet to experience the indie-folk duo in person, I highly recommend you do so ASAP.
I can't in good conscious offer thoughts on Swale, Osage Orange, dirty blondes or Rough Francis due to various conflicts of interest with all four bands. But each did what they do — and if you know and love those groups, you know that's a good thing.
The surprise of the night for me was argonaut&wasp, a relatively new band with whom I'd only been peripherally familiar. But the quartet delivered an impressively tight set of ultra-danceable electro-rock that had the crowd jumping. And hula-hooping. Because it ain't the Precipice unless girls are hula-hooping.
BiteTorrent
Continuing the down-home festival theme, this Saturday, August 9, marks the ninth annual Valley Stage Festival in Huntington. Particularly in recent years, fest organizer Don Sheldon has built a strong rep for bringing high-quality roots music to Vermont audiences. He presents shows at venues all over the state, as well as an ongoing series at On the Rise Bakery in Richmond. But the Valley Stage is really his calling card, featuring an always-enticing mix of local and national talent.
This year figures to be no exception, as fans will be treated to a wealth of top-notch Americana acts, including local fiddler Katie Trautz, local folk duo Cricket Blue and local bluegrass outfit Hot Flannel. (Full disclosure: My brother, Tyler Bolles, plays in that last band.)
On the regional front, expect appearances by New Hampshire's Crunchy Western Boys, Brooklyn punk-grass band the Defibulators and Boston's the Deadly Gentlemen.
In other festival news, this week brings the annual Lake Champlain Maritime Festival. As always, that means some marquee talent gracing the stage at Burlington's Waterfront Park. This year that includes jam giants Umphrey's McGee on Thursday, August 7, a punk-rock blowout with the Offspring on Friday, August 8 — see the interview with Offspring guitarist Noodles here — pop-Americana darlings the Avett Brothers on Saturday, August 9, and blues monster Buddy Guy on Sunday, August 10.
But the LCMF is also a solid showcase for local talent at smaller stages along the waterfront. And, by the way, that part of the festival is free. This year's slate includes Gregory Douglass and Steve Hartmann on Friday, August 8; the return of Aaron Flinn's Salad Days and a showcase featuring a bunch of Bluebird Promotions bands on Saturday, August 9; and the One Project, Teleport and the DuPont Brothers on Sunday, August 10. For more info and showtimes, visit lcmfestival.com.
Fans of experimental lo-fi pop will want to head over to the Psychedelicatessen in Burlington's Old North End this Saturday, August 9, as a slew of local solo acts throw themselves a little tour kickoff bash. The lineup includes Caring Babies, Wax Mice, Lifemusik mit Andre and Harvey Bigman.
Last but not least, here's a show that would likely fly way under the radar of even the most ardent local music fans. Mostly cuz it's happening at a farmers market. In Barnard. (Raise your hand if you know where that is. Me neither.)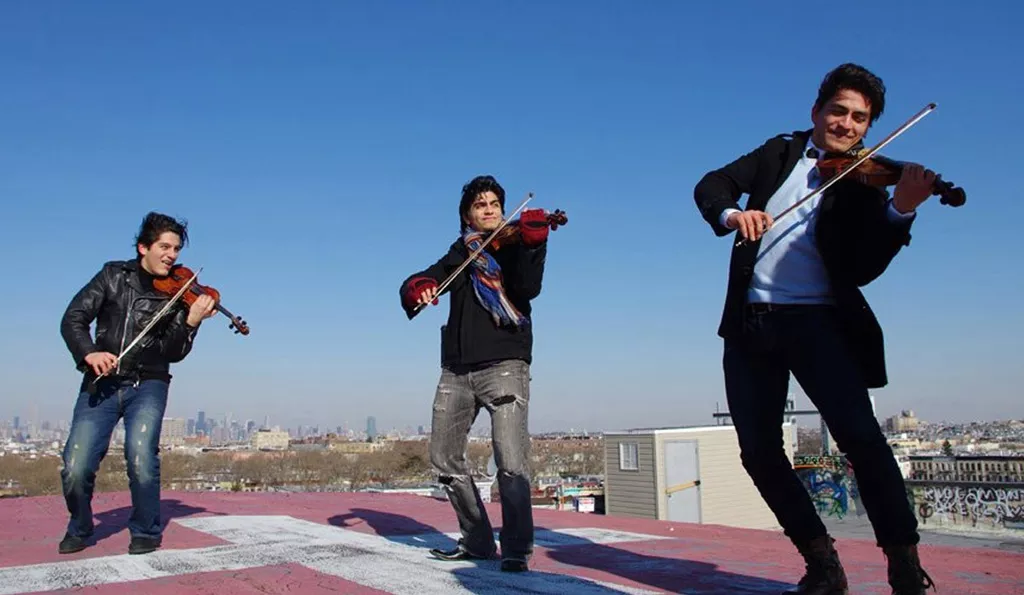 Courtesy Of The Villalobos Brothers
The Villalobos Brothers
Anyway, the Thursday, August 7, concert features a Mexican group called the Villalobos Brothers, who are pretty much rock stars in their home country and have graced some serious stages over the years, including Carnegie Hall and the Apollo. The band features three violin-playing brothers who fuse Mexican ranchera music with rock. And they're incredible. Also, the title of their latest record, Aliens of Extraordinary Ability, was taken from the name of the green card the brothers need to work and play in the US. Clever, no?
So why are they playing a farmers market in a small Vermont town? You got me. Just be glad they are.
Listening In
A peek at what was on my iPod, turntable, eight-track player, etc., this week.
The Ocean Blue,Waterworks
King Gizzard & the Lizard Wizard, Float Along — Fill Your Lungs Oddments
Letting Up Despite Great Faults,Neon
The Unicorns,Who Will Cut Our Hair When We're Gone?
Spoon,They Want My Soul