Well, I was wrong.
In last week's column, I opined that it would take a minor miracle for the industrious lads at Signal Kitchen to complete their ambitious renovation project in time for last weekend's grand reopening shows. This past Friday I found, to my delight and amazement, that not only did SK owners Alex Lalli and Dave DeChristo finish, but the new space is flat-out killer. What was once a hip, enjoyably dank underground haunt is now a verifiable — still hip — hotspot that feels more like a club than a basement. Well, OK, it still kinda feels like a basement. But it's a really cool basement.
The crown jewel of the redo is undoubtedly the sleek, chic new bar, which sits slightly elevated at the back of the concert area and serves as a barrier to the plush booths of the back lounge. For one thing, its altitude is a bonus for concert-goers like, well, me, whose less-than-towering stature often means craning my neck for a glimpse at the stage. (Ever try watching a show stuck behind Leon Campos or Joshua Glass? It can't be done, I tell ya.)
For another thing, the bar section provides a refuge for passive viewing, as it is somewhat removed from the stage area. That means folks who want to socialize while keeping an eye on the show can do so without bothering those who want to focus on the band. Show talkers, you're welcome. (You still have to shut the fuck up everywhere else, though. Kisses!)
My only small quibble is that there was a discernible difference in sound quality by the bar as compared to the floor. But that's nothing a well-placed extra speaker or two in the back couldn't fix. I mean, even self-absorbed assholes like to actually listen to music sometimes. (Seriously, shut up.)
As for the music itself, it was an interesting cross-section. mean martin from DJ duo Safar! opened the night with a thoughtfully crafted mix of deep house, hip-hop, funk and even a little soul. Bonus points for spinning — gasp! — actual vinyl. Well played, sir.
I'm still not entirely sure what to make of Plato Ears, the one-man electro-ish indie-rock project of former Chamberlin front man Mark Daly. I'm not against the growing encroachment of electronic techniques in indie rock and pop music, by any means. Any technique or effect, when used well and creatively, can be put to good and sometimes transcendent use. People used to bristle at the electric guitar, too. In Burlington, acts such as Pours, Errands, Ryan Power and Nuda Veritas, among others, brilliantly incorporate loops, prerecorded sounds and numerous other electronic shenanigans into their work, both live and recorded. And you can find about a bazillion examples of similarly forward-thinking indie artists making waves beyond our bubble doing the same.
But something about Daly's set failed to connect, at least with me — a bunch of folks in the front seemed to be eating him up, so to each their own. But at several points, as he bounded wildly around the stage singing and playing lead guitar over layered loops and prerecorded backing music, bare-chested beneath a bright, multicolored suit and wearing Wayfarer sunglasses and a red headband, his shtick struck me as, well, shtick. Maybe I'm missing some entrenched irony here. Because otherwise it was like watching indie-rock karaoke.
There's no denying Daly's talent. He's a fine singer and wrote some great songs with Chamberlin. The stuff he's recorded as Plato Ears is well produced, super catchy and, especially when considered as a departure from his earlier works, rather daring. But little of that translated live.
It seems reductive to say the fix is something as simple as playing with a band — though I suspect some extra hands would help. I mean, how many of us, myself included, hailed Ryan Power's actual karaoke experiment with his own music as brilliant a few years back? (Then again, I think most would agree that the current full-band incarnation of Power is superior.)
Based on Daly's résumé and the strength of his recorded material — which really is quite good — I'm willing to bet he figures it out, maybe even as soon as this Friday, February 14 — that's Valentine's Day, folks — when he plays Radio Bean.
Caroline Rose closed the night and was, simply put, a revelation. Even though I named her album America Religious one of the best Vermont-made records of 2013, Friday was the first I'd seen Rose live. In my defense, she's been touring a bunch. Onstage, Rose has an easy swagger and feisty demeanor, not to mention powerhouse pipes. Her banter with bandmates Pat Melvin and Jer Coons was almost as entertaining as the music itself. Almost. Rose's rambunctious take on roots and country rock is the real deal. Which reminds me...
A couple of weekends ago, I was asked at a party why rock and roll is traditionally so male-dominated. I didn't and don't have a good answer for that. However, it's worth noting that of Vermont's three highest-profile native artists, two acts, Grace Potter and Anaïs Mitchell, are female. (Phish would be the third.) I'm not counting Neko Case in this instance, since she's a transplant. And I suspect that the next generation of local artists who have a real chance to make national waves will prominently feature women. For me, that group includes Maryse Smith, Hana Zara, Kat Wright and, now, Caroline Rose.
BiteTorrent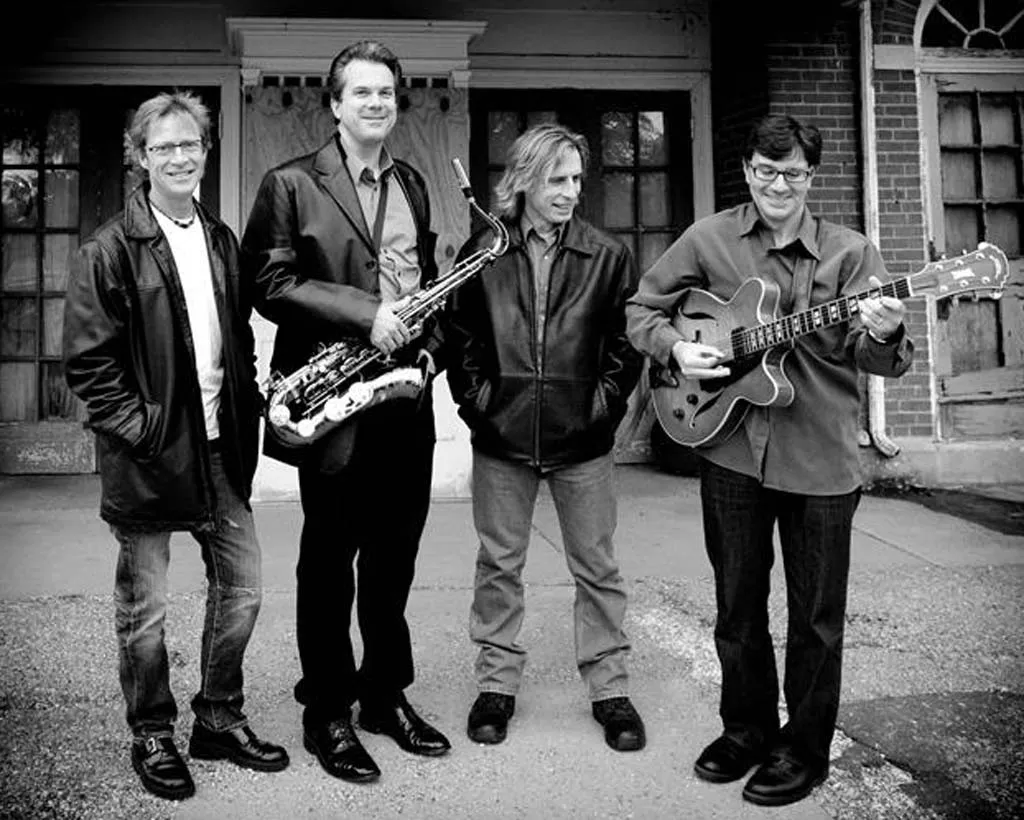 Safe travels to local jazz-fusion outfit Eight 02. The band is heading to Los Angeles next week to hit the studio under the tutelage of two contemporary jazz titans, Grammy-nominated composer Jeff Lorber and renowned bassist Jimmy Haslip. Given their stature in the genre, Lorber and Haslip can work with whomever they'd like and are constantly approached by artists hoping to capitalize on their expertise. So for that dynamic duo to choose to collaborate with Eight 02 is quite an honor for the locals.
"It's a dream come true," writes keyboardist Peter Engisch in a recent email to Seven Days.
Eight 02 head to the left coast next week, but not before playing a send-off gig as part of the Brick Church Music Series in Williston this Friday, February 14.
In other news, Paddy Reagan's pre-Paper Castles outfit Cannon Fodder is reuniting for a gig at the Monkey House on Monday, February 17. I know I dug CF back in the day. But I confess my recollection of that band is hazy. Looking back through the archives, circa 2008-ish, I see I used to refer to them as "alt-whatever," which, knowing Reagan's music, sounds about right.
Also on the bill is Waylon Speed front man Noah Crowther, playing a collection of his acoustic (?!) songs alongside Rob O'Dea and CF's Ryan Osswald. I'm super intrigued.
Last but not least, happy trails to the Wee Folkestra. The nine-piece collective is playing its third annual Red and Black Ball at Radio Bean this Saturday, February 15. Sadly, the show will also be the group's swan song, as WF are calling it quits, presumably so they can focus on other projects. Like, nine other projects.
It's always a bummer to see a fun band hang it up. But on the plus side, who doesn't love a reunion show? (Right, Cannon Fodder?)
Listening In
A peek at what was on my iPod, turntable, eight-track player, etc., this week.
Secret Colours,Positive Distractions
Broken Bells,After the Disco
Marissa Nadler,July
Bombay Bicycle Club,So Long, See You Tomorrow
Mark McGuire,Along the Way