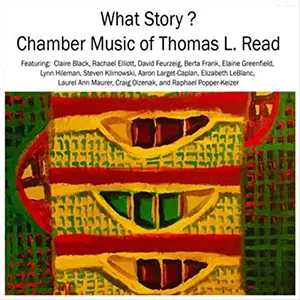 (Self-released, CD, digital)
Thomas L. ("Larry") Read's chamber compositions on What Story? evoke a kaleidoscopic range of emotion from one moment to the next. Not that they flit about unaccountably. Instead, each piece leads the listener down a path whose every curve is unexpected.
Read's works typically end in a definitive final gesture, but he also likes to play with expectations, as in the album's opening track. "What Story Awaits Its End," for flute, clarinet and piano, is a series of six very different, brief movements, each truncated unexpectedly in mid-phrase until the final one achieves a peaceful closure.
Read took inspiration from the similarly structured genre-breaking novel If on a Winter's Night a Traveler, by Italo Calvino. The 15-minute piece's surprises include twists within each movement, ranging from lyrical flute hovering over David Feurzeig's shimmering piano to aggressively atonal lines played by all three instruments in unison.
Like the novel, the work's effect is virtuosic. The composer taught in the music department of the University of Vermont for more than 40 years — for 23 of those, he organized an annual university symposium on contemporary music. He is now a professor emeritus. Recorded between 2006 and 2017, What Story? is Read's 13th album.
These works must have been a gratifying challenge for the group of prominent Vermont musicians assembled to play them. Performers include Vermont Contemporary Music Ensemble founder and artistic director Steven Klimowski, who plays clarinet and bass clarinet on the album; flutist Laurel Ann Maurer, who founded and directs Vermont Virtuosi; pianists Elaine Greenfield, Claire Black and Feurzeig — the latter is also a composer whose newest album was recently reviewed here; Elizabeth LeBlanc on clarinet and bass clarinet; Rachael Elliott on bassoon; and Berta Frank on flute and piccolo.
Paintings inspired the next two compositions. Works by Titian and Nicolas Poussin, Read writes in his liner notes led to "Concert Champêtre," whose French title means "Pastoral Concert." The only work without winds, the guitar-cello duo opens with the cello in a range so high it sounds more like a Theremin. But the work quickly downshifts into a lyrical theme evoking, perhaps, regret, before diving into an interlude of percussive tapping and plucking of — seemingly — both instruments. The piece, played by guitarist Aaron Larget-Kaplan and cellist Rafael Popper-Keizer, premiered in St. Petersburg, Russia, in 2014.
The winds sextet "Benificent Shadow" owes inspiration to paintings by Balthus and that master of inscrutable shadows, Giorgio de Chirico. The first of two distinctly different movements, "Andantino," explores syncopated rhythms which are precisely delivered in unison in a final section. The second, "Molto Vivace," is lighter and more condensed, spinning through seven sections in rondo form.
In the album's last piece, "A Watch in the Night," for clarinet, bass clarinet and piano, Read sheds his penchant for surprising turns. The meditative and not unhopeful work memorializes the 9/11 tragedy. It opens with a lyrical and expressive melody on the piano that is soon taken up by the bass clarinet but is then gently dismantled. An ending refers obliquely to that initial melody before drawing to a soft close — a soothing end to a creatively packed album.
What Story? is available at CD Baby and Amazon.