Lindsay Selin
Tina Christensen's studio at home in Jericho
Tina Christensen and Michael Sevy belong to the growing tribe of Vermonters who work at home: She's a graphic designer; he works as a database administrator for an out-of-state financial software company. Their 3,200-square-foot Jericho "modern farmhouse" was designed by TruexCullins Architecture + Interior Design partner Rolf Kielman. It handily accommodates their separate needs — with a detached studio space for Christensen and a second-floor office and music room for Sevy.
The south-facing, U-shaped cluster of buildings, spooning into woods at the back, also satisfies the couple's shared aesthetic — "We were both in agreement about a clean, modern look," says Christensen — and predilection for open spaces. The downstairs is basically one big room for kitchen, dining and living — Sevy says he likes being able to socialize with dinner guests while he's cooking. White-painted shelves along one wall hold books and neat arrangements of objets d'art.
The opposite wall is mostly glass, allowing plenty of light inside and an unobstructed view onto a minimalist courtyard designed by Wagner Hodgson Landscape Architecture of Burlington — a rectangle of mowed grass with a single honey locust, surrounded by concrete walkways. A chartreuse bistro table and chairs and two orange Adirondack chairs provide spots of color against the unadorned all-white house.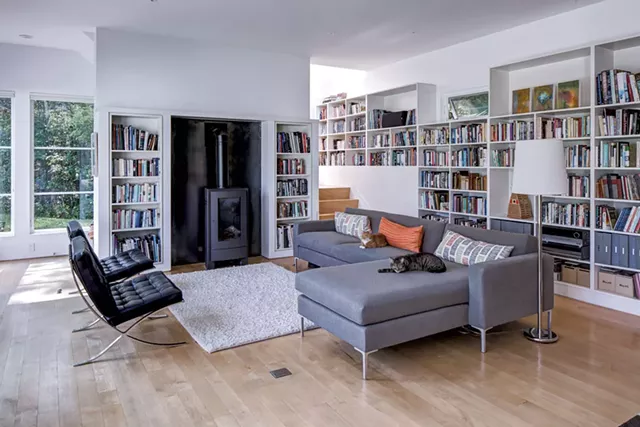 Lindsay Selin
The living room
Hugging the courtyard on opposite sides are Christensen's studio — about the size of a two-car garage — and the actual garage. Above the latter are two small bedrooms, a bathroom and a living area. Overnight guests, including Sevy's grown children, can utilize these cozy, private quarters, reached via a separate staircase from the home's entryway.
This couple doesn't like a lot of visible clutter. One solution: ginormous walk-in closets — one for clothes and linens next to the master bedroom upstairs, and a pantry behind the kitchen for storing everything from cleaning supplies to dry goods to wine. This is also the laundry room, which benefits from a second-floor chute.
On shelves opposite the spacious kitchen island, dishes and glassware are obscured behind utilitarian fiberboard doors. These are punctured with holes, giving them a playful polka-dot pattern that Christensen likes.
Lindsay Selin
Tina Christensen and Michael Sevy in their kitchen
Those inexpensive doors are one example of thriftiness in this building project. Christensen notes that the couple cut expenses by buying IKEA shelves and sourcing materials such as kitchen and bathroom tile, even plumbing supplies, themselves. "Michael and I picked all the interior stuff," says Christensen. "The cost per square foot was unbelievably low."
One splurge: radiant heat under the poured concrete and wood floors on the ground level. With that and sun pouring through the windows, Christensen notes that they rarely need to turn on the Italian Fiamma gas fireplace in the living area, even in winter.
In addition, the house is insulated and, Kielman says, "is oriented to ultimately house a solar panel array as well as a possible hot water installation — those are future considerations." He adds, "Tina's studio and the garage apartment can be shut down climatically when not in use to reduce energy consumption."
There is economy, too, in building on a four-foot grid — or, as Kielman describes it, "a set dimensional module." Not a new idea in architecture, he says, it's utilized to "keep costs down, reduce waste and create a quiet elegance that almost goes unnoticed." He asserts that repetitive elements of similar size bring "a kind of calm/ease/beauty" to the building.
Lindsay Selin
the dining room and kitchen
That subtle elegance might be one reason the Christensen-Sevy home won an Excellence in Architecture merit award from the American Institute of Architects Vermont chapter in 2011. It was also featured in Design New England magazine in 2013.
Perhaps only architects would pick up on proportional details, but visitors — and this home's inhabitants — enjoy its spaciousness, comfort and understated, light-filled beauty.
Christensen, who previously lived in a 19th-century house in Burlington's Old North End, says, "I now can't imagine living anywhere else." Adds Sevy, "The minimalism is good for creating — there's not all the distractions."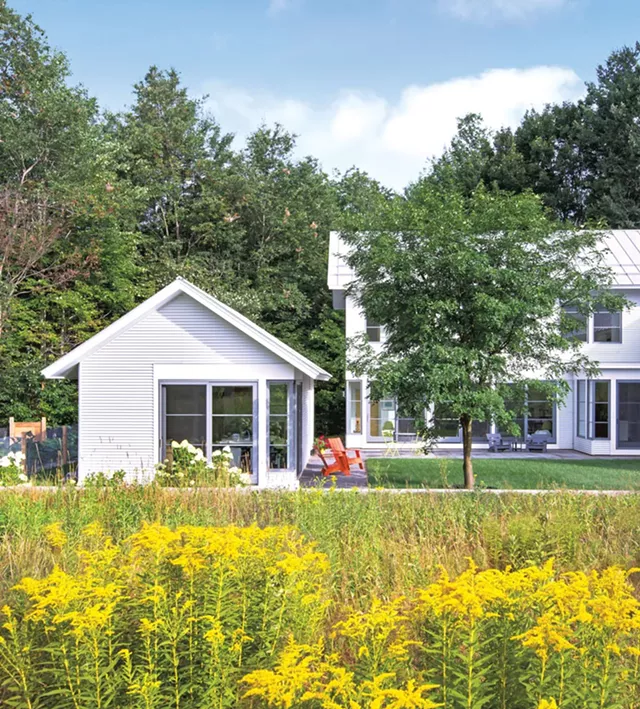 Lindsay Selin
Exterior view of the home
The location has proved convenient, too. Even though they live on 10.5 acres "off a dirt road off a dirt road," as Christensen puts it, "we're 18 minutes from Burlington." But nearby Richmond has become their go-to town.
By day, she and Sevy enjoy gazing out their windows at a meadow. "But after dark," he says, "I imagine the deer are out there watching us inside the home."
She adds, "I'm so grateful we were able to do this."