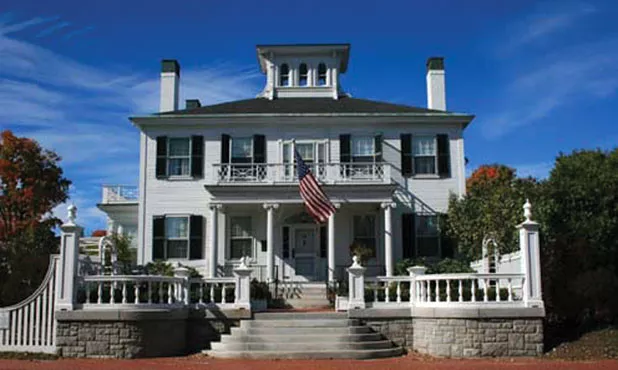 Those creative kids over at Conant Metal & Light have another feather in their caps: the Blaine House. Never heard of it? Then apparently you've never been invited to the governor's mansion in Augusta, Maine. Conant won the contract to rewire some 100 light fixtures in a historic preservation project at the 1833 home, currently occupied by Gov. John Baldacci and fam. It's a job requiring "technical expertise and stealthy orchestration," according to a cheerful press release. The historic-preservation peeps probably wouldn't permit a Conant-signature rhino head — or a Maine moose — to burst through the clapboard, too. Pity.
******
Earlier this year Seven Days wrote about an impending mural project at Middlebury College by Vermont artist (and '57 Midd grad) Sabra Field. Well, next week the New York City-based Colossal Media will begin enhancing a 3000-square-foot exterior wall of Wright Theater with Field's "Cosmic Geometry." The environmentally themed project was the brainchild of art-history major Kate Lupo, who graduated this spring. Her intention was to play off the college's commitment to sustainability. For her largest public art display since the 1980s, Field created cellular, plant, animal and architectural patterns in a grid, grouped in themed quartets. Her intention was to show how the human and natural worlds are connected by the same forms and patterns. Simply and colorfully, it does just that. Colossal Media aims to complete the mural by October 19.
******
Art exhibits are not usually about numbers, but it's hard not to notice the confluence of several significant ones in Waitsfield this month: It's the 20th anniversary of the Green Mountain Cultural Center's annual juried show, "Art in the Round Barn" — on view through October 11. It is also exactly 100 years since the Joslyn Round Barn was erected, and 200 since the farmhouse — now the lovely Inn at the Round Barn Farm — was built. All three are Vermont treasures. Happy triple birthday.