Tell someone in Vermont that you're headed to Newport for a few days and their reaction is likely to be something along the lines of "Newport ... Vermont?"
Yes, Newport, Vt. The state's northernmost city, better known for its economic struggles than its leisurely pursuits, has been generating mostly positive news of late: about eager developers, new restaurants and a gleaming indoor water park at nearby Jay Peak Resort that attracts tourists all year round.
Chief promoter of this land of plenty is Bill Stenger, president and CEO of Jay. He's been utilizing the federal EB-5 program — which gives green cards to foreigners who invest at least $500,000 in economically depressed rural regions across the U.S. — to attract $600 million of development projects to the area.
The expectation of enterprise — in a place that desperately needs it — has already rebranded Newport as a burg on the verge of a radical transformation, a city waiting to happen.
"Today, we're looking at a community that has a lot of qualities to it, a lot of business opportunity," says Stenger. "With patient capital and a diverse range of jobs, we're going to really thrive."
Stenger's indoor water park is up and running, but Newport is waiting on Walmart; AnC Bio, a South Korean company that manufactures artificial human organs; a German window manufacturer; a hotel and conference center; and an expanded airport. Those developments are expected to create more than 5000 jobs, from high-level tech positions to dishwasher and construction gigs. In a city with fewer than 5000 residents, that's a game changer.
Meanwhile, the nonprofit Newport City Renaissance Corporation is working to make downtown attractive to tourists and locals.
Is Newport ready to be a destination? We packed our bags and drove north to find out.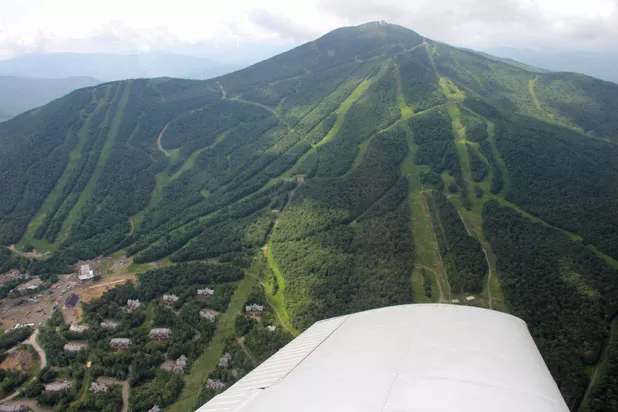 Megan James
Jay Peak Resort
The view from 3800 feet
Newport State Airport sits next to the grassy Coventry landfill and across the street from the farm where Phish played their muddy 2004 "farewell" concert. Built in the 1940s for military purposes, the airport sees approximately 20 flights a day — in good weather. It's also the international headquarters of Lakeview Aviation, whose proprietor, Daniel Gauvin, runs a flight school, rents aircrafts and gives aerial tours to tourists like us for $160 a pop. We decided to climb on board.
The son of Canadian immigrants, Gauvin grew up on a dairy farm in Newport. Before he got his pilot license in 2003, he ran his own farm in the area. "Farming's a tough life," he told us. "I just got tired of giving blood and getting nothing in return."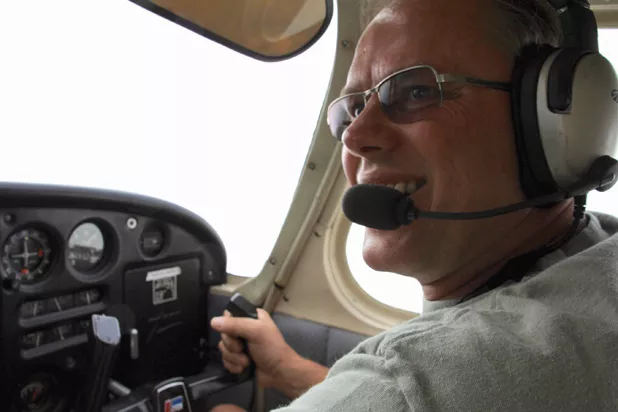 Megan James
Daniel Gauvin
From the air, Newport looks like an idyllic settlement jutting out into shimmering Lake Memphremagog, a patchwork of churches, bridges and houses surrounded by water. Much of it was built in the late 1800s, during the lumber boom, when Newport was a major stop on the railroad line between Boston and Montréal.

In the '30s and '40s, Newport's International Club had the largest dance floor in New England. Up to 2000 Vermonters could boogie simultaneously to Louis Armstrong, Glenn Miller and Louis Prima, who all gigged there.
Newport today is not so glittery. Like many North Country towns, the city has been in slow decline since the 1950s, when the mills began to close. A handful of ski clothing manufacturers stayed until the 1990s, but after they left, Newport hit rock bottom — aided, Stenger says, by increasingly restrictive tax and travel policies along the Canadian border.
Unemployment rose, businesses on Main Street shut down and rents dropped so low that the city began to attract a disproportionate number of the state's welfare recipients. The 2010 census found that the median income was $33,526; one in five Newport residents was living in poverty.
There's a different plan for Newport's future. From his four-seat 1967 Piper Cherokee 140, Gauvin swooped over the sites of the proposed developments: over the hillside where the new AnC Bio plant will be built; the field where a 150,000-square-foot Walmart has been proposed; the waterfront strip mall that will become Newport's first hotel and conference center; the old hospital being converted into 80 market-ready apartments.
"The Northeast Kingdom has always been a high unemployment area," Gauvin said as he soared over town. To oppose the development, he added, "would be selfish."
He assessed the sky. "We're gonna do a little cloud surfing," Gauvin said, and pointed the plane toward Jay Peak, which is 30 minutes away by car. The mountain's dramatic ski slopes are visible from Newport, but from the air, the resort looked like the Emerald City, only made of wood and steel. We noticed numerous large construction sites dotting the landscape. The roof of the water park reflected the clouds as if it were a giant mirror.
Within 45 minutes, we were safely back in the terminal, with its worn couch and popcorn machine. Patricia Sears was there, too. She's head of the Newport City Renaissance Corporation, a nonprofit working to revitalize Newport's Main Street, and has been collaborating with Gauvin for the past six years on plans to expand the airport. Thanks to grants from the Federal Aviation Administration and a $20 million investment from Stenger, within a few years Newport could have a larger terminal, some foreign-trade-zone warehouses and a longer runway. Next month, Glover's Parker Pie is opening up a restaurant in the terminal, which will have a killer view of the two 4000-foot runways. Plans are under way to extend one of them 1000 feet to accommodate charter flights to and from Jay Peak.
"It's a monster up there," said Gauvin. "You gotta feed it."
Sears worked in international community development for 12 years in Washington, D.C., before moving to Lowell 10 years ago with her husband, an Orleans County native. After many years of dealing with spotty internet connections in Africa and Nepal, she was humbled to find her new home in the Northeast Kingdom wasn't much more technologically advanced. So she began writing grants "out of necessity" for amenities she missed. The area got its first fiber-optic internet services in 2006.
Sears is hopeful but realistic about the pace of change in Newport. At the airport, she predicted, "I don't expect scheduled flights for another 10 years."
We piled into her Subaru and headed downtown.
M.J.
Corin Hirsch
Newport Natural Market & Café
Food is fuel
Seven minutes later, we arrived at the Newport Natural Market and Café, which Steve Breault has co-owned for the last three of its 30 years. It's a buzzing local-food emporium where customers shop for groceries, comb the salad bar and sip coffee at café tables. The deli sells sandwiches made with local breads and cheeses, and we sampled two for lunch: I got a creamy, hot turkey Reuben on rye; Megan went for a grilled cheese sandwich spiked with Michelle's Spicy Kimchi, made in Craftsbury Common.
"We caught the Newport's-gonna-be-great bug," said Breault, explaining why he and his partner left Florida to come north to "retire." A few doors down from the market, in a space that was once the town's department store, he's upping the ante: Breault and others are opening the Northeast Kingdom Tasting Center, an indoor local-foods market, at the end of this month.
Inside the cavernous space, Breault showed off the poured-cement bar that will anchor Brown Dog Bistro, his newest venture. "Our first priority will be Northeast Kingdom products," he said, as well as a few from southern Québec. That means local trout, duck, eggs and meat from nearby purveyors such as West Glover's Tangletown Farm, which will also sell from an adjacent meat butchery.
The bistro might also have lines running directly to the basement, where Eleanor Leger, co-owner of Eden Ice Cider, will soon move her cider-making operation. She'll sell her ciders, along with local cheeses, in a retail shop just inside the tasting center's main door.
In the back of the space, bakers Cinta Aherns and Jocelyn Bourassa will turn out muffins, breads and pastries. It's a big step up from their tiny storefront on Main Street, which won't be around much longer. Next year, the block it now occupies is slated for demolition. That will make room for the Renaissance Block, which will house a brewpub, restaurants and some retail stores.
Newport's food movement has a slogan: "Newport: Fresh by Nature." It also has a promotional event, "Taste of Newport," dreamed up by the Newport City Renaissance Corporation to acquaint locals and visitors with the city's burgeoning food scene. As participants walk from restaurant to restaurant in the compact downtown, they sample signature dishes designed to offer glimpses into the region's tight-knit farm-to-table culture. We missed the second "Taste of Newport" by a week.
C.H.
Destination: Newport
Megan James
Ruth Sproull and her Maltipoo, Phillip.
Our Swedish-inspired bed-and-breakfast was an easy walk from Main Street. Owner Ruth Sproull and her Maltipoo, Phillip, greeted us at the door of the charming red and yellow house. Then Sproull instructed us to take off our shoes.
Sproull is American, but her inn, Little Gnesta, has a distinctly Scandinavian feel due to the crisp, minimalist interior design — almost everything is white, silver or earth toned. Our room was spacious and clean, the bathroom stocked with Newport-made Mountain Country Soap, including a patchouli-scented Aging Hippie hand and body wash.
Sproull, a spritely woman with short, bleach-blond hair, counts herself among Newport's unlikely but energetic new residents — and she's one of several women who have bought houses on Prospect Street over the last few years. Originally from Ohio, Sproull has had many professions — bakery owner, advertising copywriter and founder of Wisconsin's first online newspaper. When she decided she wanted to start an "eco" bed-and-breakfast, she scoured the country for a suitable town.
"I knew what I wanted to do and I looked around for a place to do it," Sproull said. When she visited Newport, she intuited that it was on the brink of something big. "Somehow in my life I've always been ahead of the curve," she said.
But Sproull also liked the fact that Newport wanted to control its growth. "It puts the brakes on sprawl and reverses it," she said, trying to explain Newport's "form-based code" — a municipal planning strategy that considers the look, structure and design of new development rather than solely its function, enabling greater zoning flexibility.
Megan James
The Northern Star
Speaking of planning, we'd booked a cocktail cruise for that evening. Turns out the Northern Star, which once plied the waters of Lake Champlain, is now doing the same on Memphremagog, a 31-mile-long lake that straddles the U.S.-Canadian border.

When bad weather canceled the cruise, we decided to rent a kayak so we could see the city from the water. Chris McFarland, proprietor of Clyde River Recreation, hooked us up with a two-seater in Gardner Park. He also told us about growing up in Newport in the '70s. "My old man owned a bar at a boat marina," he recalled. "There were pizza joints on Main Street."
By the time McFarland finished high school, however, things were bleak. "There were no jobs here," he said. He moved to New Hampshire to find work — fiber-optic switch testing and landscaping — before moving back to the area six years ago to start his outdoor recreation company in nearby West Charleston.
Megan James
Paddling on Lake Memphremagog.
McFarland is optimistic about the redevelopment plans for Newport. "If it creates jobs, hopefully everything else will follow," he said. He supports a proposed Walmart Supercenter, which will be the largest in the state. Like many of his neighbors, McFarland currently drives an hour and a half to Littleton, N.H., to shop.

Won't a giant Walmart imperil the Pick & Shovel, downtown Newport's sprawling general store? McFarland doesn't think so. "Unfortunately, if you don't like the color of the underwear there, you're out of luck," he quipped.
It was the first of many Pick & Shovel underwear references we'd hear in arguments for and against a new Walmart.
No sooner had we launched on Memphremagog, equipped with whistles — a Coast Guard requirement when boating on international waters — than it started to pour. We took shelter under some birch trees behind Vista Foods, a supermarket whose loading dock faces the lake.
It turned out to be the very spot where Newport's developers plan to build a hotel and convention center in 2014, a project that Stenger told us will have a "stadium kitchen" to show off Vermont-made foods. Tony Pomerleau is the landlord of the Waterfront Plaza, which lines the southeastern edge of the lake. He's letting the current tenants — the supermarket, Rite Aid and a few small stores — ride out their leases until then.
M.J.
Out on the town
After drying ourselves off back at Little Gnesta, we headed out to sample the city's food and nightlife — our hopes were high for the former; we were pretty skeptical about the latter. Newport has a dense urban center, so it took us only four minutes to reach our first stop: Lago Trattoria.
Owner Frank Richardi opened his bistro in 2001, long before Newport was on the upswing. "We looked at Newport and thought, in 20 years, this place is really going to take off," Richardi told me last year. "It was one of the last areas of New England that hadn't been overbuilt."
With a four-sided bar and an encyclopedic menu, Lago is a bustling spot. The actor Donald Sutherland — who has a home just over the border in southern Québec — is a regular customer, a waitress told us, confiding that he loves the lamb chops. We ordered a few, and they were scrumptious: charred and glistening on the outside, succulent on the inside. Also praiseworthy was Richardi's buttery lobster ravioli, seasoned with the herbs grown on the restaurant's back deck.
We saved room, though, as we had planned a night of "app surfing." From Lago, we moved on to Le Belvedere, an elegant, 2-year-old tapas place. Inside, comfy leather chairs face the lake. As luck would have it, it was sushi night, and we nibbled nigori as the last wisps of pink faded from the sky over Memphremagog.
Sunset meant it was time to check out Newport's bar scene. Our pilot, Dan Gauvin, had recommended Jasper's Tavern, one of the city's longtime watering holes. Inside, we were surprised to find Eden Cider's Eleanor Leger sitting at a table with her Illinois distributor, their table littered with small, crushed plastic cups. "I was a Jell-O shot virgin," joked Leger, who had apparently just downed one.
DJ Speedo — an aging hippie with a long, gray beard and tie-dyed shirt — spun requests from his laptop as he sat on small stage festooned with a paper full moon and twinkling lights, leftover decorations from a recent semiformal dance.
Speedo, who told us he is a two-time world champion line dancer, is one of two regular DJs at Jasper's. He became our nightlife guide: When Jasper's closed, he advised, we should check out the Pub & Grub.
It wasn't hard to find. We spotted a sea of smokers loitering in a parking lot on the backside of Main Street. They milled in and out of a low door, above which was tacked a piece of paper printed with the name of the bar. We ducked into the dim, low-ceilinged dive. The dance floor was teeming with teenagers bumping and grinding to Shakira. We were at least a decade older than everyone, but when Speedo showed up, the kids hugged him warmly. "Most of them are banned from all of the other bars in town," he said, chuckling as we leaned against a pool table. "In fact, even the bartender is banned."
In the bathroom, Megan met a gaggle of college-age girls taking selfies in the mirror. When she told them she'd come from Jasper's, they informed her that that's where old people go. The girls said they prefer to drive 45 minutes to Lyndonville when they want to go out. "This place is usually dead," a girl named Augusta told Megan. "But it's some guy's birthday today."
C.H.
Culture shock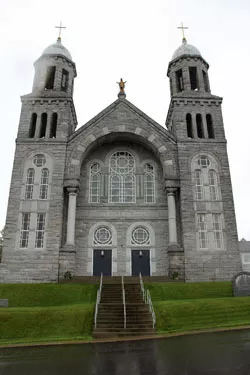 Megan James
St. Mary Star of the Sea
The next morning, we regaled innkeeper Sproull with our late-night adventures. She was surprised we'd found enough downtown activity to stay out until midnight. To atone, we trekked up Prospect Street, which winds along a steep hill to St. Mary Star of the Sea, an imposing 1918 granite church with two soaring towers and the city's best view of Memphremagog. The old convent next door was recently leased to Rural Edge, an organization providing transitional housing. The Catholic school beside it sits empty and abandoned.
Looking for a little culture, we strolled back to Main Street and popped into the MAC Center for the Arts, where we found handmade pottery and furniture, paintings, kimonos, and handspun wool. Jim McKimm founded the cooperative gallery six years ago with a $10,000 grant from the Vermont Community Foundation. Since then, 50 artists have joined.
One of them, Isobel Marks, was working the gallery that day. Originally from Montréal, Marks and her husband got their green cards 15 years ago and relocated to the area. "We wanted to be close to Newport," said Marks, noting she made a small investment in the tasting center. "I believe in it so much."
She's not the only new Newport cheerleader we met that day. Paul Dreher, Newport's zoning administrator, grew up here before leaving for architecture school and a career in New York City. In 2008, he returned to his hometown and, when the previous city planner left unexpectedly, Dreher got the job. Now, he's the father of a newborn baby and passionate about all things Newport.
Dreher's first task as city planner was to write Newport's ballyhooed form-based code, versions of which he's now working on for South Burlington and Huntington. "A form-based code stops sprawl in its tracks," he said, echoing Sproull as we walked through Newport's streets together. In 2009, the American Institute of Architects chose Newport as a Regional/Urban Design Assistance Team location. A handful of architects visited the city over three days, charting its assets and generating ideas for how to improve livability — which included revamping the planning code.
Dreher recounted the story of a dollar-store chain that recently wanted to open a branch in Newport. "We told them, 'Fine, but the front of the store has to look like this, and the doors need to be this far apart.'" The company chose to go elsewhere.
Corin Hirsch
Paul Dreher and Jennifer Bernier at the Summer Street Community Garden.
We walked to the Summer Street neighborhood to look at one of Newport's simplest yet most effective innovations: its first urban community garden. We found it in a depressed clearing ringed by rental units.

As recently as three years ago, Summer Street was known as a high-crime area, and residents hung out at all hours in the parking lot at its center. When Dreher suggested that the city try and turn that lot into a community garden, resident Jennifer Bernier was skeptical. "You're insane!" she told Dreher, even though it bothered her that some people had begun referring to her neighborhood as "the ghetto."
The city secured a municipal planning grant to cover some of the $15,000 cost, and donations from other local businesses — for things such as seeds, a shed and gardening supplies — flowed in. Two summers ago, the parking lot was removed and a 5000-square-foot garden took its place, filled with semicircular raised beds containing kale, carrots, lettuce and tomatoes.
"Foot traffic went down. Crime went down," said Dreher. Residents started lending a hand in the garden and taking home fresh produce. Before the community garden, Newport was considered one of only two "food deserts" — urban neighborhoods lacking access to affordable fresh food — in Vermont, according to the U.S. Department of Agriculture. Vermont's other food desert is Winooski and the Old North End.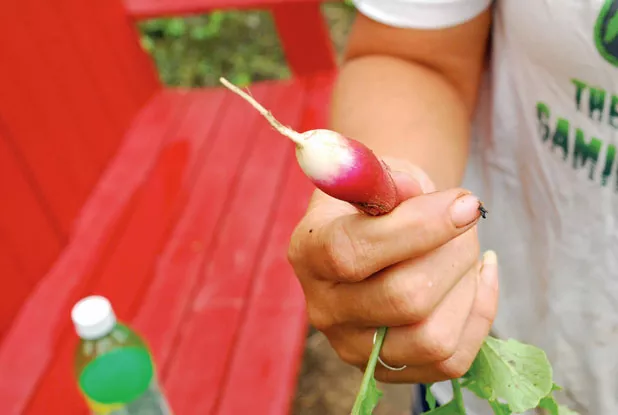 Corin Hirsch
A Valentine radish.
Bernier, who now coordinates, volunteers and spends much of her time at the garden, said she wouldn't let her children play outside before. "Now we have barbecues, and the older people come out of their houses to sit," she said. Bernier reprimands teenagers who cross though the garden without offering to help.

Newport now has six more gardens in reclaimed spaces throughout the city, and Bernier oversees them all. Last year those gardens produced 1700 pounds of vegetables. Some of the food also goes to Newport's dynamic farm-to-school program, which operates a popular mobile truck called the Lunch Box van.
As we were leaving, Bernier picked a fuchsia-colored Valentine radish, brushed it off and handed it to me. It was tangy and exquisitely earthy. "We planted these three weeks ago," she said proudly. "They grow incredibly quickly."
C.H.
Old Newport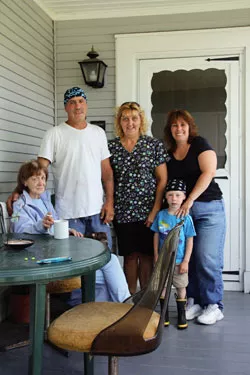 Megan James
Mike Cyr and family.
The sense of a shifting tide in Newport is palpable. We felt it everywhere we went — in a new community center and gallery called the 99, where owner Diane Peel was setting up for a neighborhood movie night; at the East Side Restaurant & Pub, a waterfront local favorite we found bustling on a Friday afternoon; and around the breakfast table at our B&B, where tourists oohed and ahhed about the area's natural beauty. Everyone wanted to talk about the new Newport.
But not everyone buys the hype.
Near the end of our stay, a man across the street from Little Gnesta noticed my camera and called out to me. "Come take our picture!" he shouted.
Mike Cyr, a tattoed barrel of a guy with a bandana cinched tightly around his head, lives in nearby Brownington. He was in Newport with his family visiting his ailing mother, who was about to move out of her home. After snapping a few family photos, I asked Cyr, who owns a roofing business, what he thinks about the development plans for Newport.
"I personally don't think it's gonna do any good," he said. "I lived here for 30 years, and I haven't seen it change once. They built that big state office building, but that didn't help." The Hebard State Office Building was constructed, along with a waterfront boardwalk, in the '90s.
Corin Hirsch
The Pick & Shovel
Angelina McAlister, a stay-at-home mom of six, nodded her head in agreement, though she admitted she's looking forward to the Walmart. "Pick & Shovel has a lot, but not if you're on a budget," she said. McAlister is skeptical about those promised new jobs — she said they aren't likely to go to people who, like her, have lived in Newport all their lives, but instead to more educated newcomers. "What we need is more training for the people here," McAlister added.
A lot of the folks she was talking about are employed at the Pick & Shovel. The massive, block-long complex opened in 1977 as a tiny hardware store owned by Tim Hamblett. Over time, he and his family gradually patched on departments — clothing, an ice cream window, a sugaring operation, even a pet shop with tarantulas and iguanas. When Newport's Ames Department Store closed about 10 years ago, Pick & Shovel also became the go-to place for small appliances. Its retail space now covers an entire block and 36,000 square feet. Another 40,000 square feet nearby is given over to warehouse space.
You have to check out the Pick & Shovel, the locals had been telling us since we arrived in Newport. So, at the end of our visit, we finally did.
In one doorway, two employees were assembling a basketball hoop for a customer. Within earshot, a woman debated vacuum cleaners. Another young employee handed out free popcorn. It was a scene that hovered somewhere between small-town general store and, well, big-box retailer.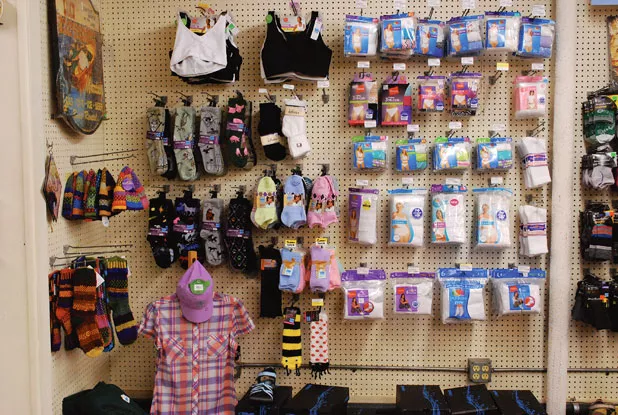 Corin Hirsch
Underwear section at the Pick & Shovel.
Upstairs, we located the infamous underwear wall pegged with white Hanes Hi-Cut briefs and some sports bras. "The great debate is that no one can find underwear," observed Greg Hamblett, Tim's son, who runs the store with his brother, Chris. It's clear that he's heard all the arguments for and against greater selection in Newport. "We have underwear. Yes, it may not be Walmart pricing. At least we're trying."

Hamblett and his family seem somewhat anxious about Walmart's arrival, especially as it will be sited in neighboring Derby and will possibly draw off the southward flow of Québécois consumers that usually come to Newport.
"Nobody wants more competition, but that's the nature of business," he reasoned. "I shop at Walmart; everyone shops at Walmart. If we're decent retailers, we'll figure out how to zig and zag if we need to."
The bigger issue, Hamblett pointed out, is that Newport needs to grow, and if that includes a Walmart, so be it — as long the city retains its character. "We live in little Northeast Kingdom, Vermont, for a reason," he said. "I think it would be a shame if we turned into South Burlington."
C.H. & M.J.
The original print version of this article was headlined "Promise Land"