Perhaps you've heard that Vermont has more craft breweries per capita than any other state. Of course, we only have 626,000 people — but our 29 breweries (and counting) keep us well sated. Our secrets are out, too: Beer lovers from across the country make pilgrimages to the Northeast Kingdom to visit Greensboro Bend's innovative Hill Farmstead Brewery. Another beer produced in Vermont, Heady Topper, earned a perfect 100 score from the discerning readers of Beer Advocate — no small feat.
Regardless of season, the Green Mountain State welcomes beer-brained tourists with open arms. The Vermont Brewers Association hands out punch cards to people who want to trek to all the state's breweries. But even if you're here for just a day or two, microbreweries abound not far from Burlington — and some offer delicious pub fare, as well.
Be sure to call ahead for hours, as they can shift with the season.
Burlington area
Long before the craft-beer craze, there was Vermont Pub & Brewery. Twenty-five years ago, visionary brewer Greg Noonan opened the state's first brewpub, and probably every Burlingtonian at some time has taken a seat on its College Street patio, pint of fresh beer in hand. It's a great spot on a sunny day, or on a warm night listening to live music. Indoors during colder months, the pub scene is lively and friendly.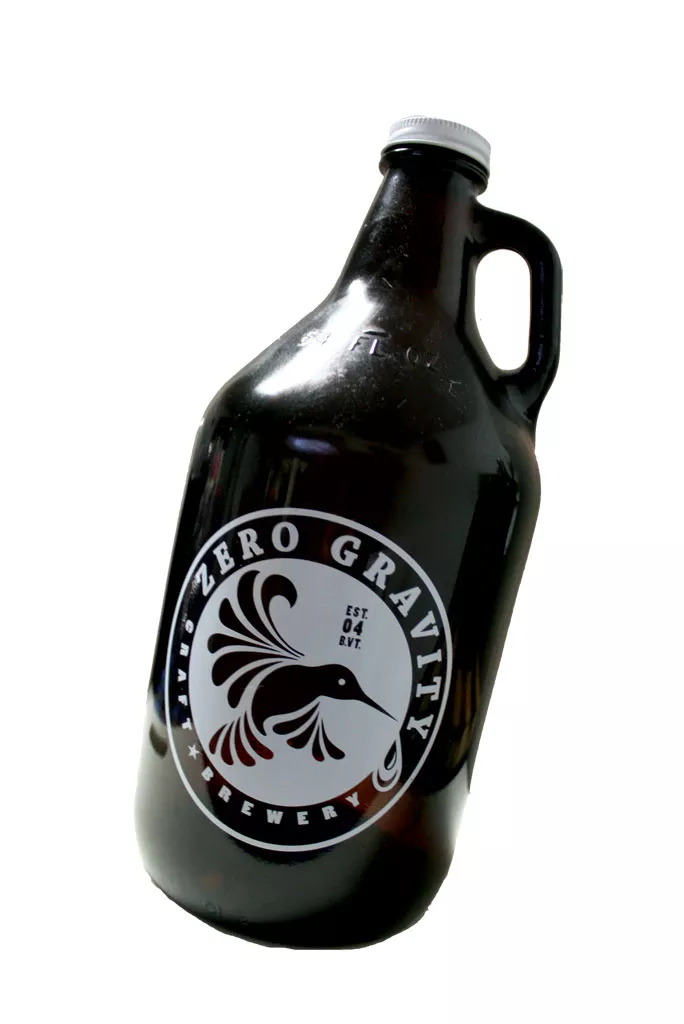 Nearby on St. Paul Street, the Zero Gravity brewery is tucked out of sight — within American Flatbread Burlington Hearth — but at the eatery's long bar, you can quaff some of the best beers in Vermont, from rauchbier to Belgian-style dubbel.
Another treasure can be found in Burlington's South End: Switchback Brewing, which offers samples of its signature yeasty ale and tours every Saturday. A mile further still, in South Burlington, is the carnival-like Magic Hat Brewing Co., where a kaleidoscope of samples is always on offer inside the whimsical Artifactory. You need to see it to understand.
Further down Route 7 in Shelburne, Magic Hat alum Matt Cohen runs Fiddlehead Brewing Company. In his friendly, industrial-looking tasting room, staffers offer pours of their flagship, hoppy Fiddlehead IPA, along with seasonal brews. Fancy more than a taste? Tote a growler into the wood-fired pizzeria next door.
Middlebury
At Drop-In Brewing — housed in a former plumbing-supply warehouse — Scottish-born Steve Parkes wields American hops for his crisp signature beer, Sunshine and Hoppiness. Sample it and other creations inside the tasting room, where you just might glimpse Steve brewing behind a viewing window.
St. Albans
14th Star Brewing Co. may be discreetly tucked into a St. Albans side street, but the Army vet who founded this nanobrewery, Steve Gagner, produces big flavors: three IPAs, a brown ale and a few other interesting beers. He pours samples — or fills growlers — inside the cozy tasting room on Thursday and Friday nights.
Stowe/Waterbury/Morrisville
Take Exit 10 north from Interstate 89 and you'll discover a veritable brewery trail, starting at the Alchemist Cannery in Waterbury. This spot is a mecca for beer lovers who arrive to load up on the one beer sold here: Heady Topper. It's hard to describe its intense flavors, but the staff will pour you a generous sample while you wait your turn to order a four-pack, or a case, to go; you can sip it while watching the brewers work.

Up the Mountain Road in Stowe, brewer Will Gilson turns out balanced, German-style beers at Crop Bistro & Brewery, which are tapped in the pub and pair elegantly with Crop's hearty, farm-to-fork fare — think burgers or warm kale salad topped with pork-belly cracklins. Further up in the hills at the Trapp Family Lodge, the brewery is known for its lagers — a black variety among them. All flow freely in a café-bakery that also delivers hearty bratwurst and gorgeous mountain views.
The growing 'burg of Morrisville is about 10 minutes' drive north of Stowe. Here, Matt Nadeau of Rock Art Brewery counts at least 20 beers in his roster, some made with spruce tips or smoked grains. In an industrial park on the edge of town, the guys who run Lost Nation Brewing — Jamie Griffith and Allen Van Anda — offer eclectic styles including saison and gose inside a blood-red taproom. If you stop in Thursday through Sunday, you'll also be rewarded with tasty pub fare such as house-cured charcuterie and gnocchi with snails and chorizo.
Northeast Kingdom
For the truly adventurous — or just plain beer-crazy — the Kingdom is a two-hour drive from Burlington, but the area has some innovative brewers. Hill Farmstead's Shaun Hill has attracted worldwide attention, as well as crowds, for his pitch-perfect bottled beers, sold in the shop here. A handful of other nanobreweries is scattered around the hills, as well, from Grateful Hands Brewing in Cabot (open two Saturdays each month) to Trout River Brewing Co. and Covered Bridge Craft Brewery in Lyndonville. They're small-scale, homespun operations, so be sure to call ahead before you make the drive.
Vous avez soif? Pourquoi ne pas faire la tournée des brasseries?
Saviez-vous que le Vermont est l'État américain qui possède le plus grand nombre de brasseries artisanales par habitant, avec 29 brasseries (pour l'instant) et une population de 626 000 personnes? Les amateurs de bière de tout le pays viennent en pèlerinage dans le Northeast Kingdom, au nord-est du Vermont, pour visiter la très innovatrice Hill Farmstead Brewery de Greensboro Bend. Autre bière produite au Vermont, la Heady Topper a obtenu quant à elle un score parfait de 100 attribué par les lecteurs avisés du Beer Advocate – tout un exploit.
Peu importe la saison, l'État des Montagnes vertes accueille les touristes assoiffés de bière à bras ouverts. La Vermont Brewers Association remet des cartes à perforer à ceux qui veulent faire la tournée des brasseries de l'État. Mais même si vous êtes dans le coin pour une journée ou deux seulement, les microbrasseries abondent à proximité de Burlington et, dans certaines d'entre elles, vous pouvez également déguster un bon repas.
Nous vous recommandons cependant d'appeler pour connaître les heures d'ouverture, qui changent au gré des saisons.
Région de Burlington
Le Vermont Pub & Brewery était là bien avant l'engouement pour la bière artisanale : il y a 25 ans, Greg Noonan, brasseur visionnaire, a ouvert la première brasserie-pub de l'État. On peut dire sans trop de crainte de se tromper qu'à un moment ou un autre, depuis lors, tous les habitants de Burlington ont pris place sur la terrasse donnant sur College Street pour savourer une pinte de bière bien fraîche. C'est l'endroit idéal pour relaxer quand il fait soleil et pour écouter un concert par une belle soirée d'été. Durant les mois plus froids, l'ambiance du pub est animée et amicale.
Tout près de là, sur St. Paul Street, la brasserie Zero Gravity ne se livre pas immédiatement aux regards, elle se trouve à l'intérieur de l'American Flatbread Burlington Hearth. Au long bar du restaurant, vous pourrez goûter certaines des meilleures bières du Vermont, de la Rauchbier à la belge Dubbel.
Vous trouverez un autre trésor dans le quartier South End de Burlington – Switchback Brewing, qui offre des échantillons de sa bière vedette au goût de levure; le samedi, vous pouvez faire une visite des lieux. À South Burlington, 1,6 km plus loin, ne manquez pas la Magic Hat Brewing Co., où il règne une ambiance festive; choisissez parmi le large éventail d'échantillons qui sont toujours offerts à l'intérieur de l'Artifactory, aux allures fantaisistes. Il faut le voir pour bien comprendre...
En continuant sur la Route 7, à Shelburne, découvrez la Fiddlehead Brewing Company, gérée par Matt Cohen, qui travaillait auparavant au Magic Hat. Dans la salle de dégustation de facture industrielle – ce qui ne l'empêche pas d'être chaleureuse –, les employés versent l'India Pale Ale (IPA) Fiddlehead, produit phare de l'établissement, ainsi que d'autres bières saisonnières. Vous avez faim? Emportez votre growler et allez goûter la pizza au feu de bois, juste à côté.
Middlebury
À la Drop-In Brewing, située dans un ex-entrepôt d'articles de plomberie, Steve Parkes utilise le houblon américain pour créer sa bière signature rafraîchissante, la Sunshine and Hoppiness – teintée de ses origines écossaises. Goûtez-y, ainsi qu'à d'autres produits originaux, dans la salle de dégustation, où vous pourriez apercevoir Steve à l'œuvre, derrière une fenêtre d'observation.
St. Albans
La nanobrasserie 14th Star Brewing Co se cache discrètement sur une rue secondaire de St. Albans. L'établissement fondé par Steve Gagner, vétéran de l'armée, produit trois IPA, une ale brune et quelques autres bières intéressantes. Dans une salle de dégustation intime, il verse des échantillons ou remplit des growlers, le jeudi et le vendredi soir.
Stowe/Waterbury/Morrisville
Sur l'autoroute 89, empruntez la sortie 10 vers le nord pour découvrir une véritable route des bières, qui commence à l'Alchemist Cannery, à Waterbury. Il s'agit de la Mecque des passionnés de bière, qui viennent y faire le plein de la Heady Topper – l'unique bière en vente ici – dont il est difficile de décrire les arômes intenses. Le personnel vous versera un généreux échantillon pendant que vous attendez pour acheter un paquet de quatre ou une caisse; sirotez-le en regardant travailler les brasseurs.
À Stowe, sur la Mountain Road, le brasseur Will Gilson fabrique des bières équilibrées d'inspiration allemande au Crop Bistro & Brewery; ces bières servies dans le pub se marient parfaitement aux plats copieux du menu « de la ferme à la table », composé notamment de hamburgers et d'une salade de chou frisé tiède agrémentée de couenne de porc rissolée. Plus loin dans les collines, la brasserie du Trapp Family Lodge est réputée pour ses lagers – dont une variété de noires – offertes dans un café où l'on vous offre aussi des saucisses Bratwurst consistantes et une vue spectaculaire sur les montagnes.
La municipalité en plein essor de Morrisville est située à environ 10 minutes de route au nord de Stowe. Ici, Matt Nadeau, de la Rock Art Brewery, vous présente un menu d'au moins 20 bières, dont certaines sont brassées à partir de pointes d'épinette ou de grains fumés. Dans un parc industriel, à la périphérie de la ville, Jamie Griffith et Allen Van Anda, les têtes dirigeantes de Lost Nation Brewing, vous proposent un menu éclectique qui comprend la Saison and Gose, dans un bar rouge sang. Si vous vous y arrêtez du jeudi au dimanche, offrez-vous un bon plat – pourquoi pas des charcuteries maison et des gnocchis avec escargots et chorizo?
Northeast Kingdom
Les plus aventuriers et les vrais mordus de la bière feront le détour jusqu'au Kingdom, à deux heures de route de Burlington; la région compte bon nombre de brasseurs innovateurs. Shaun Hill, de Hill Farmstead, a su attirer l'attention d'amateurs de bière du monde entier grâce à sa bière embouteillée parfaitement équilibrée, vendue à la boutique. Une poignée d'autres nanobrasseries sont établies çà et là dans les collines, dont Grateful Hands Brewing, à Cabot (ouvert deux samedis par mois) ainsi que Trout River Brewing Co. et Covered Bridge Craft Brewery, à Lyndonville. Comme ce sont de petits établissements familiaux, mieux vaut appeler avant de s'y rendre.
The original print version of this article was headlined "Small State, Big Beer"