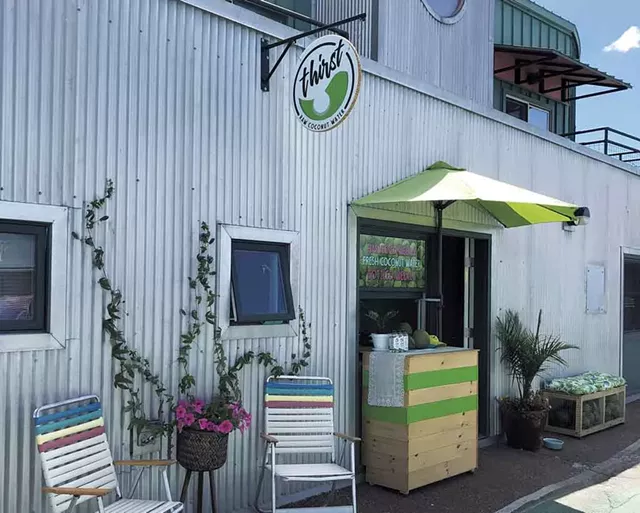 Courtesy Of Thirst Coconut Water
Thirst Coconut Water storefront on the Burlington bike path
A new Vermont-based company is bringing coconut water to the Burlington bike path.
The storefront window near Local Motion at 1 Steele Street is the retail home of Thirst Coconut Water, owned by Liz Proutt and Gui Meireles. The couple opened the storefront in early June to sell their locally processed coconut water and have found a market in the active bikers and runners who pass by.
Thirst receives weekly shipments from an organic coconut farm in Florida. Immediately after the coconuts arrive at the company's production space in Charlotte, Thirst extracts the coconut water and bottles it. The final product is unpasteurized — with no preservatives, added sugars or artificial flavors — and has a shelf life of five to six days.
Because of that short shelf life and the company's focus on freshness, the storefront is open only on Saturday and Sunday, from 9 a.m. to 5:30 p.m. Meireles noted that Thirst usually sells out on Sundays. "We're selling the freshest coconut water in Vermont," he said.
The storefront has been a great way to introduce the product to people in a place where coconuts don't naturally grow, according to Meireles. "Some people have never seen a fresh coconut before," he said.
The storefront will be seasonal, open through the summer and during nice fall weather. Once it closes for the year, Thirst will offer delivery of a frozen version of the coconut water via online subscription.