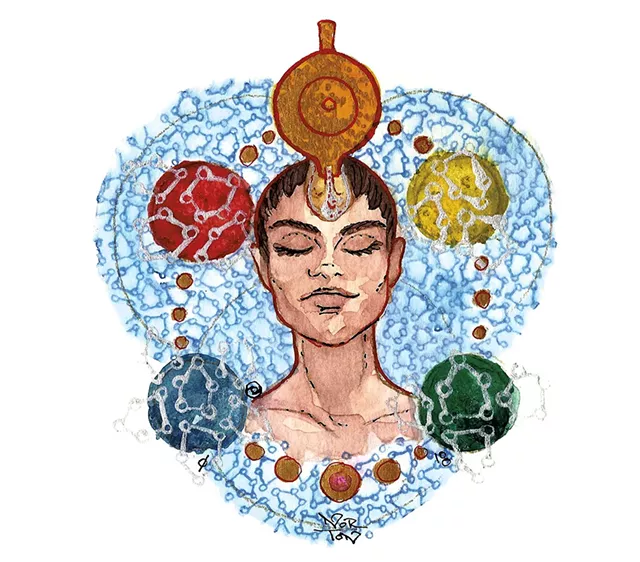 On the whole, oil spills are horrible: a waste and expense, not to mention an environmental travesty. But in a treatment room at the Stoweflake Mountain Resort & Spa in Stowe, Surinda Cavanagh administers a kind of oil spill called shirodhara that functions as luxurious medicine.
Shirodhara is a thousands-of-years-old Ayurvedic treatment that aims to soothe the nervous system by gently pouring liquid — usually oil — in a steady stream onto the forehead of a person lying supine. Imagine drizzling syrup in a slow, steady stream over pancakes; now imagine that the syrup is a warm, herb-infused sesame oil and that you are the topmost pancake.
Doesn't the oil go in your eyes? Is this a slower version of Chinese water torture? How is this therapeutic? I had all of those questions and more as I prepared to experience shirodhara.
It began in a dimly lit room at Stoweflake, where the shirodhara vessel hung from a stand near the head of the treatment table.
After I was situated, Cavanagh applied some herbal oil (via a small bottle) to my scalp and began a series of massages, first to the head and then to the extremities — the feet and hands. This process helps to nurture "the end points of the nervous system," she said, which in turn "prepares the mind and body to receive shirodhara."
Then Cavanagh placed cotton pads soaked in rosewater over my eyes and laid a warm, sand-filled pack across my abdomen.
Finally, she adjusted the oil pot behind my head. As the treatment commenced, Cavanagh warned that shirodhara's oil might feel cool at first but would gradually become warmer. As the oil began to flow across my brow, I found the sensation similar to standing directly under a showerhead — but so much better. The warm oil felt both deeply calming and pleasurably tingly.
Due to the back-sloping decline of the forehead, the slight downward tilt of the headrest and the diligent administration of the therapist, no oil ventured near my eyes. But it definitely got in my hair as it enveloped my scalp and cascaded down the back of my head. There it was caught in a pot and recycled, as Cavanagh poured it back into the vessel.
For a little more than an hour, she presided over the constant stream of perhaps a quart of oil, which was infused with herbs including ashwagandha, shatavari and bhringaraj — herbs recognized for their capacity to support the nervous system and brain. As Cavanagh guided the oil stream in a lazy, back-and-forth motion between my temples, my normally noisy mind — as well as my ability to continue reporting — subsided. In fact, I was barely aware that Cavanagh periodically emptied the liquid back into the pot to maintain a continuous flow.
"The whole point of shirodhara," she said, "is complete surrender, calm and peace, allowing the nervous system to heal itself."
Ayurveda is a form of health care that originated in India — the name combines the Sanskrit words ayur, meaning "life," and veda, for "science or knowledge." It aims to find the root cause of an ailment, as well as solutions that will "help the ailing individual regain balance, which in turn enables the body to heal itself," Cavanagh explained. She trained specifically for the shirodhara practice at the Kripalu Center for Yoga & Health in Stockbridge, Mass., in 2007. Additionally, she studied in India and became certified by the National Ayurvedic Medical Association in 2007.
Stoweflake had been offering shirodhara since 2003, but, when Cavanagh was hired in 2008, she updated some of the equipment and introduced diet and lifestyle counseling to the spa's menu of Ayurvedic treatments. After serving as the spa director for seven years, Cavanagh recently stepped down from the position and scaled back her hours at Stoweflake in order to open a private Ayurvedic practice. She also teaches Ayurveda and wellness classes for Johnson State College (to become Northern Vermont University in July).
In addition to quieting an overactive mind — and nourishing dry hair— the purported benefits of shirodhara include better sleep, improved concentration, and reduced anxiety and fear. The Journal of Ayurvedic and Integrative Medicine asserts that the procedure induces a "relaxed state of awareness that results in a dynamic psychosomatic balance."
According to Karyn Chabot, who instructs shirodhara therapy seminars at the Newport Massage School in Rhode Island, the practice "regulates mood and depression disorder; balances the third eye and nervous system by releasing neurohormones, creating ecstatic feelings of relaxation and pleasure; increases intuition; and renews the sweetness of life."
Quizzed about those assertions, Cavanagh smiled and replied that the treatment can have any or all of those effects, but she resists making unconditional promises. "Shirodhara is not one size fits all," she said. And while it might be beneficial to anyone, some individuals may not be ready to receive it. "A lot of people may have difficulty giving over control," she suggested. Some could even experience headaches as a consequence of receiving shirodhara.
And yet, according to Allison Morse, a doctor of Ayurvedic medicine and founder of the Ayurvedic Center of Vermont in Williston, people who are constantly in stressful situations and on the go are perhaps among those who could benefit the most. "True healing cannot happen in an overly busy, 'do, do, do' environment," said Morse. "I wish people could understand that within the stillness of shirodhara, healing starts to happen."
At Morse's clinic, established in 2006, shirodhara isn't regarded as a decadent spa treatment but as profound medicine. "It's a necessity, not a luxury," insisted Morse. Some of her patients come from out of state to receive personalized Ayurvedic treatment regimens, including shirodhara, for chronic neurodegenerative diseases such as multiple sclerosis and Parkinson's disease, or for migraines.
For those who deal with chronic pain or dysfunction related to neurological conditions, the shirodhara treatment Cavanagh provides at Stoweflake can complement other conventional or alternative medicine. Greta Lowther of Calais claims it's been a crucial component of healing from chronic inflammatory demyelinating polyneuropathy (CIDP).
Lowther described her first shirodhara experience, in 2011, in a personal journal: "It seems so hard to really relax in life," she wrote. "Surinda pointed out that you can get into a pattern of tension when you're in pain a lot, and I was kind of bracing for muscle spasms and leg discomfort. The shirodhara help[ed] to relax my body and ... let it rest, let my mind rest, and let me rest."
Healing with Ayurvedic treatments is really different from taking medication, Lowther said. She believes the treatments could serve others "in a more preventative way, just in helping to nourish the frayed nerves we can get from our busy lives."
Joanie Bégin-Morin, co-owner of Blossom Ayurveda in Montpelier, agrees. Shirodhara shares some of the same objectives as meditation, she noted. "I've had clients exclaim after the treatment, 'For the first time, I had no thoughts!'" she said.
"Shirodhara can be the most relaxing, beautiful thing — for PTSD, jet lag, insomnia — anything that involves the brain and nervous system," Bégin-Morin explained. "But it can also stir up a lot of things, leading to big emotional releases, strange dreams, even colorful visions."
According to Morse, shirodhara can even spread by association. "One by one, the good effect of the healing trickles from a recipient to their partner, their children, their colleagues — it keeps spreading; it just keeps going."
Perhaps that's another reason to try this ancient remedy. For me, shirodhara was the best kind of oil spill imaginable.