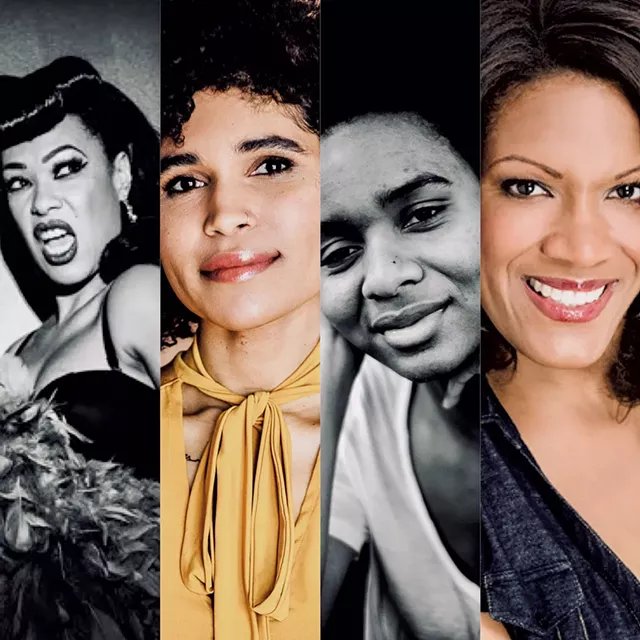 Courtesy Of Jarvis Antonio Green
From left: "The Maine Attraction" Anders, Kirya Traber, Gethsemane Amy Herron-Coward and Tracey Conyer Lee
Presenting his new-play festival for a third season, Jarvis Green, the founder and artistic director of JAG Productions, continues the mission of cultivating African American theater in the Upper Valley. JAGfest 3.0 refines the core purpose of the festival — supporting black playwrights — while strengthening community partnerships and expanding programming.
Running Friday through Sunday, February 8 through 10, JAGfest features four staged readings of new plays by female playwrights of color, followed by postshow conversations moderated by Dartmouth College scholars, at the Briggs Opera House in White River Junction. "I had to make sure to honor women this year, since last year was all men," Green says. He adds, "Black women have been saving us forever." The plays also center on thought-provoking themes important to the black community and the U.S. as a whole.
The Last Day of Black History Month: A Conversation With a Naked Black Southern Lesbian, written by Maine "The Maine Attraction" Anders, is a one-woman multimedia production that combines acting with dance, music and poetry. Green has known Anders since his days waiting tables at Employees Only, a bar in New York City. She would come in with a burlesque act on "Silky Sundays," he says. The two have been friends ever since.
"She's never had the time and resources to step outside of her daily life to focus solely on her work," Green says of Anders, "so this is going to give her that opportunity."
Tracey Conyer Lee, a playwright fellow with New York City-based National Black Theatre, brings Rabbit Summer. The play confronts such timely and controversial matters as the gun problem in America and being a cop while black. Rabbit Summer has already been developed at the Kennedy Center and is set to premiere later this year at the Aurora Theatre outside of Atlanta.
Playwright Gethsemane Amy Herron-Coward's play Blanks or Sunday Afternoon, After Church is about a medical student named Reese who is torn between her ambition to achieve her potential and her burning desire to find true love. Guiding her are the specters of black "aunties," who were literally killed by the perils of love and who urge her to forget romance and strive for her own success.
Playwright Kirya Traber, an actor at last year's JAGfest, has been working on a new musical titled If This Be Sin, which tells the largely forgotten story of queer Harlem Renaissance entertainer Gladys Bentley. Green admits he had never heard of Bentley, but after doing his own research on the dynamic historical figure, he jumped at the chance to develop it. "That's a huge part of JAG's mission," he explains, "to identify stories that aren't necessarily on everyone's radar and uncover our forgotten history."
Traber is partnering with composer Sissi Liu, who wrote the music for the piece. The play is written for a full orchestra, but the intimate reading will have only piano accompaniment.
Presenting these plays alone would constitute a festival, but as usual JAGfest is pulling out all the stops. Not only is the White River Junction community stepping up to provide visiting artists with housing, cars, meals and wellness activities, but every day of the week features free additional programming for the public.
Pre-festival events began on Monday with a community dinner at Piecemeal Pies, followed by lunch with the playwrights at the Hopkins Center for the Arts at Dartmouth College on Tuesday. Wednesday features a lecture at the college by Kyle T. Mays — assistant professor of African American studies at UCLA — titled "When Did Black People Lose Their Indigeneity? Reimagining Black and Indigenous Histories."
JAGfest also partnered with White River Indie Films to screen a documentary at the Briggs Opera House on Thursday: Sighted Eyes, Feeling Heart documents the life of Lorraine Hansberry, who wrote the classic American play A Raisin in the Sun. The festival celebrates its opening night on Friday with a dance party at Piecemeal Pies.
It's become cliché to observe that majority-white Vermont is an unlikely location for a black theater company. But with an annual operating budget of nearly $200,000, JAG Productions has established itself as a local institution that's changing the face of the arts in the Upper Valley.
"In the beginning, I wanted to be able to shift and move people," Green reflects. "I don't really have to say that anymore, because I [see change] reflected back to me automatically."
JAG Productions has also cultivated additional opportunities for actors and playwrights, with a demonstrated ability to present what's hot in American theater. Its 2016 main stage show, Choir Boy by Tarell Alvin McCraney, premiered at Manhattan Theatre Club on Broadway earlier this year and has an extended run through February 24.
JAG Productions' 2018 main stage show, Lady Day at Emerson's Bar and Grill, starring Francesca Harper, headlined the Royal Caribbean Full Ship African American Music Festival at Sea. Green tagged along for that island-hopping production last month.
Finally, Green reveals that Esai's Table, a play by Nathan Yungerberg that was developed at JAGfest 2.0, will have an Off-Broadway run in the fall.
"The best part is that, wherever our artists go, they take JAG with them," Green muses. "Our artists go back to [New York City] more courageous because they were inspired here; it's almost magical. We're slowly building a community of people who are telling their friends to come to Vermont and experience it, too."