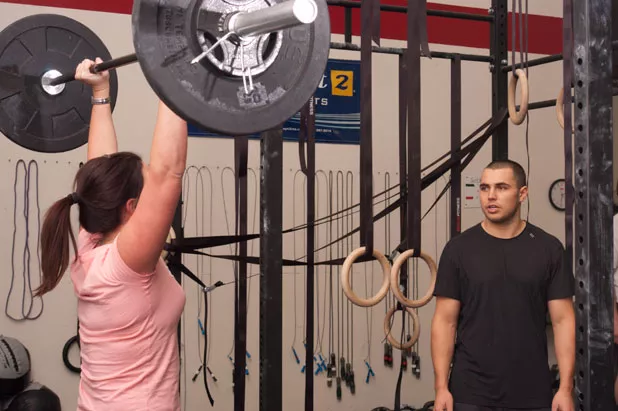 Matthew Thorsen
Tanya Noyes and Jade Jenny
"OK, get ready for Suckville."
Considering that this complaint comes from a well-muscled guy who has just done several rounds of handstand push-ups — on top of rubber-bumper weight-plates stacked on wooden boxes — I know he means business. I'm bracing myself for the workout that he, I and five other class participants are ready to undergo at the Champlain Valley CrossFit gym in Williston.
Trainer and gym co-owner Jade Jenny starts the clock and cranks up the music, and, for the next 15 minutes, I find myself alternating among three torturous exercises. First I'm dropping to the ground, thrusting my legs back for a push-up and exploding back to standing position while hoisting 30 pounds of weight to my shoulders in the "burpee power clean." Seven times in a row.
Next up are 42 "single-unders" with the jump rope, followed by seven front squats with that same 30 pounds. All of it nonstop, as many times as possible, while I try to keep score of how many rounds I complete so I can record them on a whiteboard. I try to forget that I haven't skipped rope since "Charles in Charge" was on in prime time.
Yeah, it's pretty much Suckville. But for hundreds of thousands of CrossFit acolytes around the country, this balls-to-the-wall, back-to-basics approach is revolutionizing what it means to be strong, fit and healthy.
A mashup of traditional weight lifting, military-style boot camp and gymnastics class, CrossFit also has healthy doses of competition and cultlike devotion. The basic workout was founded nearly 20 years ago by a former gymnast in California, but only in the last 10 years, as workouts were shared online and devotees began to open their gyms, did CrossFit really gain momentum. Two thousand five hundred "affiliates" now operate worldwide. Since Jenny and his business partner, Betsy Baker, opened Chittenden County's first CrossFit facility here in September, plenty of northern Vermonters have jumped on board, too.
"It's insane," says Erik Giard-Chase, a 24-year-old Burlington resident, of how the regimen has pumped up his fitness level and athletic ability. "CrossFit pushes you to question who you are and what you are capable of, both physically and mentally, never settling for less and always trying to better yourself."
When Jenny first invited me to try out the new CrossFit facility, I was peripherally aware of the trend as a workout espoused by a few ripped jocks such as ex-ski-racer Eva Twardokens. Now, having accepted Jenny's invitation, I'm getting a crash course in what it's all about.
In CrossFit lingo, a gym is a "box." The Williston spot next to a Benjamin Moore paint shop is just that: an industrial room equipped with some weightlifting equipment, gymnastics apparatus, several Concept2 ergs standing on end and a couple of oversize tractor tires. No fancy locker room or smoothie bar, just a white fridge advertising bottled water for 50 cents, with a donation jar on top.
The focus of the room, and what really distinguishes it from other gyms, is a massive series of whiteboards scrawled with multicolored messages written in dry-erase pens. One wall has quotes such as "Stop putting your wish bone where your back bone should be" and "Embrace the suck." On the other wall, Jenny has posted the workout of the day, or WOD, which nobody knows until they show up for one of the classes that run on a set schedule beginning at 5:45 a.m., Monday through Saturday.
"Unlike classes at a gym, at CrossFit, no two days are ever the same," explains South Burlington's Tanya Noyes, one of the 65 members here. Each workout comes in four levels, corresponding to the amount of weight a member can safely lift, ranging from the toughest challenge, called "Rx'd," all the way down to the beginner Level 3.
Herein lies part of CrossFit's appeal: It combines the "surprise" factor of ever-changing workouts with the ability to customize, which means anyone from a 98-pound grandmother to a professional athlete can participate.
In the latter category is Burlington's Del Randall, 28, a former St. Michael's College basketball star who also played football for the Vermont Ice Storm. Now a financial analyst, he comes to CrossFit three days a week and has boulders for shoulders.
So, when we glance at the WOD — 100 "thrusters" of squatting and then popping the weight overhead, interspersed with burpees — Randall chooses Rx'd, with 135 pounds of weight. Though I tell Jenny I'm fit and strength train regularly, he's conservative and gives me 25 pounds, less than Level 3.
I finish my 100 sets in just under 10 minutes. It takes Randall nearly a half-hour. By the end of it, he's starfished on the floor.
This is becoming a common sight for me at CrossFit: Nearly everyone collapses, gasping for air, as Jenny turns down the volume on Citizen Cope and Flo Rida. I'm not too surprised to learn later that one of the CrossFit mascots is "Pukey the Clown." Members have thrown up, says Jenny, "but that isn't something we pride ourselves on, or push."
The Internet offers horror stories of CrossFit injuries: kidneys poisoned by dissolved muscle fiber, separated shoulders, broken bones. But here in Williston, safety seems like the No. 1 priority for Jenny, a onetime pro mountain-bike racer. (His dad, Hans, is board president of the advocacy group Fellowship of the Wheel.) Also a martial arts practitioner, Jenny discovered CrossFit three years ago and was trained before opening this affiliate.
New members, who pay $125 for a 10-class punch card or $150 per month for unlimited classes, must go through "on-ramp" sessions that introduce them to the basic moves before they can attend regular workouts. With fewer than 10 people in each class, Jenny can keep a close eye on their form. Far from a barking boot-camp instructor, he acts like a wiser, stronger brother, encouraging me with "Good job, Sarah" as I power through 1000 meters on the rowing machine, and reminding me to keep my knees out during squats.
After my first visit to CrossFit, I'm so sore it hurts to lift a cup of coffee — three days after the workout. But it's a good pain, one that reminds me how my previous pattern of doing the same running routines, week in and week out, stranded me on a fitness plateau.
I also come to appreciate the camaraderie that the intimate, intense atmosphere fosters. "This isn't like a typical gym where you come in, put your headphones on, do your thing for an hour, leave and barely break a sweat," explains Giard-Chase. "You meet new people, and you all sweat your asses off pushing through a WOD together. Maybe it's the 'misery loves company' thing."
CrossFit members keep each other on their toes by recording scores for each WOD. The record keeping sets up a continuous competition not only in the class, but, via the Internet, among CrossFit folks worldwide. "CrossFit is the sport of fitness," explains Jenny. "There are very clear and concise standards for everything we do, and everything is measurable."
Even when I've completed several CrossFit sessions, I feel like I've barely scratched the surface of the phenomenon. There's CrossFit Endurance, specially tailored for triathletes and marathoners; CrossFit Kids; the annual Olympic-like CrossFit Games; CrossFit Football; and CrossPit — mixed-martial-arts fight training. Many CrossFit practitioners also follow the Paleo diet, shunning grains, legumes and dairy in favor of what cavemen supposedly ate: meat, fish and plants.
Not all of it is appealing. I appreciate a certain amount of predictability — and peanut butter — in my days. But this winter, I've come to crave the unique sensation that CrossFit provides, in the muscles and the mind.
As Randall explains, it's "the feeling of giving everything you have, both physically and mentally, and having nothing left. The feeling of accomplishment because you didn't quit and, despite how much it hurt, you kept going. The confidence of knowing that the next time you're presented with something that at first glance seems overwhelming or too much ... you can do it because of what you just completed."
Yes, I have learned to embrace the suck.