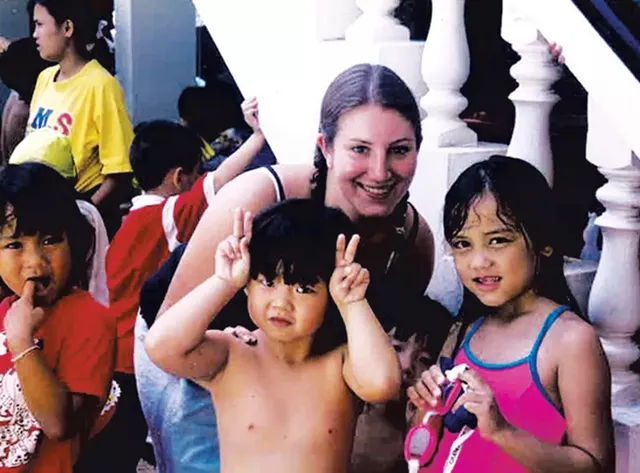 Two weeks after I graduated from college, I hopped a plane to Thailand to take a job as a kindergarten English teacher at a bilingual school in a small city called Khon Kaen. I didn't speak Thai or know a single person in the Southeast Asian country. But I was eager to do something adventurous before finding a "real" job and settling into a routine. When better to do it, I figured, than when I was a single 21-year-old with no one counting on me?
I traveled a lot during my year abroad. I didn't meet many Americans, but I did encounter numerous twentysomethings from places like England, New Zealand, Israel and Canada. They had saved up money so they could spend the year traveling internationally, or even circumnavigating the globe. It struck me that foreign exploration felt like an essential part of their cultures — much more so than in the United States.
That's why I was so impressed to read about the Vermonters who left their homes in America to live temporarily in Europe, the Middle East and Indonesia. In "Adventures of a Lifetime," Nancy Stearns Bercaw describes her experience relocating to Abu Dhabi with her son and husband, and she talks with three other local families about their extended stays abroad. All agreed that the experiences were culturally enriching and taught their kids many things — including the fact that the U.S. isn't the center of the world.
But you don't always need to travel to far-flung destinations to find excitement. In "Mealtime," Erinn Simon writes that cooking new foods is a way to add a little adventure to your life — without even leaving the kitchen. She shares a recipe for vegetarian sushi rolls that she made with her son, Eli.
This month's "Out to Eat" expands on the international theme. Contributing editor Meredith Coeyman took her family to Burlington's Sherpa Kitchen on a frigid February evening for some warming curry and other delicious Nepalese food. And in "Balancing Act," Jessica Lara Ticktin interviews the Tamang family, who fled Bhutan in the early '90s for a refugee camp in Nepal, then came to Burlington in 2011 through the refugee resettlement program.
As we were putting the finishing touches on this month's issue, we got the news that Parker Berry had died. The Hyde Park 3-year-old drowned in a creek behind his Waterbury daycare, Elephant in the Field. The farm-based program may be familiar to Kids VT readers — Ken Picard profiled it in the spring of 2014. Like everyone else, we've been wondering how this tragedy happened. At press time, there's still much we don't know about the incident, which is under investigation. In this issue, Picard writes instead about how other nature-based childcare programs are working to ensure that kids are safe, and reaching out to reassure parents. Our hearts go out to Parker's friends and family.