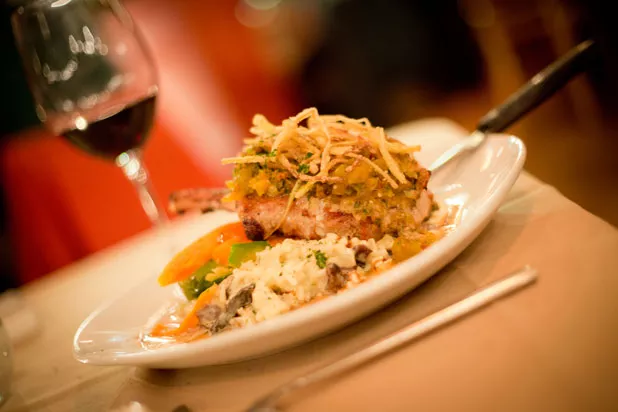 Pork chop with minced green apples and tomatillos
When St. Johnsbury's Elements Food & Spirit closed earlier this year, many diners mourned, including me. The restaurant's smoked-trout and apple cakes induced gustatory bliss, and the riverside deck was a great hangout on summer nights. Yet the two couples who operated the place all had dual professional lives and never intended to own Elements in perpetuity.
Fortunately, another party was ready to branch out and claim the space: the owners of a plush, dim, subterranean bistro called Bailiwicks Restaurant, Wine and Martini Bar in nearby Littleton, N.H.
The 1800s mill building in St. J. is wildly atmospheric, with brick walls, river views and old gears still clinging to the beamed ceiling. The Elements foursome refinished the wood floors and added modern-rustic touches such as a long, zinc bar and artful copper lamps. Still lit by candles and strings of tiny lights, in addition to those lamps, Bailiwicks has preserved the "elemental" vibe — it envelops you when you enter the room.
At the Littleton Bailiwicks, the dishes are a paean to largesse: Everything seems oversized, from the plates to the martinis to the portions — even the noise. That's why people love the place, I suspect: You can get a 16-ounce prime rib curled over mashed potatoes and the vegetable of the day for $26, or a giant plate of fried calamari for $11. The cocktail list is as long as a legal document, with libations that draw liberally on flavored vodkas, coconut rum, Bailey's, Godiva Dark Chocolate Liqueur and even 11 different boozy dessert coffees. No wonder it's always convivial at Bailiwicks — I've met someone new during each of my visits.
The same camaraderie and supersized sensibility are evident at Bailiwicks' Vermont sister restaurant. I could barely get my hands around a water glass, for example, and even the wine glasses seem as big as one's head. I started to feel full just reading the menu: duck-confit-and-cheddar quesadilla, pork pot stickers, filet mignon, Bayou chicken over pasta, house-made ravioli — for which Bailiwicks is famous. This is not a calorie-shy kitchen.
Unfortunately, the ravioli was on hiatus the night we visited, but there were plenty of other options. It took my friend and me 20 minutes, and several visits from our patient server, before we could decide. Codfish piccata or grilled wild salmon topped with house chutney? Filet mignon or New York strip?
Though the duck-confit-and-cheddar quesadilla sounded almost too rich to work, it was more delicate than expected; the outer tortilla was charred almost to paper in places; the duck was mild and moist, the cheddar gooey and filling. The minced, dry salsa that came alongside was fresh and excellent, and the house mango chutney was delicious.
However, a dish that sounded lighter — calamari topped with sun-dried tomatoes and olives — was almost overwrought. The calamari was tender but smothered in panko, there were more olives on the plate than I've ever seen in a single dish, and the entire thing was drizzled with balsamic vinegar and some kind of spice reduction.
At a place like Bailiwicks, it may be wise to order the steak that you see everyone around you enjoying. I ignored that instinct and went for Tunisian crispy chicken, described as a cinnamon-chile-marinated, oven-crisped Statler breast topped with harissa sauce. With so many gutsy ingredients on the plate, I was perplexed that it lacked depth of flavor; the bird didn't seem marinated at all, and the faintly spicy paste on top didn't connect with it. The bed of quinoa on which the chicken rested was studded with edamame, which provided the grain with its only flavor.
Much tastier was a pork chop topped with a tart mince of green apples and tomatillos and served atop a creamy mushroom risotto. The meat was succulent and peppery, and the sauce seemed tinged with sage.
Entrées at Bailiwicks come with soup or a salad. Though the strawberry-champagne vinaigrette that dressed the baby greens was a touch too acidic, the cream of tomato soup — actually closer to bisque — had an addictive, spicy kick. The bread that was promised never arrived, but we still managed to become totally stuffed.
As we departed, clutches of jovial people filled the bar — men in button-down shirts watching football, bearded guys in Carhartts sharing pints, quartets of thirtysomething women dishing over martinis. The teeming bar and full parking lot — on a Wednesday night, no less — made clear that Bailiwicks is already filling an important niche in St. J.
Bailiwicks on Mill, 98 Mill Street, St. Johnsbury, 424-1215.