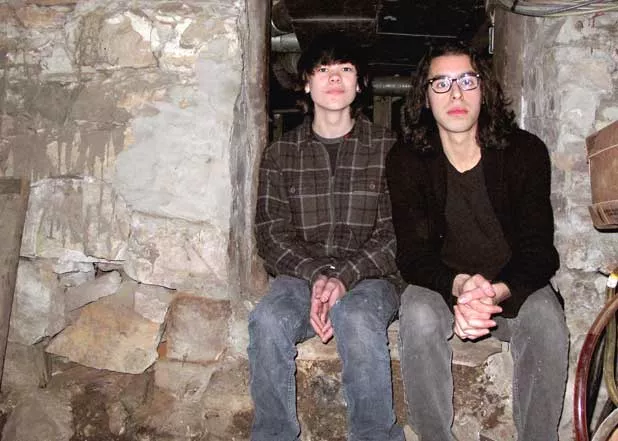 In less than one year, The Vacant Lots have quietly become one of Burlington's most talked-about acts. The drum-and-guitar two-piece trades in a gritty, bluesy style of rock with unmistakable shades of The Velvet Underground. But they maintain a distinctly modern, minimalist bent. The resulting sound is a captivating experiment in duality from an intriguing new addition to Burlington's music scene.
Seven Days recently caught up with The Vacant Lots following a show at The Monkey House in Winooski.
Enjoy The Vacant Lots? Thank the CCTA.
Jared Artaud, 23, and Brian McFadyen, 15, met last spring at a bus stop on Shelburne Road. The bus never came and the pair, resigned to their ambulatory fate, shared the long walk from South Burlington to downtown Burlington. What some might have viewed as a curse — or at least an annoying inconvenience — ultimately became a blessing as the two discovered a shared affinity for music, which led them to start the band.
The band is a two-piece by design. But . . .
Though The Vacant Lots are a duo — and a dynamic one at that — they did audition several additional musicians prior to settling on their current incarnation. But according to Artaud, ultimately the lineup was "by design."
"When we were first rehearsing, we started looking for another guitar player," he says. "But it kind of naturally happened that we started developing our songs around that idea [of duality] . . . finally it was just, like, 'Fuck it, let's just do it ourselves.'"
Duality is a running theme for Artaud, musically and lyrically. His elegant, sparse wordplay serves as an able foil for the band's overall spare approach. "We've always been focused around what two individuals can create in a particular space and time," he says.
The Vermont Youth Orchestra underutilizes Brian McFadyen.
McFadyen is an immediate curiosity onstage for two reasons. First of all, he's 15. And his slight frame seems almost dwarfed by the enormous floor toms, snare drum and cymbals behind which he stands. Which brings us to the second curiosity: He stands.
The teenager's decision to remain upright behind his unconventional kit was a natural extension of the band's general aesthetic. Duality, or more specifically, expressing duality, requires opposing dynamics: good and evil; yin and yang; loud and soft. By standing, McFadyen uses the extra leverage to produce a truly visceral sound, punishing his skins with furious aplomb. Alternately, his raised perch allows him to be equally delicate in quieter moments. He is unquestionably the duo's backbone. Watching his flurry of mallet work, it's hard not to wonder why the VYO relegates him to triangle duty — or, as McFadyen puts it, he's the "triangulist."
The Vacant Lots' self-titled debut is very good. And it was recorded in a single night.
The Vacant Lots churned out their first full-length in one session. The album was recorded live at Chris Clark's Big Orange Studio in Addison. "We wanted to really put across that type of live vibe," says Artaud.
Though initially underwhelmed with the results, Artaud and McFadyen discovered that "mixing is an art unto itself" under the expert ears of Burlington's Ryan Power, who also contributed to the recording. Says Artaud, "There were moments when Ryan was mixing it and was screaming inside of the room."
The Revolution won't be televised. Fortunately, it's happening in Burlington.
Artaud moved to Burlington two years ago, having never visited the town prior. "There's just something about Burlington," he says. "I really believe that a revolution is necessary and that we need to redefine our values and explore new roads. I believe that art can pave that road. And I really believe that is happening here."
Artaud points to the wealth of artists and musicians, new and old, currently combating what he calls "the decay around us." When asked to be more specific, his eyes light up. "There are some really great bands doing things here that weren't happening a year, two years ago," he says. "There's a revitalization of spirit. Rough Francis, Blowtorch, Nose Bleed Island . . . these are all people who are expressing in this new light for our generation." Even if two of those bands play music that actually dates back a generation? "It just feels really good to be part of something that we can all tap into the energy of."