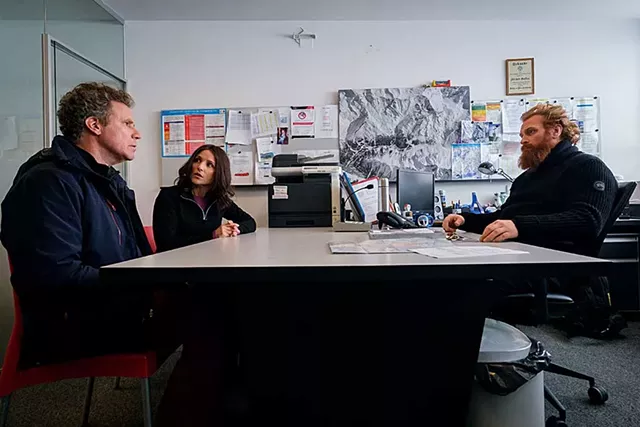 SNOW JOB Ferrell is a husband trying to gaslight wifeLouis-Dreyfus in this remake of a 2014 Swedish hit.
Isn't the whole reason American filmmakers remake films from other parts of the world that they're worth seeing and most Americans haven't seen them? Bong Joon-ho suggested recently that moviegoers in this country would do well to be less deterred by the "one-inch-tall barrier of subtitles." The popularity of his film Parasite notwithstanding, it's safe to say this evolution in viewing habits hasn't come about yet. And it certainly hasn't taken effect retroactively to 2014, when Swedish writer-director Ruben Östlund made Force Majeure.
There's little point in reviewing a movie like Downhill primarily through comparisons to the picture on which it's based. First, most people thinking of buying a ticket won't have seen Force Majeure. So how does it help anyone to tell them how superior to this remake it might be?
Second, there's a difference between a remake like Downhill — an American interpretation — and a shot-by-shot remake like Gus Van Sant's 1998 Psycho. The makers of Downhill never suggested they planned to replicate the Swedish film and substitute English dialogue.
Nonetheless, nearly every review I've seen of Nat Faxon and Jim Rash's film consists principally of comparisons to Östlund's original. Critiques of Force Majeure, I assert, aren't particularly useful to anyone wondering whether to see Downhill. Let's proceed from the reality that this is a Hollywood production (Disney-owned Searchlight Pictures!) starring two of the industry's biggest mainstream names. That it was made by the guys who directed The Way Way Back (2013) and won an Oscar for writing The Descendants (2011). Then let's see what we have.
Will Ferrell and Julia Louis-Dreyfus play Peter and Billie Staunton. They've traveled to the Alps with their two boys for a restorative ski vacation. On their second day at a mountainside hotel, the family is about to order lunch on an outdoor patio when a controlled avalanche appears to be on the brink of burying them alive. It's an illusion. A cloud of powder quickly dissipates, revealing a café with barely a flake to be found. Also nowhere to be found: Peter. Amid the hubbub, Dad grabbed his cell and bolted.
It's the movie's pivotal moment. Will Peter admit what he did and apologize, or gaslight everyone in sight and risk losing the respect of his wife and kids? Well, Ferrell plays him, so three guesses.
Peter is in a cringingly unenviable position in any language, and Rash, Faxon and cowriter Jesse Armstrong do an exemplary job of translating Östlund's withering art-house insights into thoughtfully engaging studio entertainment. The tone shifts adroitly between existential horror and culture-clash comedy. Several scenes (the first time Billie confronts Peter; an aborted helicopter excursion; the couple's attempt to lodge a complaint with the resort's staff) rank among the most indelible work either lead has done.
Downhill examines the same moral and philosophical quandaries the original picture did. The father's betrayal is every bit as unsettling now as it was six years ago. There's simply more of a goofball edge this time, one consistent with Rash and Faxon's sensibility and CVs, not to mention that of producer Louis-Dreyfus. The charmingly offbeat score by Volker Bertelmann and Danny Cohen's superb camerawork are just icing on a more-than-delectable comic offering.
Which didn't prevent the film from wiping out on opening weekend. All those notices comparing it unfavorably to Force Majeure probably didn't help. The battle to find an audience for this funny and unusual movie is now officially uphill.