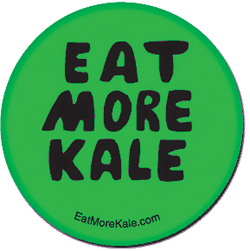 Six years ago, the legal department of Atlanta-based fast-food giant Chick-fil-A sent a cease-and-desist order to Montpelier's Bo Muller-Moore, creator of the iconic Eat More Kale stickers and T-shirts. Specifically, Chick-fil-A claimed the Vermonter's motto conflicted with its marketing slogan, Eat Mor Chikin, which is also its domain name on the web.
Last summer, when Muller-Moore applied for a federal trademark for Eat More Kale, he had a bit of déjà vu. The corporation, which has more than 1560 locations nationwide and reported sales of $3.58 billion last year, filed a federal trademark block.
Muller-Moore is puzzled that Chick-fil-A sees his T-shirt business as a threat. "This is legitimate David-versus-Goliath corporate bullying," says Muller-Moore to Seven Days. "I'm not a restaurant. I'm not a kale farmer. I'm a T-shirt artist." Muller-Moore says he has never made enough money on the emblem to support himself, though he hopes he may do so one day.
Muller-Moore's lawyer, Dan Richardson of Montpelier, notes that Chick-fil-A has consistently tried to shut down businesses using a similar slogan. "What they're trying to do is own the marketplace. They've aggressively gone after anyone who has used the phrase 'eat more anything,'" says Richardson. He notes that the company's letter is reminiscent of the efforts of Monster Energy Drink to block Rock Art Brewery's Vermonster beer in 2009 on grounds of intellectual-property infringement.
On Saturday, an acquaintance of Muller-Moore's set up an online petition to support Eat More Kale. By Tuesday afternoon, it had registered more than 1300 signatures.
Calls to Chick-fil-A's legal and corporate departments were not answered by press time.