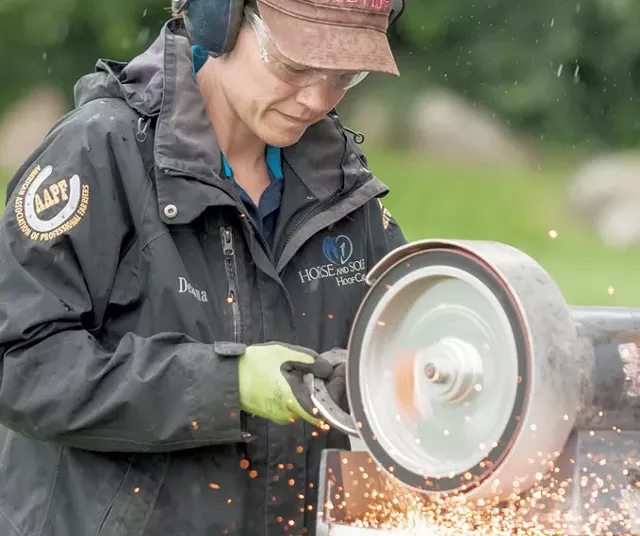 Jim Deshler
Deanna Stoppler
Name: Deanna Stoppler
Town: Underhill
Job: Farrier
Every job has its ups and down, but how many people absolutely love what they do despite the risk of getting kicked or stepped on by a 1,000-pound animal? In farrier Deanna Stoppler, horses have met their match — and their biggest fan.
Stoppler, 37, owns Horse and Sole Hoof Care, which provides trimming, shoeing and related services for horses throughout Vermont and beyond. A former ultra-marathon runner with a hearty laugh and sparkling eyes, Stoppler grew up with horses in Alberta, Canada. By age 9, she was riding bareback; by 13, she owned her first horse.
"I actually told my dad that if he got me horses, I wouldn't get a boyfriend," she said, "and he listened! I didn't get a boyfriend until I was, like, 18."
As an adult, Stoppler knew she wanted to work with horses but didn't think such jobs would support her. While her English degree from the University of Missouri led to a full-time editing job in Vermont, volunteering at the Center for America's First Horse in Johnson kept her immersed in the equine world.
In 2010, Stoppler met her first female farrier — Jen Poulin — and dropped everything to attend Mission Farrier School in Snohomish, Wash. She regularly attends workshops and conferences, and has won numerous competitions to work on elite horses in the U.S. and abroad.
The lack of regulations for farriers in Vermont dismays her. "In the UK, you have to go to school," she said. "You have to get certified; you have to maintain your credentials. And here, you could be a farrier tomorrow if you wanted to!" But she's confident that quality work stands the test of time.
On a sunny June morning, Stoppler spoke about her occupation while shoeing her steeds, Honey and Wiley.
SEVEN DAYS: How do you get these huge animals to lift their feet and cooperate?
DEANNA STOPPLER: Some people will pinch the vein and push into the horse, but that destabilizes them. In nature, when one horse wants another to move, they'll nip them right in the chestnut [the inside of the leg above the knee], and they lift the leg right up.
I really liked Mission Farrier School because the instructor, Mark Plumlee, is a horseman, so horsemanship was a part of it. At another program, they might sedate the horse in order to shoe them. It's easy: You get the job done really quickly.
But at Mission, if the horse is acting up, you learn different tools to work with them, such as round-pen shoeing. Let's say you have a horse that is really nervous and doesn't want to give up their feet, is not paying attention to you, maybe pushing into you. You take them into the pen and get them to connect with you. If they don't pay attention to you, then they're going to have to move their feet — walk around. For a horse, pressure is not a good thing. They learn from the release of pressure. So, very quickly, they realize that if they stand with you, you're not going to put pressure on them to move around.
SD: Is there enough work to go around in Vermont?
DS: There's so much work! The foot changes so much. It's a living structure. You trim or shoe every five to six weeks in the summer and every seven to nine in the winter.
I feel like we're a big community. We all have our own little niche. We all do things a little differently. But, for the majority, when we run into other farriers, it's exciting.
The worst part of this job is how hard it is on the body. You get injured very easily, especially the longer you do it. Like, you hear of guys getting back surgery, hip surgery, shoulder surgery. I was out one time for almost a month because of my back, and a few farriers in the area really helped me out.
SD: What's your niche?
DS: I love backyard owners. I really enjoy the relationship with the owner and their relationship with the animal. They use them for pleasure or trail riding; some of them show. I do trimming the foot barefoot (not for shoes), and I do steel shoes, I do glue-ons, and I do boots. And I tend to get the geriatrics and the cripples because they take a lot of patience, and I have a lot of patience. I think, How can I set that foot on something and trim it without him falling over backward?
SD: What work have you done outside Vermont?
DS: I got to go to Nigeria to work on polo horses. I've been flown to California a couple times to work on horses that do the Tevis [Cup] 100-mile endurance ride — one of the biggest in the world. I've gotten flown to Colorado, Ohio. I've gone up to Québec to work on feet.
SD: What's one of the best experiences you've had as a farrier?
DS: It's not even the best experience; it's the everyday. I love it when [the horses] lick my neck. I love it when they kind of nuzzle me. They're just curious, or they trust you. It brings tears to my eyes sometimes how sensitive they are. I love them.