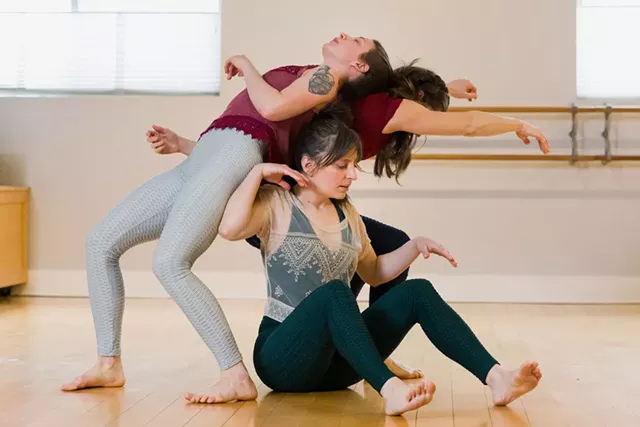 Oliver Parini
Clockwise from top: Danielle Tekut, Nicole Dagesse and Jessie Owens rehearsing They Say a Lady Was the Cause of It
At a recent rehearsal in Burlington for the new work They Say a Lady Was the Cause of It, 11 dancers sat at a long table facing the audience. The scene was reminiscent of Leonardo da Vinci's "The Last Supper" — but far less staid, as dancers gestured and moved with abandon. One stood on a chair, one seemed to wash her face, one lay down as if to die, and a fourth rolled down the table's length, wrapping herself in the tablecloth.
"Everybody's bringing their stuff to the dinner party," director/choreographer/producer Jessie Owens explained. "They are wearing their insides on the outside."
They Say a Lady Was the Cause of It is an evening-length contemporary dance work with live music that explores self, other and communication. Owens created it in collaboration with musician/composer Matt LaRocca and vocalist Roxanne Vought to grapple with personal and cultural issues raised by the #MeToo movement. ERGO/movement presents the premiere this Friday and Saturday, February 21 and 22, at Main Street Landing Performing Arts Center in Burlington. It will present two more performances at Middlebury's Town Hall Theater the following weekend. All of the performers are Vermonters.
Owens recalled that she was "very affected" by the #MeToo movement in 2017. She grew up in Germany as "an Air Force brat in a very black-and-white, very rigid culture." As she read works on gender and identity, she realized that the movement "is not just about confronting rape culture. It is about agency, identity and controlling our own narratives, as well as our bodies."
Two of the books Owens read shaped the creation of They Say a Lady. Orlando: A Biography, by Virginia Woolf, traces the experience of Orlando, a nobleman in the Elizabethan Age who wakes up one day in a woman's body, lives for centuries, and faces all of the inherent limitations and prejudices. The other book, Undine Geht, by Ingeborg Bachmann, is about Undine, the mythical water nymph who becomes human when she falls in love with a man but is doomed to die if he is unfaithful to her. "I was drawn to this text because we hear from Undine in her own words," Owens noted.
They Say a Lady has two parts. Part 1, "The Dinner Party," references Tanztheater, a dance-theater form born of German expressionism. Owens said, "It's my testament to Pina Bausch." The German dancer and choreographer of the late 20th century based her works on dancers' emotions and definitively altered the course of modern dance. Bausch wanted dancers to have genuine experiences onstage, "so that the audience can have an experience, as well," Owens explained.
To achieve this level of authenticity, Owens gave her dancers prompts derived from the stories of Orlando and Undine, such as "Who are you?" "What are you hungry for?" "Where are you free?" Each dancer did freewrites in response, chose phrases they found significant, coalesced those into an identity and crafted movement for that identity.
"I had them write their own texts and create their own movement so that when they are performing, they are performing themselves — and we see that," Owens emphasized.
Oliver Parini
A dress rehearsal of They Say a Lady Was the Cause of It
This choreographic structure celebrates and mines dancers' diversity. Some of the artists in They Say a Lady have trained professionally in ballet, contemporary or improvisation; others are self-taught. Some are in their thirties and have been dancing since their youth; others are in their fifties and have just returned to dance after a long hiatus.
Each dancer shone during the recent rehearsal: Their ownership of and confidence in the score, which includes improvised and set movement, was palpable.
Part 2, titled "The Wet Frontier Between Me and Me," is less theatrical than Part 1 and more focused on how dancers negotiate relationships with each other and with the audience. Composed of duets, trios and ensemble sequences, "it is physical and raw, yet tender and vulnerable," said Owens.
To compose the musical score for They Say a Lady, LaRocca watched videos last December of the nearly completed dance components. His goal was to "augment or amplify what's going on," he said. "It's fun because there's a lot that came directly from specific movements."
LaRocca will perform the score on violin and guitar, along with three other instrumentalists playing baritone saxophone, upright bass and piano. Two vocalists will sing with Vought.
As Part 1 began in rehearsal, the music started with beautiful three-part harmony over languid instrumentation in three-quarter time. "Let's forget with intention," the vocalists sang. "Let's remember like water."
Jeremy Frederick, drummer of the Burlington rock band Swale, wrote the lyrics, which he fashioned for Part 1 from the dancers' freewrites. He crafted the lyrics for Part 2 from concepts central to Undine Geht.
Half written and half improvised, the score provides ample opportunity for dancers and musicians to influence each other. "There's always a good give-and-take," LaRocca said, "and especially for us, in the music, there's a lot of reaction to the movement and the gestures."
The lyrics offer something specific to audience members, said Vought: "There's a huge opportunity for catharsis, because when we are saying 'Let's forget,' what that means is not defined. So anyone coming in as an audience member can take that in the context of their experience — of being here in the room with us and also their own life experience — and let it go."
Owens had similar advice for viewers: "There's nothing to 'get.' Go ahead and feel it, because that's what we're doing. There's clearly story in there for us ... but most of it is not intended to be out there for you to understand. You're right about everything you see — everything that hooks on to you, everything that sits, everything that settles."