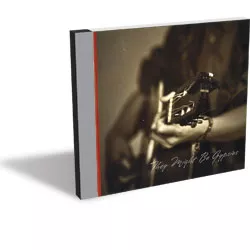 (Self-released, CD)
As the saying goes, the apple doesn't fall far from the tree. That's especially true in the case of Rochester, Vt.'s They Might Be Gypsies. Composed of Greg Ryan and 14-year-old Aidan Ryan, the father-son gypsy-jazz duo recently released their self-titled debut album. The record consists of nine songs of varying manouche pedigree, from 1930s-era classics to songs penned by contemporary masters, as well as a pair of originals. But the real story here is the dynamic interplay between the two musicians, who play a marvelous game of musical catch throughout the record.
The album begins with Patrick Leguidcoq's "Destinée." The Ryans do the French swing master proud, trading the song's roiling main riff with casual ease.
"Tchavolo Swing," written by manouche legend Dorado Schmitt, comes next. Here we get our first real taste of the younger Ryan's true promise. Technically, he is immediately impressive. But his playing exhibits a maturity uncommon even in players two or three (or four) times his age. He possesses face-melting chops, shredding his nylon-stringed guitar with seeming nonchalance. That would likely be enough to satisfy most teenage players. However, Aidan Ryan's real strength lies in his tasteful restraint. Rarely does he offer more than the song requires.
"Dancing Girl," penned by Greg Ryan, is the first original on the disc. His steel-string melody flits and twirls airily over a slinky Latin groove. The elder Ryan's appropriate melodic decisions suggest taste and modesty may run in the family.
"Ultraspontane" follows. The song was written by The Hellecasters' John Jorgenson, who, coincidentally, has also been playing professionally since he was 14. The Ryans handle the legendary guitarist's bipolar composition with a sleek cool, switching seamlessly between fiery rhythmic outbursts and soothing melodic interludes.
The Ryans display appropriate historical reverence on the jaunty traditional "Dark Eyes." Guest musicians join the duo on several tracks. Here, double bassist Anand Nayak's work is particularly notable, especially his flashy solo midway through.
The record closes on the second original, "Fast Freddie," written by Aidan Ryan. Not surprisingly, the young guitarist shows immense potential as a composer, as well. He takes the reins as bandleader, too, leading a full ensemble through a bracing, flamenco-tinged romp. Like father, like son, indeed.
Catch They Might Be Gypsies this Saturday, May 15, at Montpelier's Black Door Bar & Bistro.