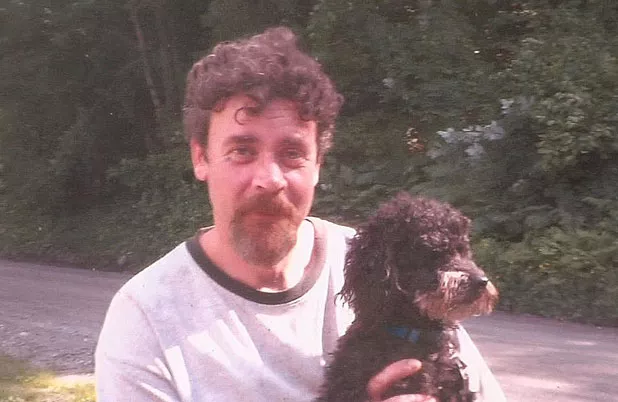 Family photo of Macadam Mason
When Macadam Mason died last month after a Taser jolt to the chest, it sparked an instant public debate about the "less-than-lethal" nature of electronic stun guns and their use on people with emotional or cognitive disabilities. Within a week, disability rights advocates and the American Civil Liberties Union of Vermont had organized a Statehouse press conference to call for a moratorium on their use.
One question that remains unanswered is why state police, who were at Mason's Thetford home for several hours, didn't have a mental health professional to help them defuse the situation and perhaps bring it to a less violent, and tragic, conclusion.
Mason, 39, had a history of epileptic seizures, which family members say temporarily altered his mental state. The day before he died, he had a seizure and called Dartmouth-Hitchcock Medical Center in Lebanon, N.H. Mason told the crisis intake technician there that he planned to kill himself and others, so police were dispatched to his house.
It's the norm, not the exception, for Vermont law enforcement to go it alone in such situations, according to disability rights advocates. All too often police have to rely on their own mental health training — if they have any.
"The problem in Vermont is, we have chronically underfunded our mental health system so that almost no mental health center has any credible ability to provide a team of workers in the field," says A.J. Ruben, supervising attorney for Disability Rights Vermont in Montpelier. Very few of the state's 10 designated community mental health centers operate such "mobile mental-health-crisis teams," and in sparsely populated areas of the state, they are few and far between.
Washington County has a fully mobile, 24-hour response team capable of assisting people in crisis. The Howard Center, which serves all of Chittenden County, has three 24-hour mobile crisis units, one for adults, one for children and one for people with developmental disabilities. But in Thetford and surrounding Orange County, Ruben notes, "there's almost nothing there." Indeed, the Clara Martin Center, in nearby Bradford, is one of the tiniest mental health community centers in the state.
Ruben says his office routinely fields complaints from people with emotional or cognitive impairments who've had confrontations with police and ended up being restrained, shackled and taken to jail or the hospital emergency room against their will.
"Sometimes you've got to arrest people because they're dangerous to themselves or others and need to be hospitalized," Ruben acknowledges. "But most of the time that's not the case. Unfortunately, when the police are solely involved, they often use Tasers to subdue people."
But the frequency of such violent incidents, which are as undesirable for police as they are for the people who get restrained, could soon be declining. State legislation passed earlier this year includes funding to train more cops to deal with people in psychiatric crisis.
Additionally, some of the $8 million allocated in this year's Act 79 to reform the state's mental health system will go to help community mental health centers staff mobile crisis response teams that can assist police at any hour, day or night. To that end, there's money to hire nearly two dozen workers statewide, according to the Vermont Department of Health.
Legislative reform efforts began in May 2006, when Joseph Fortunati, a 40-year-old man with a history of mental illness, was shot and killed by heavily armed state troopers during a confrontation in Corinth. That incident led to the passage of Act 80, which set aside $50,000 over eight years to train police officers to deal with people in crisis.
By the end of 2011, more than 780 cops and 20 dispatchers had gone through the eight-hour Act 80 course, entitled "Interacting with People Experiencing A Mental Health Crisis." Since October 2011, the course has also been mandated for all state troopers who carry Tasers. That was part of the legal settlement — between Vermont State Police and Disability Rights Vermont — that resulted from an incident last year in which a state trooper Tased a boy with a developmental disability.
"You couldn't get much more bang for your buck out of what that $50,000 did over five years or so," notes Rep. Anne Donahue (R-Northfield), ranking member of the House Human Services Committee and editor of Counterpoint, a statewide mental health quarterly. Although these kinds of reforms have been coming "in fits and starts" for many years, Donahue suggests that some "major efforts and initiatives" are about to come to fruition.
Donahue appreciates that need more than most. In 2002, a year before she was elected to the legislature, Donahue says she experienced a mental health crisis of her own and wound up huddled and sobbing on the sidewalk in downtown Barre. When a concerned citizen called 911, emergency responders showed up with several fire trucks and police cars, all with lights flashing.
"That was not helpful. I was saying, 'Leave me alone. I'm not doing anything wrong,'" Donahue recalls. "All I kept saying to them was, 'Turn off those lights! Turn off those lights!' It was completely exacerbating everything. It just felt overwhelming."
While responders debated what to do with her, Donahue says she took advantage of their distraction and bolted into the woods. She emerged four hours later and tried calling her therapist and a crisis hotline, but couldn't get callbacks on the pay phone.
Donahue says she eventually flagged down a police car to ask for help making a phone call. She credits the police officer's "totally skilled intervention" for convincing her to take a ride to Central Vermont Medical Center and call her doctor from there. As Donahue puts it, "I totally fell for his trick."
In hindsight, Donahue says, her crisis could have ended violently, if not fatally. Under some use-of-force protocols, she notes, police would have been justified in Tasing her in the back, as she was uncooperative, fleeing the scene and potentially at risk of harming herself.
Had she been called, Mary Moulton might have come to the scene to talk Donahue through her crisis. Before her appointment as deputy commissioner of Vermont's Department of Mental Health, Moulton spent 20 years as a mental health screener with Washington County Mental Health Services. She wants to see all areas of the state benefiting from 24-hour response capabilities like Washington County's. As she puts it, "This a passion of mine."
On June 28, Moulton and Mental Health Commissioner Patrick Flood met with Public Safety Commissioner Keith Flynn and Col. Thomas L'Esperance of VSP to discuss new statewide protocols for police called in to help a person in crisis. The goal: Regardless of who takes the call or where it originates, Moulton says, a mobile crisis unit will be notified and, in some cases, respond immediately to the scene.
On Monday, commissioners Flynn and Flood announced their decision to "step up the pace" of reforms in light of the Thetford incident. The first step, they say, will be to ensure "direct communication between law enforcement and the local mental health agency" whenever a call comes in about a person having an apparent mental health crisis. Whenever either party learns of an event that may require a police or mental health response, the other will be called immediately and the parties will "stay in touch until the situation is resolved."
"What we're hoping to do is supplement," Moulton adds. "Police should not have to assess a mental health crisis."
Coordination between police and mental health workers also makes good financial sense. According to Moulton, research shows that mobile crisis teams reduce the amount of time police spend on the scene and potentially obviate the use of high-cost services such as emergency room visits and psych ward admissions.
Ultimately, she says, these mobile crisis teams should help prevent incidents such as the tragedy in Thetford before they rise to the level of requiring a police response.
That said, Moulton acknowledges that getting the entire state covered by mobile crisis teams will be challenging, in part because it's hard to find qualified mental health workers in many parts of Vermont. She estimates that the state's mobile crisis units will probably need "another two months or more" before they're "at capacity."
A final irony of the Mason Taser incident: Vermont's law enforcement agencies first began acquiring Tasers, in part, as a response to the lethal police shooting of a mentally deranged man. On Dec. 2, 2001, police shot Robert "Woody" Woodward, 37, outside the All Souls Church in Brattleboro. According the attorney general's report on the incident, which cleared Brattleboro police officers of any wrongdoing, Woodward had exhibited signs of an "extreme psychotic episode."
Public pressure after that shooting prompted police to reexamine their use-of-force protocols and look for "less-than-lethal" ways of subduing hostile suspects.