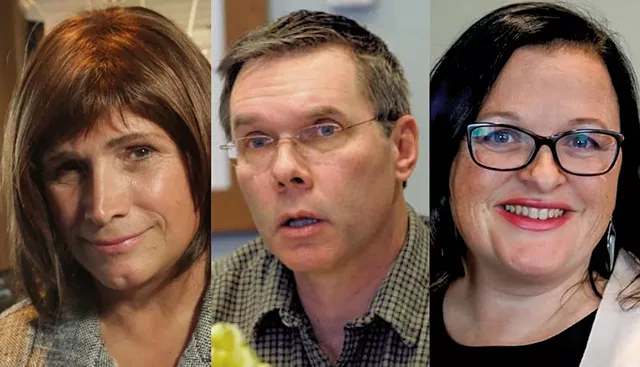 Matthew Thorsen; File: Jeb Wallace-Brodeur
Left to right: Christine Hallquist, James Ehlers, Brenda Siegel
Three of the four Democratic candidates in this year's gubernatorial race hail from the nonprofit world. The only one who doesn't is 14-year-old Ethan Sonneborn, who's not old enough to work.
Incumbent Republican Gov. Phil Scott also has experience in the sector: For more than a dozen years, he's run the annual Wheels for Warmth fundraiser, which resells donated tires and distributes the proceeds to community action agencies.
Democratic candidate Christine Hallquist spent two decades at the nonprofit Vermont Electric Cooperative before resigning in February to focus on her gubernatorial campaign. As chief executive officer, a position she held for 13 of those years, Hallquist was one of the highest-paid nonprofit execs in the state: She earned $228,000 in pay and $30,000 in benefits in 2016, according to VEC's latest filing with the Internal Revenue Service.
That's quite a bit more than the Washington Electric Co-op, a similar nonprofit business, paid its general manager, Patricia Richards. She earned $147,000 in pay and $51,000 in benefits in 2016. Then again, VEC's $82 million in revenue was more than 10 times WEC's. And, Hallquist noted, "We're still paid significantly less than the investor-owned utilities," such as Green Mountain Power.
According to Hallquist, 16 of her cooperative's 20 highest-paid employees were field workers. She said her salary was only four times that of the co-op's lowest-paid employee. First-class line worker Gary Young made $163,000 in wages and $43,000 in benefits in 2015, according to a VEC filing.
"We're a lot more equal than any other business," Hallquist said.
Unlike Hallquist, gubernatorial candidate James Ehlers hasn't quit his day job — as executive director of Lake Champlain International — to hit the campaign trail. He doesn't plan to, even if he wins the Democratic nomination in August.
"They can't afford to have me leave, and I can't afford to leave," he explained. "I don't sleep much."
The conservation and sporting organization reported $564,000 in revenue to the IRS in 2016. That year, it paid Ehlers $90,000 in wages and $7,500 in benefits. And, in an unusual arrangement, LCI also paid rent to Ehlers.
Around the time he took a job with LCI, Ehlers bought a one-acre Colchester property with a three-bedroom house and a 1,400-square-foot commercial building. Until recently, he said, he lived in the house with his children and now-estranged wife. For the past 15 years, he has leased the commercial space to LCI to use as its headquarters. In 2016, the organization paid Ehlers $15,750 in rent, according to IRS records.
Ehlers said his board sets the price, below its market value, and the organization's lawyers and accountants have vetted the arrangement.
"All of this is totally legit and has been scrutinized for years by all of my enemies and adversaries," he said.
For candidate Brenda Siegel, nonprofit work is a labor of love, not a stable source of income. The Brattleboro dance instructor founded the annual Southern Vermont Dance Festival in 2013, to help reinvigorate the local economy in the aftermath of Tropical Storm Irene.
"My MO is to turn tragedy into action," she said.
The festival, which Siegel said costs $35,000 to $50,000 a year to produce, is so small that it does not have its own corporate status. For much of its existence, it relied on the nonprofit Downtown Brattleboro Alliance to serve as its fiscal agent. In January, the festival moved to the Arts Council of Windham County.
Siegel, who describes herself as "very low-income," makes most of her money teaching dance and political classes throughout the year. But, she said, "I do very much consider my occupation directing the dance festival, even though I don't draw a salary."