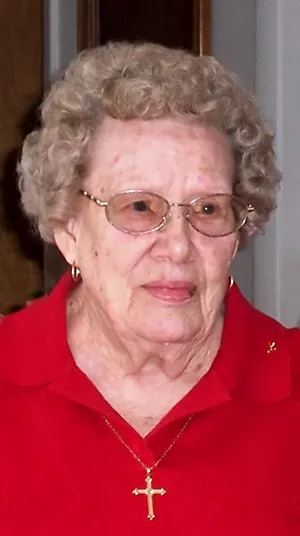 Thelma H. Goddette, 98 passed away peacefully on Monday, April 13, 2015 surrounded by her family and close friends. Thelma was born in Burlington on March 26, 1917, the daughter of Rose A. Barlow and Lyle E. Stoddert. She graduated from Cathedral High school in 1935, and began working at the old Chase Woolen Mill before moving to General Electric where she worked for over 26 years.
She married Joseph A. Goddette on April 26, 1937. Thelma was the family Matriarch serving as the cornerstone and moral compass that shaped and guided so many lives. She and Joe raised their family during the Great Depression and while Joe served in World War II, Thelma stayed behind instilling a strong work ethic and set of deep Christian values in her children. She was very active in the Daughters of Isabella holding various leadership positions. Thelma was an incredibly strong, and generous person that gave her time and love to all she befriended. Her no nonsense attitude and faith in Christ sustained her and influenced all of her actions throughout her life.
She is survived by her sister Muriel Benoit of Aiken, SC; her children Paul Goddette (Sheila) of Morrisville, NC; James Goddette, of Ocala, FL; Nancy Parizo (Ernest) of Colchester, VT; Timothy Goddette (Sarah) of Alexandria, VA; Michele Goddette, of Evans, GA and 10 Grandchildren Jamie Goddette (Karen); Mark Goddette (Joan); Jan Marie Blood (Robert); Stephen Parizo (Mia); Lori Schueler (Tim); Brian Parizo (Michelle); Jason Goddette (Catherine); Cheryl Hayes (Peter); Ashley; Gabriella and 14 Great Grandchildren. Thelma was predeceased by her husband, her infant son Michael, her parents, her brother Norman and daughter-in law Joyce.
A very special thanks to her doctor Candace Fraser and the kind and loving staff on the 4th Floor Baird at the University of Vermont Medical Center for their compassionate care throughout her life and in her final days.
A short visitation will be held at Holy Cross Church in Colchester at 1 p.m. on Friday 17 April 2015, with a mass of Christian burial celebrated at 2 p.m. and burial to follow in the Calvary Cemetery Plattsburg Avenue, Burlington. Following the burial, all are invited to join the family for a reception to remember and celebrate Thelma's life at Holy Cross Church.
In lieu of flowers, contributions can be made in Thelma's name to the Visiting Nurses Associate of Chittenden and Grand Isle Counties; or the Vermont Respite House in Williston. Arrangements are under the care and direction of LaVigne Funeral Home. Online condolences may be shared with the family at lavignefuneralhome.com.