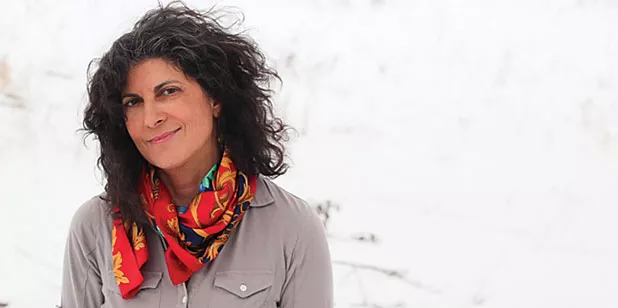 Burlington's Theatre Kavanah launched just last fall with the mission of sharing stories about the Jewish experience. Founded by Wendi Stein and Sharon Panitch, the company began by producing a staged reading based on Chaim Potok's novel The Chosen. This year comes a work born closer to home: Anna's Journal, by St. Albans author Joy Kipp.
Kipp has just finished her first novel, Thirty-Seven, has already produced works of nonfiction, theatrical scripts and screenplays, and teaches writing at a women's prison. Anna's Journal was written as a screenplay — and Kipp, 57, says she'd like to make the film someday — but for now, Stein has adapted it for a staged reading for a whopping 18 actors. Theatre Kavanah will perform it this week, Thursday through Sunday.
And "perform" is an apt word; Kipp says the theatrical presentation will be much more than actors just reading from a script. "Wendi has done an incredible job," she says. "There are something like 70 scenes. We've changed some of it, but she's tried to retain the cinematic quality."
Kipp actually finished Anna's Journal in September 2001 — just before 9/11. She put it aside, busy with her children and community work. But in this past year she rewrote the work to include the terrorist attack in New York City. "It changed," Kipp says. "A lot of it is about identity — how we identify ourselves and each other. And how does identity tear us apart and bring us together?"
The story, which Kipp says has "a bit of magic realism," is set in a fictional town in Vermont and features a "white rural girl having a relationship with a black boy." But there's a "whole Holocaust connection," she explains. Kipp says she did a lot of research on Anne Frank and notes that her body was never found. Could Anna's grandmother, living quietly in Vermont, actually be an older version of the German-born Jewish girl made famous by her diaries left behind in Amsterdam?
"I leave it to the reader to decide if the grandmother is or isn't Anne Frank," says Kipp. "But everything is based on fact."
Other, more personal facts influenced Kipp's story. She notes that Jews make up only about 2 percent of the U.S. population, and the percentage in Vermont is much smaller. "Many people don't know anything about Jews and have never met one," she says. One scene in the play has a black woman going through a store checkout and receiving different treatment from the cashier than do the white customers. "But that happened to me about 20 years ago, when a cashier asked my daughter, who was very small, whether she was getting ready for Christmas," Kipp recalls. "My daughter very sweetly said, 'Oh, no, we celebrate Hanukah.' The woman stopped talking. She just didn't know what to do."
Kipp's creative output is not all serious; she has performed as a standup comedian. But she's fallen out of it because, she says, "I'm not a night person or a bar person." She quips, "I was just talking to an elderly man about doing it at a senior living home."
For now, Kipp is focusing on getting her debut novel out in the world — Thirty-Seven is also "about a woman searching for identity … with a lot of connections to 1937," she says — and, of course, seeing Anna's Journal through its first unfolding onstage.
"Anna's Journal," written by Joy Kripp, directed by Wendi Stein, produced by Theatre Kavanah, November 14 to 17: Thursday, Saturday and Sunday at 7:30 p.m.; Friday and Sunday at 2 p.m. at Main Street Landing Black Box Theater in Burlington. $17-20. theatrekavanah.org