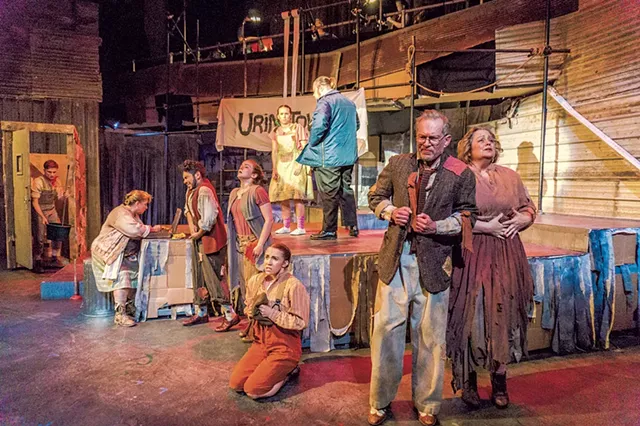 Courtesy Of John Snell
Urinetown
Don't be fooled by its title, setting and toilet-plunger ad motif; Urinetown gets no gloomier than any musical comedy's brief dark before the dawn. If anything, the darkness itself is funny, for this show is about laughing at musicals while enjoying everything they have to offer. Lost Nation Theater's production serves up big physical humor and sly wit.
Urinetown keeps three fountains of humor constantly bubbling. First, it skewers the musical comedy medium, pointing to the hollowness of characters and predictability of plots — including an audience's nonnegotiable demand for a happy ending. (That wish is both fulfilled and crushed in this clever show.)
Second, the show builds a story around the most dystopian dystopia ever: a city in which the corrupt political response to a water shortage is to outlaw private toilets and let a corporation charge citizens for the right to pee in public ones. Satire is dialed to the max — though political theater today really does mean laughing and crying simultaneously.
Finally, Urinetown's music and dance constitute a pastiche of musical comedy history. Specific songs and musical genres are quoted in loving parody. Listen for the Russian peasant sound of Fiddler on the Roof, Kurt Weill's edge of dissonance in The Threepenny Opera, and the wised-up bitterness of John Kander and Fred Ebb's Chicago. Look for some Bob Fosse bowler hats, the finger snaps of West Side Story and a tribute to Les Misérables that flies a toilet-paper flag in this neatly staged production.
Urinetown won the 2002 Tony awards for Best Score and Best Book, and its satirical power only improves with age. Greg Kotis wrote the book and collaborated on the lyrics with Mark Hollmann, who wrote the music. Together, they exert a mighty heave-ho to tip musical comedy from its well-worn conventions.
Their principal tool is breaking the fourth wall with a narrating character, Officer Lockstock, who reminds us of the artificiality of storytelling to enforce a comedic and ironic detachment. Merciless punning and double entendres keep the audience laughing — and always conscious of theatrical artifice.
The story is briskly told, principally in song. Caldwell B. Cladwell, who has bribed his way to monopoly of the city's toilets, glows with greed. Penelope Pennywise is the custodian of an especially dank facility in a poor neighborhood. She's a tough cog in the corporate machine ("If you've got to go, you've got to go through me"), but her assistant, Bobby Strong, has a softer heart.
When his poor father can't afford the fee and can no longer hold it in, Officers Lockstock and Barrel collar Old Man Strong by a tree. Bobby watches his father marched off to exile in Urinetown, a tragic fate everyone fears.
Bobby reacts as any musical comedy character would. He falls in love with Cladwell's daughter, Hope, and decides to lead the oppressed in a fight against corruption, greed and power. The people shall pee free.
The trick for all the performers is to inflate characters to lampoon size without bursting from campiness. Director Sarah Jane Schostack knows when to say when, steering the actors toward deadpan emotional commitment so viewers decide when to laugh without a performer begging for a reaction.
As Bobby, JP Coletta uses his buoyant romantic charm and strong singing and dancing to mine the depth of comedy in his role. As Hope, Hannah Roberts Brown is a master of comic reaction who earns laughs by carrying naïveté to nearly life-threatening extremes.
Kathleen Keenan, as Pennywise, enlivens the show through vocal power and funny physical interactions with other characters. G. Richard Ames and William Pelton play slimeballs who move with the slinky physical ease of men without compunctions. Tim Tavcar highlights the sheer showmanship of Cladwell's unrelenting avarice.
As Lockstock, Nick Wheeler makes an avuncular narrator and a powerful singer. Eric David Miller plays fellow officer Barrel with great physical reactions, from Three Stooges-style knockdowns to a wild, wide-open declaration of love.
Madisen Johnson is the urchin Little Sally, who represents the zenith of histrionic cuteness and serves as foil to Lockstock's deconstruction of theater. Johnson scrapes out every last spoonful in the pathos jar while constantly delighting with bold dance moves and big comic takes.
Lindsay Fuori's scenic design conveys a battered, ruined world with walls of rusting, corrugated metal and platforms fronted with shredding fabric. The inventive lighting design by Thomas Gunn includes some apocalyptic climaxes, a clever use of police flashers and perfectly hokey spotlights.
The choreography by Steven Dean Moore and associate choreographer Taryn Noelle mixes rousing Broadway energy with comic spectacle. Paring down the cast from two dozen to 14 with a lot of role-doubling means the ensemble can't swarm the stage. But visual gags, such as dance-drumming on water-cooler jugs, help make up for the loss of a big corps. At Thursday's preview performance, some dance numbers were still short of precision, but the gusto was all there.
Johanna Pan's costume design puts shiny spats on Cladwell and dingy rags on the peasants that cleverly match the set's drab colors. Bobby (in too-short overalls) and Hope (in class-picture suspender skirt) are dressed like kids to spotlight their innocent optimism.
Musical director Mark Howard Hanson plays keyboards and leads a five-piece band that nimbly skips through musical genres.
Musicals rely on the abstraction of song to convey big emotion, but in Urinetown, the uplifting music summons sentiment that usually contrasts with absurdist lyrics. The love ballad "Follow Your Heart" descends into ridiculous biological literalism. A cool jazz number is about murdering the heroine, and the show's finale, "I See a River," makes so little sense that the singers visibly strain to convince themselves that a river metaphor can stretch that far.
It can't, but that soaring melody is everybody's cue that the show is coming to its stirring, silly close.