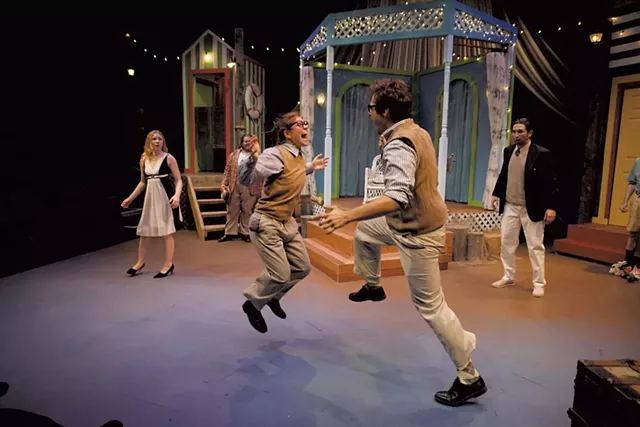 Courtesy Of Mike Furey
From left: Laura Michele Erle, Nick Wheeler, Courtney Wood, Damian Leverett and Christopher Scheer
Since William Shakespeare's texts are now drenched in footnotes and study guides, it might seem his plays need to be explained. Not so. They need to be performed. Lost Nation Theater's production of Twelfth Night proves that insightful acting and inventive staging let Shakespeare's words intoxicate the audience. Director Amanda Rafuse ditches the pantaloons for contemporary summertime wear and animates characters with comic action. A top-notch cast makes it funny by making the language exquisitely human.
Shakespeare puts the plot in motion by telling about a shipwreck. Rafuse shows it, launching the show at sea. Her storm is fine spectacle, complete with perilous winds and sailors high up the mast. The gale carries Sebastian overboard as his twin sister Viola watches in horror. She has to fend for herself when she comes ashore and disguises herself as a man to make her way in a new land.
In this staging, Shakespeare's typically indeterminate landscape becomes a seaside, acting as a town as well as the beachfront for the estates of both Duke Orsino and Countess Olivia. Swimming cabanas and a charming gazebo, all brightly painted to suggest the exuberance of shore life, are just the place for comic characters to cope with their all-consuming romantic problems.
By combining gender disguise, separated twins and a love triangle, Shakespeare doesn't stint on comic ingredients. Orsino, a bit in love with being in love, has fastened his attentions on Olivia. She's mourning the death of her brother and ignoring suitors, preferring to let her steward Malvolia and servant Maria set up her beach chair so she can be entertained by her flippant fool, Feste.
In trousers and cap, Viola calls herself Cesario and soon becomes Orsino's favorite courtier. And she quickly has a secret much bigger than her disguise: She falls in love with Orsino. It will have to remain a secret, because Orsino dispatches "Cesario" to woo Olivia on his behalf.
Viola undertakes the task, and Cesario's impromptu speech is better poetry than Orsino's labored verses. Naturally, Olivia becomes smitten with Cesario. Now Shakespeare has got his characters supremely mismatched for the heterosexual pairings that constitute a proper Elizabethan ending. Let the unscrambling begin.
The performers make the story clear by losing themselves in the fun of it. With eight actors doubling to fill out 15 roles, the script has been gently abridged and some roles consolidated. The final scene arguably runs better without the need to put everyone onstage for a long denouement, and the liberties taken do more to energize the plot than deplete the language.
Rafuse is bold but sensitive to the play's overall effect. She finds physical ways of augmenting the story, tucking in laughs along the way. To add a little crackle of tension around Viola's disguise, Rafuse sets a scene with Orsino coming back from a swim and shrugging off his trunks underneath a towel, right beside Viola. It's just daring enough to add a spark to his mistaken gender assumptions.
Does every idea work? This reviewer would question a couple, but the joy of watching them tried is exhilarating. Above all, the actors engage so fully that Shakespeare's text lights little fires in them, and the audience can't help but feel the glow. Rafuse keeps the action rollicking forward but doesn't let scenes fly by too quickly for viewers to register the humor.
As Viola, Courtney Wood is a lively bundle of curiosity, ready to study the world while hiding in her man's disguise. Challenged to a duel, she is hilariously creative at responding with nothing but fear.
Christopher Scheer steeps Orsino in romantic posturing and makes his vanity an airtight worldview. Donning a golf visor, he also plays the hanger-on Fabian, fitting him out with an accent of Valley Girl vacuity.
As Olivia, Laura Michele Erle is coy and self-absorbed, so comfortable in sunglasses that we know she's secretly aching to be seen. Her craving for attention comes to life when Cesario appears, and Erle hits just the right note of does-he-like-me desperation.
Kate Kenney plays the feisty servant Maria with devilish giddiness. She's positively infectious. As the sailor Antonio, she's a pint-size powerhouse who rescues Sebastian and becomes his fierce defender on shore.
Damian Leverett has evident fun as Feste, letting the clown so impress himself with his wordplay that he can't resist a finger snap to punctuate it. Leverett is the quintessential fool, smarter than everyone around him and taking sole possession of the last laugh. Leverett also plays Sebastian, and when his eyes meet Olivia's, it really does look like love at first sight.
As Malvolia, Molly Walsh is wonderfully strict and pompous. Rafuse casts a woman in the role, and though the consequences really aren't played for good effect, Walsh makes the character clutch dignity tightly and then surrender it utterly when tricked to believe Olivia loves her.
Nick Wheeler, as Olivia's uncle Sir Toby Belch, and Bob Nuner, as his friend Sir Andrew Aguecheek, both explore the outer reaches of dissipation. Wheeler conveys Sir Toby's unceasing need for revelry with hearty quests for drink that can only end in collapse. Nuner shows Sir Andrew nursing an aching knee after trying to equal his friend in cavorting.
The play's enchanting mood owes much to the colorful scenic design by Ellen E. Jones, fun costumes by Charis Churchill and bold lighting design by James McNamara.
This antic production of Twelfth Night is pure entertainment, another exhibit in the ongoing proof of human folly. Yet there's no contempt for the characters' misplaced passions. Though Shakespeare's text includes moments of melancholy and loss to contrast with the frivolity, Rafuse keeps it light from start to finish. And when these characters literally fall down, as they often do, it's because they've been floating too long on dizzy notions of love.