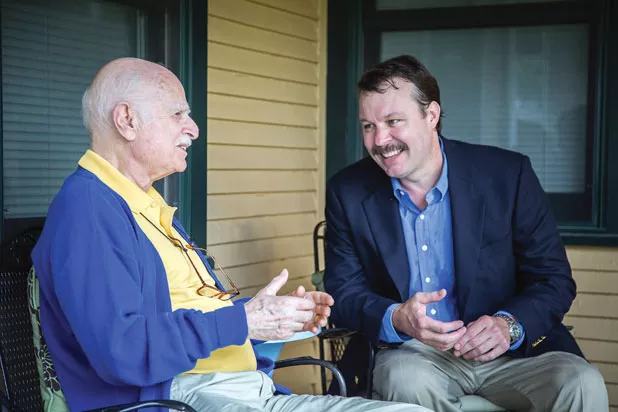 Bernie Passeltiner and Christian Kohn play Morrie Schwartz and Mitch Albom, respectively
One thing a college student taking courses online will never have to endure is a professor who spits egg salad in his or her face. But that may be the student's loss. Just ask the millions of readers who made Mitch Albom's book Tuesdays With Morrie: An Old Man, A Young Man, and Life's Greatest Lesson a best seller when it was first published in 1997.
The book chronicles Albom's rekindled friendship with Morrie Schwartz, a Brandeis University sociology professor from whom Albom took classes in the late 1970s. Albom was moved to seek out his former teacher some 16 years after receiving his diploma when he learned Schwartz had been diagnosed with the fatal illness amyotrophic lateral sclerosis (ALS), aka Lou Gehrig's disease. Albom's book inspired a 1999 TV movie starring Jack Lemmon and Hank Azaria and a 2002 stage adaptation, coauthored by Albom and Jeffrey Hatcher. A production of the play is currently running at Saint Michael's Playhouse at the McCarthy Arts Center.
In its unadorned simplicity, the St. Mike's staging, directed by Kenneth Kimmins, illustrates well what makes Albom's tale so enchanting: Schwartz has something worthwhile to say, and Albom has the good sense to listen. Talented professional actors Christian Kohn and Bernie Passeltiner honor the essence of this humane exchange with sensitive, at times understated, turns as Mitch and Morrie, respectively.
As Mitch, Kohn is also the play's narrator. He speaks directly to the audience at intervals, providing backstory about his Brandeis years and later describing the hectic life that the postgrad meetings with his mentor are interrupting. Past and present collide for Mitch so serendipitously that, were this story not true, its turns of events might strain credulity.
Despite his promise to stay in touch with his favorite professor, Albom lost contact with Schwartz as he built a highly successful career as a sports journalist — against his teacher's advice to pursue his passion for music. When Schwartz was diagnosed with ALS, his strikingly positive outlook caught the attention of the producers of TV's "Nightline," who booked him for an interview with Ted Koppel. Albom chanced on that interview while channel surfing one night and decided to look up the old man.
As depicted onstage, the reunion is awkward at first. Mitch is unsure how to respond to Morrie's cavalier attitude toward his imminent and uncomfortable demise. But by the end of that first meeting, Morrie has charmed Mitch anew, and he agrees to return the following week — deadline stresses and the logistical challenges of distance be damned. (Mitch's home base is Detroit; Morrie is in West Newton, Mass.)
Mitch's decision to resume seeing his teacher for regular "office hours" points as much to something missing from Mitch's life as to Morrie's wealth of insight. This aspect may be one of the story's best hooks for a wide audience: It's not merely an evocation of a remarkable human being but a reflection on how a character more like the rest of us — the goal-driven Mitch — fields tough questions about his life's core values. These questions haunt Mitch from the moment he leaves Morrie's side after their initial reunion, compelling him to return.
As Mitch, Kohn turns in an energetic performance that spans a broad emotional range. He visits Morrie after their long separation largely out of obligation, mixed with a dash of guilt. Kohn is believably self-absorbed, but his Mitch shows enough humanity to allow Morrie a point of emotional contact. The ambitious yuppie has not so completely devoured the thoughtful young man Mitch once was as to erase all feeling for this influential figure. Kohn deftly externalizes the unique emotional tension of confronting the past — the promise it held and the promises he made. He doesn't enroll in Morrie's last course right away. But even as Mitch describes, with a bit of alpha-male swagger, his fast-paced, high-flying lifestyle, one senses his deep need for some sage to explain to him what the hell it all means.
Passeltiner's Morrie, for his part, appears to know precisely with whom he's dealing. He embraces the reunion with his former student with puckish irony, as if knowing and delighting in how uncomfortable his openhearted welcome makes Mitch. Passeltiner plays Morrie in this vein for much of the play, repelling moroseness and self-conscious profundity. Yes, Morrie is a font of wisdom, but he and Mitch also share laughs at some of the aphorisms Morrie makes up on the spot. It's as if the two of them know that, thanks to Ted Koppel, the world expects Morrie to be pithy, when, really, he's just being true to himself — which is all he's ever asked of Mitch.
Like Kohn, Passeltiner brings to his role a complexity that makes somber moments, such as when Morrie talks about his mother's death, less predictable than they might be, and more real. He's a large presence in this play — ineluctable Death as well as comic relief — but Passeltiner stakes out his territory with finessed acting, a wry tone and an easy smile.
In a program note, director Kimmins intimates that his approach to directing Kohn and Passeltiner was essentially to "stay out of their way." Surely he deserves substantial credit, however, for his cast's stage chemistry and keen comic timing. Even the heavier moments — there are not many, though the play's premise offers a pretty strong clue about one outcome — crackle with vitality. Tuesdays With Morrie is not without its sentimental beats. But, from scene to scene, its drama is more subtly wrought through highly nuanced performances.
On opening night, in the first half of the play, some of that nuance strained against blocking that seated Mitch and Morrie shoulder to shoulder on the almost-bare stage. Their exchanges showed the audience the actors in profile, diminishing the effect of facial expressions and limiting the projection of Passeltiner's voice. In later scenes, Morrie receives Mitch while lying in bed and faces the audience more directly.
Despite Morrie's increasingly limited range of motion, Tuesdays With Morrie hums along breezily over roughly 90 minutes without intermission. The meaning of life — spoiler alert — is not resolved by the final curtain, but in this crisp production each moment is lived to the fullest.
"Tuesdays With Morrie," directed by Kenneth Kimmins, produced by Saint Michael's Playhouse. Wednesday through Saturday, July 10 to 13, 8 p.m.; and Saturday, July 13, 2 p.m., at McCarthy Arts Center in Colchester. $34-43. saintmichaelsplayhouse.org
The original print version of this article was headlined "Wheys and Meanies"