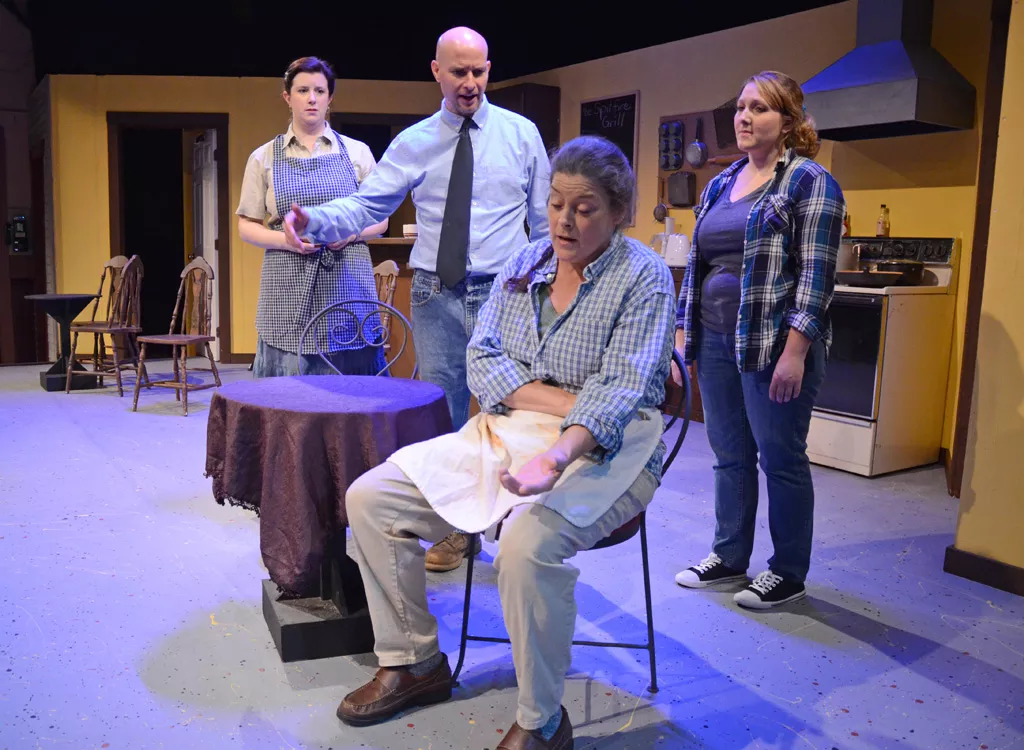 Alex Brown
Left to right: Nan Murat, Keith Willis, Ione Minot, Amber Couture
This season of chicken-pie suppers brings to mind another local pleasure: amateur theater. Produced in barns or town halls, community theater features the audience's own friends and neighbors. For actors, there's a special satisfaction in having the courage to get onstage; for the audience, gratification comes from seeing talent right at home. The underlying theme in community theater is generosity: from the people who put on the show with scarce resources to those who support them by coming to see it. Such performances help to create community.
The Essex Community Players production of The Spitfire Grill is a perfect example. The group has been putting on plays since 1958 and is always looking for musicals small enough to stage in Essex's Memorial Hall. The Spitfire Grill fills the bill with a story about a small town. The production makes no claim to the polish of professional theater; it's simply a sincere presentation of an uplifting story.
James Valcq (music/book) and Fred Alley (lyrics/book) based the musical on Lee David Zlotoff's 1996 film of the same name. Percy, a young woman just released from prison, has picked a small Wisconsin town in which to start over her life. Joe, the sheriff who is Percy's parole officer, helps her get a job as a waitress at the local café. But at first the locals don't take to a stranger with a criminal past.
The residents we meet all have some source of sorrow in their lives. Hannah has been trying to sell the grill for years, and has led a lonely life since her husband died soon after their son was reported MIA in Vietnam. Joe sees small-town life as tragically limited and yearns to move away. Ill-tempered Caleb is stuck trying to sell real estate, now that the quarry has been shut down and he's lost his job doing what he sees as manly work. And his wife, Shelby, has little joy in housekeeping, though that's all Caleb feels she is fit to do. Only Effy, the town gossip, appears satisfied with her lot in life, and that's because she snipes about everyone else.
Percy is the only one of the bunch who sees beauty in the rural location and value in the town. She helps the townspeople see their home in a new light when she proposes that, if Hannah really wants to get rid of the Spitfire Grill, she could make it a prize in a national contest. Entrants could pay a hundred bucks and write an essay on why they'd like to own the business. Hannah agrees, and is soon deluged with letters proclaiming the virtues of small-town life.
The story is thin, the obstacles insignificant and the characters riddled with clichés. Valcq and Alley try to add depth by supplying tragic backstories for the characters, but this is no substitute for onstage drama. Still, with every character in need of uplift, the story delivers. Winter turns to spring, hope replaces despair and all the characters ultimately find new purpose in life.
The music summons up folk songs, and relies on difficult but interesting melodies that resolve with flats and sharps. It's a singing challenge, and this cast sometimes finds the tricky notes elusive. The five-piece orchestra, led by pianist Shirley Smith, showcases the wistful tension in the tunes. Marc Estrin on cello, Holly Thistle on violin, Gerry Grimo on accordion, and Neil Rossi on guitar and mandolin effectively establish moods both somber and soaring.
Husband-and-wife team Josh and Connie McDonald took on Spitfire as director and music director, respectively. They let the music define the characters' emotional lives. Instead of staging the songs as if the characters were expressing themselves to each other, they generally aim the actors toward the audience. This makes the songs into soliloquies, which calls attention to the performances. But it diminishes the sense that a dialogue, with moments of recognition and change, is taking place.
The McDonalds and choreographer Jen Corbiere stage most of the musical numbers with stylized gestures such as simple hand movements and tentative toe taps, presumably to liven up otherwise stationary singing. These moves are mannered in comparison with any realistic movements the characters would make, such as cooking in the diner or relating to each other, but they again underscore the McDonalds' emphasis on isolating an actor in performance.
The cast members — Amber Couture as Percy, Ione Minot at Hannah, Nan Murat as Shelby, Ron Caldwell as Joe, Keith Willis as Caleb, Kayla Tornello as Effy, David Dilego as the Visitor and John Mauger as John — are all nicely comfortable onstage. The production puts the audience at ease, too, from Couture's first number, in which she sings with straightforward simplicity about her hopes for a new life, to the finale that gathers the company to express their renewed connection to their little town and each other.
The script's characters are not complex, and these actors make them simple, recognizable people and refrain from pouring on any self-conscious histrionics. The performances don't dazzle, but neither do they distract from the musical's soothing message of encouragement.
The backstage volunteers built a nicely detailed set, designed by Don MacKechnie. With five working doors, a second level, a fully realized café kitchen and a clapboard back porch, the set gives a firm base of reality to a story so sweet it needs the grounding. Kirstin Van Luling and Jasmine Dalton produced costumes that describe both the characters and the passage of time.
Local theater is about the thrill of getting in front of a live audience and making it all the way through the show, light cue glitches and all, to feel the triumph of sharing a story. For these eight performers, it's their turn onstage. And it's likely that someone in the audience will end up thinking, Hey, that looks like fun, and take the next step to audition or volunteer, crossing over the footlights for the next show.
The original print version of this article was headlined "Comfort Food"