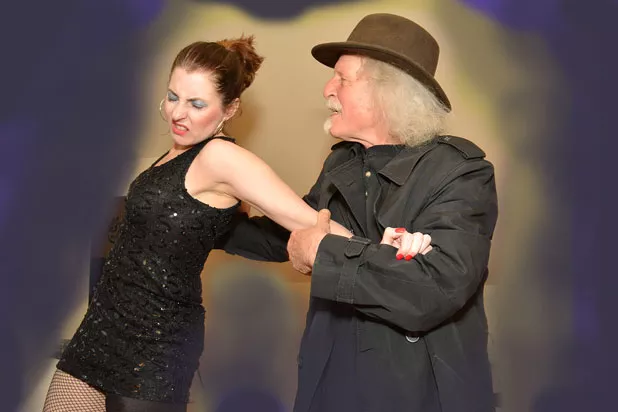 Jill Pralle and Nicholas Hecht
New York City residents are no strangers to the lives of the homeless, many of whom sleep on subway stairs and platforms and in the doorways of apartment buildings. The people are generally harmless, but it's not a pretty scene.
Just such a scene is what Marshfield playwright Tom Blachly employs in his new work, The Performer, which opened last week at Goddard College's Haybarn Theatre. His main characters are a handful of homeless folks surviving underground on a subway platform. There's an inept guitar player, Jazz (Marcus Becherer), and his feckless girlfriend, Caitlyn (Lauren Patterson); a forlorn 10-year-old boy, Jacko (Adam Blachly); a lonely bag lady, Maureen (Susannah Blachly); and a prostitute, Stella (Jill Pralle), who "works" for a living. While these five individuals try to eke out enough money for food, anonymous subway commuters come and go around them.
Ten other actors portray the passengers (Bev Allen, Vince Broderick, Barb Colf, Suzan Condon, Dennis Florio, Diane Kaganova, Jerrie Nash, Oliver Scotch, Winter Seyfer and Beth Stern). They enter and exit through the aisles between theatergoers, go up and down the stairs to the stage, and frequently change their outfits to depict numerous nameless commuters. They never speak to anyone or make any noise. Instead, they read their newspapers or books, smoke cigars, text, knit, silently act out using cellphones, listen to iPods or simply stare at the empty platform, waiting for their train. Occasionally they glance over at the homeless, but do not interact. Two of the latter play music for money, but rarely receive any from the commuters.
While this hapless quintet sits on a bench at center stage, between two off-stage subway tracks, the boarding commuters enter and exit between two pillars representing the doors of the subway car. One side of the stage is for the outbound train, the other for the incoming. While some enter, others spill out of the train, creating the illusion of a subway station replete with the sound of trains stopping and starting. Joe John's set is simple and ingenious.
Eventually a new man exits the train and, without asking, joins the street musicians, using a large rain stick he carries in his guitar case. This is Cooper (Nicholas Hecht), a theater director. He wears a black fedora and trench coat, and has a white beard and mustache.
The mysterious Cooper shows up at unexpected moments throughout the play; each time he somehow manages to get the subway passengers to drop money into Jazz's guitar case. The first time, they make $50; the second, $100 — all because Cooper appears to mesmerize them with his chanting and rain stick. What he chants is hard to say. Sometimes it is Shakespeare, sometimes Tennessee Williams. One speech is some kind of Buddhist philosophy about nondetachment. Most of the time it was hard to make out what exactly Cooper was saying, as Hecht's voice did not project well, and many of his incantations were too long-winded to engage the audience.
Cooper gives all the money he collects to the needy group, so they can eat and drink or buy stockings — whatever their hearts desire. It is not made clear why he does this, or, even more disturbingly, how he gets strangers to unload their cash. The character is meant to be charismatic and powerful, employing tactics such as play-acting to manipulate others. In the program, playwright-director Blachly writes, "When Cooper's onstage, anything can happen; he is a creature of improvisation and spontaneity. He is unpredictable, mysterious and eccentric."
Unfortunately, the Cooper we see is none of these things, and this is one of the major weaknesses of the play. Hecht is weighted down with so many lines that he struggles to remember what comes next. His movements are slow and jerky, as is his blocking. His voice barely carries past the proscenium arch.
One of Cooper's tricks is to "pretend." In one scene, he pretends to stab young Jacko, using a trick knife and stage blood — but forgets to have the blood ready. Another time, during his soliloquy about the importance of having no desire, Cooper convinces each of the homeless characters to throw something they value onto the train tracks. Maureen the bag lady desires Cooper himself — she fantasizes about being his girlfriend. But Cooper's presence and allure were simply not compelling enough to make any of this believable.
Cooper constantly tells us how mysterious, daring and spontaneous he is; how being a performer is a way to effect change. But his performance is pedantic and lethargic, and so are his lines. In the program, as well as in the script, Blachly declares, "If we accept our fate, we resign ourselves to being merely players. If we decide to seek our destiny, we become 'performers.'" So fate equals the homeless, while destiny equals Cooper. The former aimlessly meander through life without purpose, while Cooper creates his destiny by affecting his environment and the people in it. Problem is, you can't create change with incomprehensible speeches and weak acting.
Thank goodness for those faceless commuters. They were unpredictable, mysterious and eccentric. It was fun to see what they were wearing, what new prop they would have and what they would do with it. As a result, watching their comings and goings was entertaining, and they kept the play's pace from slipping into sluggishness. Blachly's blocking of their movements was a plus.
Still, The Performer is overwrought and could use serious editing. Perhaps a different director could have given stronger shape to Blachly's material. Under his direction, the homeless have improbably clean hair and clothes (except for the kid wearing a dirty wig). The street musician wears a gold wedding ring. The bag lady pushes around a shopping cart with brand-new bags; her spotless clothes have but a token hole. And, with his ragged, dusty trench coat and red plastic rose dangling from a buttonhole, Cooper looks poorer than the homeless.
Not addressing these simple and obvious details was negligent on the part of the director and the costume designer, Diane Kaganova, and this contributes to the play's lack of veracity.
It would have been nice, moreover, to learn more about the main characters. These folks are one-dimensional clichés — including the gum-chewing, stiletto-wearing Stella. What are their backstories? The only character about whom we learn anything at all is Maureen, in the second half of the play. She has given up her kids to the state and feels bad about it, we're told, but just couldn't handle being a mother.
Two more details illustrate The Performer's failure to capture its setting authentically. Here, the homeless smoke cigarettes while subway passengers text on their cellphones — but the New York subways don't permit smoking in the cellphone era. And when a transit authority guard, Dave (Joe Lee), shows up because the homeless are making too much noise, he fails to notice fake blood on the kid's white T-shirt that looks all too real.
In The Performer, it is only the commuters, coming and going, who really get anywhere.
"The Performer," written and directed by Tom Blachly, produced by Echo Valley Community Arts, May 30-June 2, 7:30 p.m., at the Haybarn Theatre, Goddard College, Plainfield. $15; $12 seniors and students. Reservations, 426-3955.
The original print version of this article was headlined "Off Track"