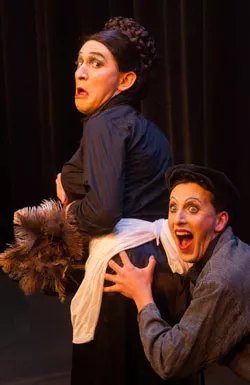 Eric Love and Christopher Scheer
Staging Charles Ludlam's The Mystery of Irma Vep requires a glorious integration of costumer, director, actors, set designer, props master, sound designer and a full crew of backstage quick-change artists. Two actors play eight roles, in many instances carrying on offstage conversations that make four of them present at once. It's a showcase of theatrical collaboration, with every exit, entrance and special effect timed to perfection.
In Lost Nation Theater's production, now playing at City Hall in Montpelier, the characters come complete with accents, wigs and the occasional pair of trousers flapping beneath the hem of a dress. Christopher Scheer and Eric Love dazzle us with both the craft of using voice and movement for multiple characters and the joyous energy to undertake 50-plus switcheroos over about two hours.
Ludlam's immensely popular play is superficially a go-for-broke parody of the superficial. But it's also a clever apparatus that demonstrates the element of surprise in the theater. Ludlam trots out a hoary plot and wafer-thin characters who cannot possibly startle us. After all, we know right away that Jane, the loyal housekeeper, is pretty much Mrs. Danvers of Daphne du Maurier's Rebecca, counting down the minutes to her psychotic break. Jane is now serving Lord Edgar's second wife, Lady Enid, who is obvious prey for either the werewolf or the vampire who both seem to be rattling round the Mandacrest mansion. Edgar's deceased first wife is Irma Vep, whose name is an anagram worth puzzling out. After tempting a mummy's curse in Egypt, Edgar is back with the silver bullets to dispatch that pesky wolf once and for all. But is crusty old manservant Nicodemus his helper or his target?
We recognize the characters in an instant, and what we don't know about them LNT's ominous horror-film-score music fills in. But Ludlam aims to surprise us with the capabilities of theater itself. Is there someone in that mummy case? Who will fire the gun mounted over the bookcase? Above all, how will two athletic actors get on and offstage fast enough to take on all the roles, and where will each appear next?
The kind of magical misdirection this play requires is a unique property of theater. Director Kathleen Keenan leads a talented group to keep us guessing as they wring laughs high and low out of the script. Tom Murphy supports Keenan's vision by designing bawdy physical comedy, and Paul Ugalde choreographs the stage combat. Ugalde makes great use of the actors' lithe, acrobatic abilities, with a special dose of exquisitely timed near misses. If you don't flinch at least once when the meat cleaver comes out, it's because you've already covered your eyes.
Anything is ripe for exploitation, from two men bouncing from gender to gender as fast as they can slip on a wig, to the audience's awareness of the masquerade. In that context, every double entendre reverberates in an echo chamber.
Ludlam jumbles Shakespearean quotes and Emily Brontë references with horror schlock to explode society's tendency to rank culture from high to low. Keenan follows his vision and shapes performances that are arch but not without affection. The actors never condescend to the material; when they ham it up, they do it with gusto and not contempt.
Cora Fauser designed costumes that are deliciously rich with Victorian detail and hidden-Velcro practicality. She and seamstress Ingrid Nielsen built them to withstand Sheer and Love's endless antics and to fly on and off under the hands of the heroic quick-change crew. Sarah Menard, Travis Blackwell and Wendy Stephens spend the show backstage spinning the actors into and out of gowns, hats, boots, wigs and wolf claws. Though they are invisible to the audience, their contribution is felt every time Jane glides off and Edgar lunges on.
Love and Scheer maintain a constant exuberance, all the while working in an apparently effortless Fred-and-Ginger-style partnership that impresses from the first exchange. When one blindly tosses a basket backward and the other catches it, we know we're watching a pair with extraordinary communication.
The two actors are energetic, graceful and light enough to lift each other when dancing or fighting. Their acting approach and androgynous features give the cross-dressing a playful integrity. Some productions tame the play's sexual crosscurrents with the burlesque of a stubbly beard or droopy bra, but LNT's show unleashes the delight of playacting. Scheer and Love immerse themselves without undercutting the conventions of theater or the allure of gender disguise.
As Lady Enid, Love achieves a female vocal register in a fussy, upper-crust accent, then deepens his voice and lays on the Cockney for Nicodemus. Ludlam gives Nicodemus a wooden leg and stunts that capitalize on it. Love's outsize limp lowers his whole center of gravity, in bold contrast to his twirling, grandiose Enid. As an Egyptian princess, he has a few more physical feats in store, but his performance is more than the acrobatics he uses to sketch his characters, for it's the intensity of his commitment to each moment we savor most.
Scheer has Jane teetering on the edge of madness from the get-go yet still makes her a cheerful match for Nicodemus' ribaldry and an engaging companion and maid to Lady Enid. In effect, Jane is juggling two inner characters even as Scheer oscillates between her and Lord Edgar. As Jane, his movements are big and purposeful; as Edgar he takes on an upper-class refinement — arm tucked behind back, head thoughtfully cocked to the side — that seems to shrink him. Scheer is equally adept at the wordless clowning and mile-a-minute dialogue, and he turns his limber body into a comic instrument in itself.
Beyond the accents, posture and shtick, both actors take characters with little depth and give them urgency and purpose. With support from the quick-change crew, Love and Scheer are working even when out of our sight. While their shoes and pants are being pulled on and off, the actors often have offstage lines — and it takes great concentration to punch those out while adjusting a wig. The tempo in Irma can never flag, and in this production Scheer and Love keep the fire roaring all night. The only flaw, and it seems quite unnecessary, is the slow pace of the few scene changes. These should occur with the same style and speed as the play itself.
Mark Evancho's set design takes good advantage of LNT's three-quarter-round playing space. He solves the need for multiple entrances and actor concealment while using set dressing to give the mansion some extravagance. A working chandelier, handsomely detailed fireplace and breathtaking portrait all make us long to linger here.
Casey Covey's sound design is essential for conveying the mood. His horror soundtrack punctuates, and sometimes oversells, each climax. Evancho's marvelous lighting effects mingle film and stage conventions to dramatize the gothic high points and keep the delightful contrast between comedy and horror glowing at all times.
Love and Scheer connect so well onstage that they remind us of what only live, collaborative theater can do. As tightly rehearsed as this show is, the actors never telegraph a moment. Each exchange blooms up fresh before us, with all the hard work concealed and all the fun conveyed.
Info: "The Mystery of Irma Vep" by Charles Ludlam, directed by Kathleen Keenan, produced by Lost Nation Theater. Thursday through Sunday, June 13 to 23; 7 p.m. Thursdays and (only) Sunday, June 16; 8 p.m. Fridays and Saturdays; and 2 p.m. (only) Sunday, June 23, at City Hall Auditorium, Montpelier. $15-30. Info, 229-0492. lostnationtheater.org
The original print version of this article was headlined "Fast Acting"