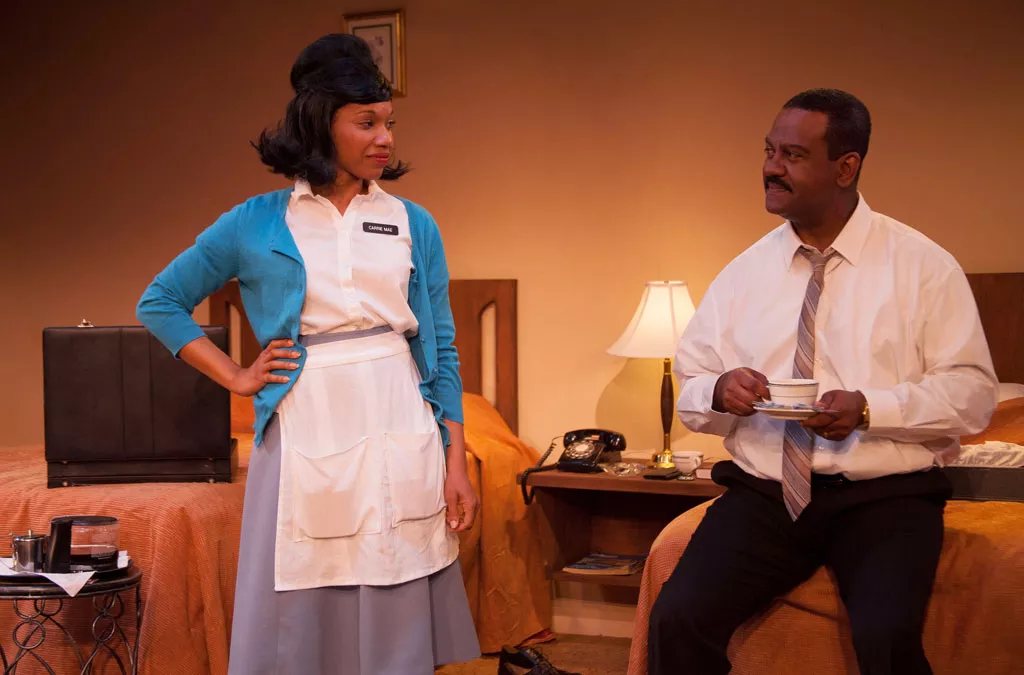 Courtesy Of Lindsay Raymond Jack
Myxolydia Tyler as Camae and Jolie Garrett as Dr. Martin Luther King Jr.
Katori Hall's The Mountaintop is a fierce, sweet call to action. The playwright employs a touch of magical realism to reimagine Dr. Martin Luther King Jr.'s last night on Earth. Her fictional conversation between King and a chambermaid at the Lorraine Motel in Memphis, Tenn., addresses race with both humor and gravity — and inadvertent prescience.
Vermont Stage Company's production of the 85-minute one-act, directed by Cristina Alicea, focuses more on the deep social messages of Hall's play than on the humorous flirtation between a very human King and a young, attractive and seemingly available woman. Jolie Garrett as King and Myxolydia Tyler as Camae give outstanding, nuanced performances. Though any material would likely sing in their capable hands, it's clear these actors care about the work and the characters they portray.
Tyler imbues Camae with an exciting undercurrent of electricity, so that her silliness and sass always seem to have a purpose. Garrett's gravitas and vocal control — burnished over a career in classical theater — make it easy for the audience to invest in his credible performance as the civil rights leader. He shows us King's dogmatic determination to organize another march on Washington, but also the vulnerability of a middle-aged man concerned with his looks as well as his legacy.
Entering the theater, the audience is greeted by a recording of King's "I've Been to the Mountaintop" speech played just under conversational levels. His words slip into pauses and sometimes climb the waves of preshow chatter. With the recording, Alicea and sound designer Martha Goode give their production a sense of immediacy: The play begins when that speech at the Mason Temple ends.
It's April 3, 1968. The first cues of lightning and rain give the motel's Room 306 an eerie, ominous ambiance. The set, designed by Jeffrey Modereger, has the look and feel of vintage coral-colored cheapness, from the undersize prints on the wall to the neat but worn-looking spreads on the twin beds.
For the first few minutes of the play, the audience witnesses the great man alone in the room. He locks the door and checks under the beds and in drawers; he examines the phone for a tap. This draws chuckles from some audience members, until the realization sinks in that King's actions are based on fear and the assumption of FBI surveillance.
King calls for coffee, which is delivered by a young hotel maid named Camae, played by Tyler with vivacious savvy. King visibly relaxes in her presence and is obviously attracted to her. Camae appears somewhat in awe, but her manner is more self-assured and familiar than one would expect from a maid. King delays her departure, asking for a cigarette. She resists, saying, "Naw, naw, Preacher Kang. You 'bout to have my boss up after me."
Much of the conversation in the first half of the play highlights the generational and class divide between King and those he sought to lead. As much as she expresses her admiration, Camae is also angry and impatient, telling the leader that marching is not enough. "Walkin' will only get you so far, Preacher Kang," she declares.
King plays along — until he begins to suspect Camae of being something other than a maid. He asks her, "So, if you were me, what would you do?"
In response, Camae dons his jacket and plants her bright white socks in the tired black leather of King's shoes. She looks, as costume designer Catherine Vigne surely intended her to, like a child playing dress-up. Camae assumes King's oratorical style. At first it's just fun to hear her imitation, but soon her passion carries her away. Near the end of her emotional diatribe, voice rising, she says, "I'm sick and tired of being sick and tired, and today is the day that I tell you to kill the white man! But not with your hands. Not with your guns. But with your miiiiiiiind!"
Camae tries to cover up her obvious power and intelligence with an eruption of goofy profanity, but the moment still offers us another hint as to her true identity. Her "just folks" humor offsets the darker moments, as when King brings up Larry Payne, a 16-year-old killed by police in March 1968 after King marched with sanitation workers. Today, less than a year after the events in Ferguson, Mo., and other cities have reignited discussions about race, Payne's story has a profound resonance.
Midway through the play, Camae's true purpose is revealed. At first it's a lighthearted moment that lets the playwright's feminism shine through, then it takes a darker turn that can't be revealed here. Suffice it to say that the civil rights leader is forced to face his impending death. Tyler takes the audience — and King — through every stage of his process, from bargaining for more time to heart-wrenching grief to final acceptance.
Near the end, the leader asks who will carry on his work, and Camae grants him a view into the future. Together, King and the audience watch a montage of scenes projected on the wall. It begins with Memphis burning and passes through 50 years and as many images, ending with President Obama's triumphant election in 2008. (Hall's play was first produced in June 2009.)
During the montage, Camae repeats variations on the phrase "passing the baton" more than a dozen times, making it impossible to ignore Hall's intent. At the last emotional moment, it seems as if Dr. Martin Luther King Jr. himself pierces the veil of time and death to talk directly to the audience. "This baton is no longer the burden my image can bear," he says. "For you are the climbers, the new carriers of the cross. I beg you, implore you, don't give in and toss it off."
When King asks the audience, "Can I get an amen?" it's next to impossible not to respond.
On opening night, the audience gave The Mountaintop an immediate standing ovation. This is a play for our times. Hall's irreverent tragicomedy may not have answers, but it invites a discussion about how humans deal with hatred.
It is in this spirit that Vermont Stage Company will hold "talkback" sessions after every Thursday-evening performance during the show's run. Anyone who sees the production on another day is encouraged to return and engage in the discussion.