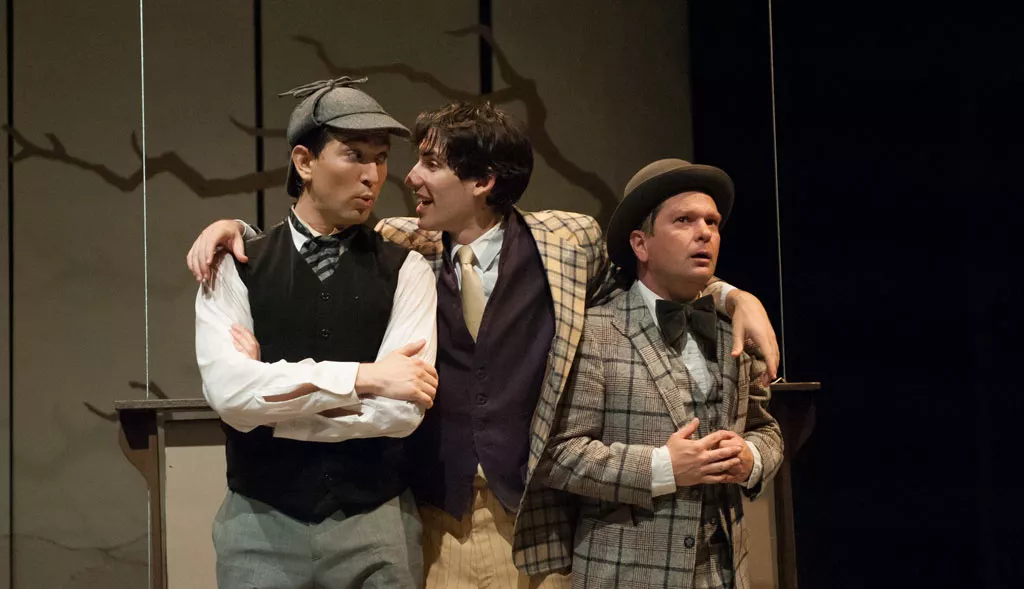 Courtesy of Robert Eddy/First Light Studios
Left to right: Christopher Scheer, Leighton Samuels and Scott Renzoni
Comedy and mystery both depend on surprise. If a detective story begs viewers to try to guess ahead, a comedy asks them to lean back and let the laughs happen, but both rely on the delight of the unexpected. In a stage adaptation of Arthur Conan Doyle's The Hound of the Baskervilles, now running in repertory at Lost Nation Theater, authors Steven Canny and John Nicholson sprinkle a little mystery on top of a large serving of fun. They send Sherlock Holmes and Dr. Watson romping from Baker Street to the English moors, using the well-known story as a sturdy scaffold for humor.
The Baskerville family seems to be suffering from a family curse, as each successive heir drops dead on the spooky moors around the ancestral home. Or is it natural causes? Perhaps the rumors of a ghostly hound are true? Flaky suspicions are just what Holmes was born to explode; he'll take the case, protect young Henry Baskerville from untimely death and find the logical answer.
In this play's world, though, Holmes is a little too lost in his own fame to do much deducing, and Watson is overloaded with potential suspects sporting false beards and shifty looks. Clues are few, and none matters as much as the punch lines.
This production is so playful that it's harder to stop laughing than to start. Conan Doyle's story has been adapted for stage and screen many times, but this version from Brit wits Canny and Nicholson uses the quick-change, wink-wink style of The 39 Steps to dazzle the audience. Three actors play 16 roles and spend a little time as their real-life selves, as well. The play is an anything-for-a-laugh comedy atlas, using slapstick, witty wordplay, sight gags, disappearing pants, physical comedy, playful props and direct address to the audience.
When a local says, "Night falls quickly on the moors," he means sunset consists of a doink sound effect and a light cue. Director Kathleen Keenan takes the script's artificiality even farther by using props that are flattened to suggest two-dimensionality; she has the characters play snooker on a triangular suggestion of a table with sound effects standing in for the moving balls. Much of the humor is based on the crazy joy of suspending disbelief — not because it's easy to be tricked but because it's so much fun to let go.
The script demands you check your reverence for Holmes at the door. Not only are his crime-solving powers a tad shaky here, he's more interested in proclaiming himself a mastermind than doing much real deducing. Even the attempt to utter Holmes' quintessential pronouncement, "Once you eliminate the impossible, whatever remains, however improbable, must be the truth" is foiled in a hilarious, bumbled paraphrase.
Comedy should be enjoyed, not dissected, but it's worth noticing a bit of the craft underneath this nonstop funny performance. Under Keenan's direction, the three fine actors produce their hilarious effects with enormous economy. There's no wiggling, jabbering or look-at-me mugging. Often broad comic characters are built from such excess, but this production produces far funnier results with a less-is-more philosophy. The show's bedrock principle is perfect, crisp exchanges. Each actor supports the others, sometimes literally — you'll be surprised who ends up in whose arms. Instead of competing for laughs, they keep turning the spotlight cleanly on each other.
With a lot of quick changes, Christopher Scheer plays Holmes and pretty much all the threats, real and imagined, to Henry Baskerville's well-being. These include a highly suspicious butler, a creepy naturalist and the exotic Cecile, whose presumed beauty, lush Spanish accent and proficiency in the tango captivate the young Baskerville. Scheer is masterful in making Sherlock pompous enough to be funny but never hateful in his vanity. He grasps at dignity with a shake of his cloak and pontificates with a languid confidence. His self-absorption is so complete that, like Watson, we really don't want to wake him.
In this story, Watson is the main protagonist, charged with collecting clues on Sherlock's behalf. Scott Renzoni plays the role with endearing zeal, a sidekick hoping for his big break. Alas, deep-seated panic has him reaching too reflexively for his gun, and it's as flat and fake as the other props. Renzoni gives Watson little flickers of understanding, playing over an open, childlike face that gleams as he struggles to marshal his suspicions. A precise comic, he carves out just the right amount of space and time for each joke, never overselling or under-delivering.
Leighton Samuels is the third leg of a rock-solid ensemble. He plays Henry, as well as assorted sources of exposition and/or gags, starting with a standout death scene to introduce and quickly dispatch Charles Baskerville. Samuels uses just enough exaggeration to amplify his characters without making them parodies. His accents are fun, and he moves with such limber abandon that he's a pleasure to watch die, lunge, feel and then fight off a heart attack, light up with proper English lust at the sight of the fan-fluttering Cecile, and jump from costume to costume.
With more than 400 sound and light cues, this production relies on precise technical execution from actors and crew. The few and forgivable mishits on Thursday only prove that human beings are at the controls of this complex apparatus. Designers Alex Zinovenko, lighting, and Frank DiSalvo Jr., sound, shower us with effects that energetically propel the story. Charis Churchill's costumes and Janine Woods-Thoma's set design produce a comic fantasy world.
The play is no homage to Holmes, but it does honor the great detective's willingness to challenge appearances and assumptions. By fooling with theater's boundaries and conventions for creating illusion, the show invites the audience to laugh its way to a little discovery: What's real and what's false is all a matter of being in on the trick.