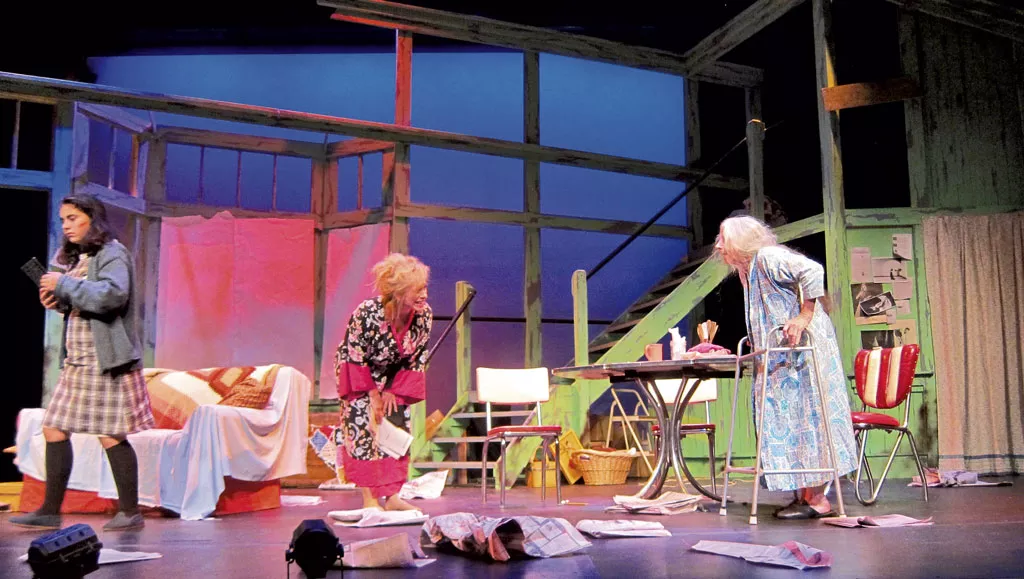 Courtesy of Melissa Lourie
Left to right: Vera Escaja-Heiss, Mary Wheeler, Patty Smith
To create a flawed character, a playwright has to build someone whose limitations are severe enough to be worth investigating but not so loathsome that the audience lacks sympathy. Paul Zindel threads this needle in his 1964 quasi-autobiographical portrait of his own mother in The Effect of Gamma Rays on Man-in-the-Moon Marigolds. The Middlebury Actors Workshop is presenting the intense character study at the Town Hall Theater.
Beatrice Hunsdorfer, long divorced and longer disappointed by life, is raising two adolescent daughters in the decaying Brooklyn storefront that once housed her father's vegetable business. The house is a wreck, and their meager income is generated by a series of boarders who arrive near death and leave Beatrice's daughters, Tillie and Ruth, with memories of their creepy infirmities.
Tillie is withdrawn, socially inept by nature and quietly fascinated by science, an interest her teacher tries to encourage. But Beatrice tends to keep Tillie out of school to assist her with the capricious endeavors that pass for housework. Ruth is a wild child prone to convulsions, histrionics, and the bright lipstick and tight sweaters she intends as unambiguous beacons to boys.
Beatrice's casual disparagement and sour neglect of her daughters are severe enough to make her an abusive mother. She's written off their prospects and lets them know it. But this isn't a play about bad parenting; it's about an adult whose disappointment has curdled into bitterness and finally emerges as anger. This production stops short of realizing all that rage, steadfastly keeping the character sympathetic.
The play won the Pulitzer Prize in 1971 and was a long-running off-Broadway success. In this production, director Ethan Bowen focuses on the characters, staging scenes with simple blocking. At times, the performers dig deep into the characters' desires and dreams, but Bowen, and Mary Wheeler who plays the part, ultimately flinch from unleashing Beatrice's darker side.
Bowen may have worried that the audience wouldn't care for a woman incapable of feeling pride in her own children. He starts the play with a tableau of his own devising in which the mother embraces her children. Zindel's text is never this sentimental, and Bowen's addition and other touches give the production a calm wistfulness. Many viewers are likely to prefer that to a depressing portrayal of a woman capable of deep cruelty.
Wheeler plays Beatrice with a light touch. Barefoot and blowsy in a shabby housedress, her Beatrice has a jangly energy that's more distracted than malevolent. Wheeler is strongest conveying Beatrice's poignant losses, especially her recollections of her father, whom she recalls hawking vegetables from a horse-drawn wagon. Here she shines, transformed by memory. But her sarcastic cracks come off as the bon mots of a self-satisfied person, not withering remarks designed to wound. Overall, Wheeler presents Beatrice's problems as excuses for her behavior rather than as experiences that still resonate.
As Tillie, Vera Escaja-Heiss handles a difficult role that's anchored in two extremes: a timid girl cowering from her mother's tyranny, and an idealistic teenager who glimpses her own importance while contemplating the atoms that link her to the stars. Escaja-Heiss has the courage to push wholeheartedly in each direction. Her eyes shine when describing a science class, though her enthusiasm is perhaps overdone, closer to infatuation than intellectual stimulation. She's more adept at showing Tillie's precarious relationship with her mother, where restraint makes the emotion more powerful.
Ruth is the destabilizing force in the family, and Francesca Blanchard plays her as a freely sparking live wire. It's a gem of a performance. Blanchard gives her a strong physical energy, putting Ruth on that edge of crazy that makes an audience wonder just how far this character will go. As Ruth lurches from mood to mood, Blanchard connects powerfully with the other actors, pushing each moment to the snapping point.
To lighten the play's tone, Bowen develops comic flourishes in two small roles. As the mute boarder Nanny, Patty Smith turns the character's shuffles behind a walker into arresting patterns of movement. And Smith's lovely ability to elongate a simple gesture expresses both the character's age and her isolated place within the household.
As Tillie's competition, Chenoah Small has one science-fair speech with which to make an impact. She starts with an exaggerated hip tilt, as if sizing up the high school audience to win them over. It's a little over the top, but Small neatly conveys the character's abject craving to win.
Matthew Stone's lighting design washes a back wall scrim with intense color and projections of atoms and galaxies. Abrupt lighting changes are often more intense than the mood onstage, but the power suits the large, stylized set.
Richard Robson's scenic design conveys the mass of a shabby storefront and adds stylized beams that shoot off in jagged edges to show the building's decay.
Tillie's science-fair project provides the play's title. She studies varying degrees of radiation on marigolds and grows flowers that range from withered to normal, with odd and sometimes beautiful mutations. As a metaphor, this is a sledgehammer in such a naturalistic play, but these characters earn the parallel to the crazy blossoms that fill Tillie with wonder.
The play's plot involves little more than the consequences of Tillie's appearance at the science fair, but the story is a deep look at Beatrice's searing effect on her daughters. Beatrice attracts and repels. She's fascinating as she staggers, never able to land the counterpunch against the blows life has dealt her. She seems to have enough spirit left in her to make a comeback, but her preoccupation with her own woes leaves her luxuriating in self-pity. And she's truly malicious, capable of using her own children as stand-ins for what wounded her. This production concentrates on forgiving her, but you aren't likely to forget her.