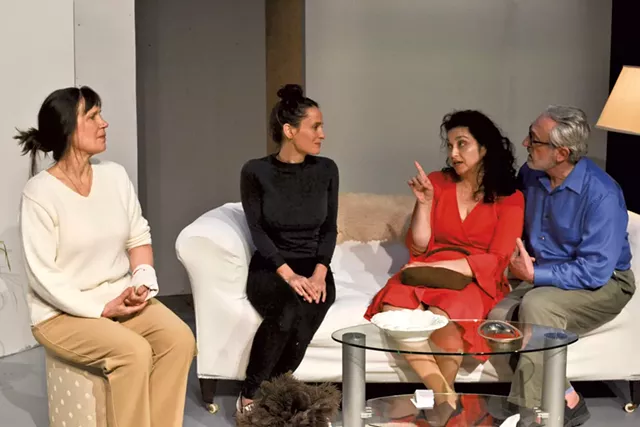 Courtesy Of Linda Treach
From left: Rebecca Bailey, Elena Greenlee, Marcela Williamson and Gene Kraus
In her 2005 play The Clean House, Sarah Ruhl delivers a romantic fantasy about love and death in earnest deadpan, combining solid comedy with metaphysical flights of fancy. It's funny, yet viewers aren't always sure when to laugh because any emotion raised to hyperbole looks a lot like delirium. Ruhl's relentlessly oddball story poses a challenge to community theater actors, but the BarnArts Center for the Arts production has plenty of humor.
Lane, a successful, busy and slightly uptight doctor, has hired Brazilian immigrant Matilde as a live-in house cleaner. Matilde soon discovers she dislikes cleaning — so much so that she stops doing it. But she does continue writing jokes in Portuguese, carrying on a connection to her dead parents, whom she describes as the funniest people in Brazil.
An impasse in which dust collects is not a typical dramatic crisis. But distilling modern angst to a cleaning standoff is the essence of Ruhl's sense of comedy, which flutters between real pain and absurdity.
Each woman is on the edge of acknowledging a void in herself. Matilde misses her parents and the joy and humor they shared. Lane wants her home to be as meticulously ordered as her medical career, but she doesn't want to admit to the erosion of affection in her marriage to an equally successful surgeon. Instead, she wants her house cleaned and focuses her attention on the surface, where the dust lies.
Lane's sister, Virginia, wonders why anyone would surrender the pleasure of cleaning. She tends to her own house lovingly, but she has a void, too: Cleaning her house can't fill enough of her time. Without children or other interests, she needs a purpose.
Virginia makes a deal with Matilde and begins to secretly clean her sister's house — an act both loving and invasive. When Lane finds that her husband, Charles, is involved with another woman, the wound is surprisingly equal to her discovery of Virginia's clandestine cleaning.
Charles' affair is unusual, as if gods were mischievously stirring things up. He doesn't pick a younger woman but an older one; he doesn't pursue carefree sex but takes up with a cancer patient whose mastectomy he performed himself. And he doesn't hide the romance from Lane.
And so Ruhl dramatizes the recognizable story of a marriage falling apart in an especially unrecognizable way. Matilde imagines her parents, and the audience sees them laughing together in silent pantomime. The same actors play Charles and his lover, Ana. Space and time are fuzzy. Matilde and Ana can toss apples from Ana's balcony into Lane's living room. Through it all, a superficial concern with cleaning is paired with the bottomless emotional issues of love and communication.
Director Abigail Bower works the play for humor but stumbles when stitching together Ruhl's blend of realism and fantasy. Bower smartly chooses to stage the normal and the fantastical equally straight, but she doesn't establish a unifying flow between them. Instead, a self-conscious pause frames many transitions. And the emotional truth within the more bizarre scenes doesn't always rise to the surface.
All five actors have bright moments as they breathe life into the story. But at Friday's opening night, Bower hadn't yet transformed them into an ensemble, ready to connect and drive the play together. Comedy requires perfection in rhythm and timing, built on a bedrock of practice. With time, these performers might make the play sail and soar as well as they already harvest its primary laughs.
Elena Greenlee, as Matilde, kicks off the play with a long joke, in Portuguese, and the only translation we get is her emphatic body movement. It's enough. Greenlee has a captivating authority onstage, and her refusal to clean the house comes off as one of Newton's laws of physics.
As Lane, Rebecca Bailey pins up her long hair in a practical, unfussy bun and maintains control of her life with brittle determination. Her performance is crowned by a delightful, wordless glissando from laughter to tears and back again as she contemplates her life.
Darby Hiebert plays Virginia with warmth and big emotion, plunging on violent pendulum swings between self-criticism and self-confidence. Hiebert lets the character's little neurotic outbursts pop up, and then smothers them briskly.
Gene Kraus and Marcela Williamson play Matilde's parents with an exuberant rapport, almost mythologically stylized in keeping with Matilde's idealization of them. As Charles and Ana, their mannered exchanges give them an air of peculiarity, making the love affair seem exotic.
The small playing space at the Grange Theatre sharply constrains the set, but designer Murray Ngoima renders Lane's living room with effective austerity in a white palette punctuated by a few humanizing touches of gray and cream. Ruhl takes liberties with time and space that can't be rendered with perfect clarity in this theater, but Ngoima never fails the play's practical requirements.
Costume designer Deborah Rice uses color and style to give each character a distinct sense of self: crisp white for Lane's gravity, a rich green for Virginia's nurturing cleanliness. Best of all, the clothes pop against the white and gray set, particularly the reds and blues used for Matilde's parents and for Charles and Ana.
Ruhl fills a mundane setting with surrealism and hyperbole, leaving the dreary matter of reality ambiguous. When Matilde says her mother died from laughter at a joke her father told, we see her parents silently acting out the mother's laughter and collapse in the father's arms. Is it real? Metaphor? Distorted memory?
This play is for people who enjoy a puzzle more than its solution, and an experience more than an explanation.